Cinegize Software-based 8K KVM-over-IP Uses Daniel2 Compression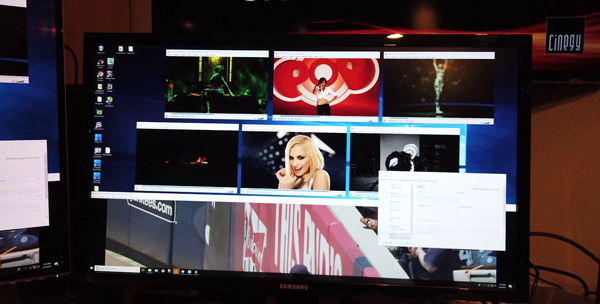 Cinegize is a forthcoming KVM-over-IP software application that enables realtime collaboration with UHD/4K and 8K video via an ordinary single Gigabit LAN while displaying consistent 4:4:4 or 4:2:2 images at 8, 10 or 12 bit quality. Cinegize uses Cinegy's Daniel2 GPU compression, which was developed originally for high resolution broadcast television and digital cinema production.
It also suits remote workstation applications, or collaborative presentations on laptop computers, at high quality and very low latency of only one or two frames. Organisations not yet working regularly with 4K video can consider it as a means of future-proofing their workflows without extra haedware.
Computers with NVIDIA GPU acceleration or pure CPU hardware are suitable. As well as image quality, AES67 standard audio is also preserved over RTP multicast streaming. Cinegize will support multiple-user collaboration, unless encrypted, and integration with multiviewers - audio and video encryption may both be eccrypted.
The high resolution KVM streams can be used for straight recording to MXF for broadcast editing on NLEs such as Premiere Pro. They can be used as live broadcast sources and therefore allow real-time scaling and colour space conversion. The software supports physical and virtual machines and is able to replace hardware KVM systems for mixed HD, UHD/4K and 8K operations including content creation, CAD/CAM and other 3D design work.
Cinegize software is expected to go to market in February 2019 but check the website for information: www.daniel2.com
www.cinegy.com