Evertz Advances Virtual IP Services and IP Interoperability at NAB 2019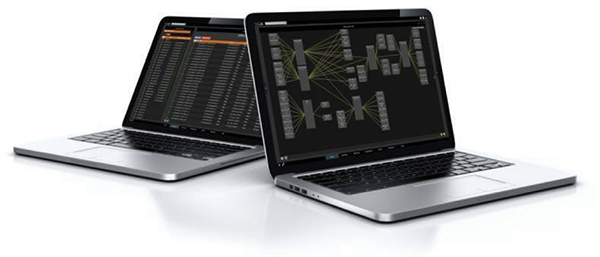 Evertz MAGNUM
Evertz Microsystems is showing Virtualized IP Media Services at NAB 2019, available from the evEDGE Virtual IP Media Services platform. This library of media services supports various commercial hardware platforms and can be used to design operational workflows as needed, making broadcast facilities more flexible and independent. New for NAB 2019, evEDGE's hardware platform support has been expanded to include Evertz' SCORPION Smart Media Processing hardware.
Traditionally, broadcast organisations have depended on fixed function processing hardware such as video and audio processors, frame synchronisers and up/down/cross converters for day-to-day operations. However, this approach limits operational workflows to the functionality of available equipment, and the architecture, while functional, lacks flexibility and cost effectiveness in dynamic environments.
evEDGE virtual IP media services support the essential processing functions, and can serve in changing workflows as demand for different applications emerge. Because processing functions no longer rely permanently on the underlying hardware, the broadcaster also becomes more efficient. evEDGE supports virtual IP media services over agile hardware platforms – which in this case refers to FPGA compute blades, x86 COTS servers and the cloud.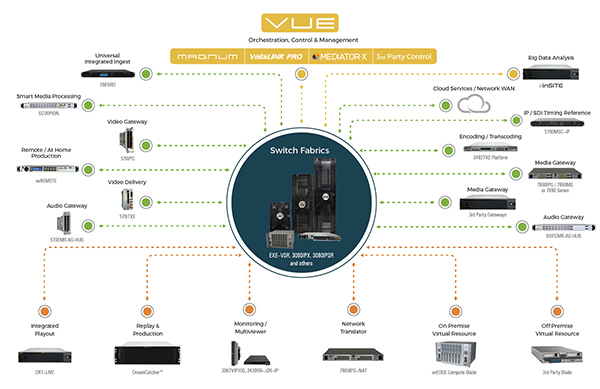 IP rchestration, control and management

For more operational flexibility, these hardware options now include Evertz' SCORPION smart media processing platform. SCORPION is a high density signal conversion, routing, aggregation and transport platform comprised of miniature interface modules that, like evEDGE itself, are used to customise SCORPION for a large number of applications.
SCORPION has been updated to support evEDGE IP Media Services with the introduction of a new microservice mini I/O module. This new module means the SCORPION platform can be utilised with evEDGE services, adding to its existing capabilities and flexibility.
"A platform that can be provisioned with diverse IP media services like those in the evEDGE library has given broadcasters a new tool to address environments with rapidly changing workflows," said Nick Knez, Director of Processing and Timing Products at Evertz. "Now that evEDGE's hardware platform support includes SCORPION, broadcasters have more flexibility in how they adapt to evolving workflow requirements."
Evertz and Tektronix Demo IP Interoperability
Beyond its own services and hardware, Evertz is collaborating with test and measurement systems developer Tektronix on new IP tools and workflows. The two companies are showing support for new IP standards and specifications with interoperability demonstrations that use Tektronix' PRISM media monitoring and analysis platform.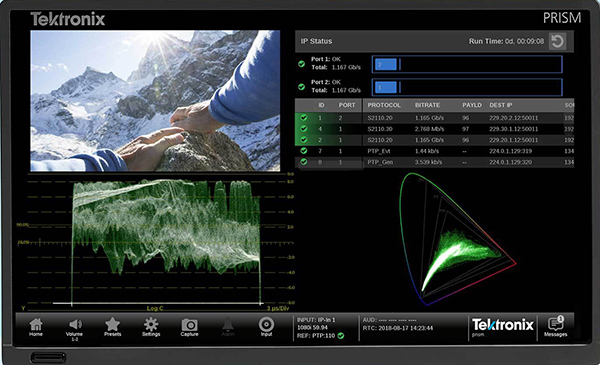 Tektronix PRISM
Designed for IP infrastructure environments, PRISM's measurement and display tools allow visibility into network performance so that potential problems can be quickly identified, reducing the time to isolate faults and take remedial action. Evertz and Tektronix have been working together on IP systems for about five years so far. Their commitment to IP includes participating in industry organisations that promote IP infrastructures - including SMPTE, VSF, AIMS and others – as well as supporting new tools for deploying and managing IP facilities.
Of particular interest are AMWA (Advanced Media Workflow Association) specifications IS-04 and IS-05, which define the automatic discovery and registration of new devices on a network (IS-04), and connection management (IS-05) of network devices. As new IP media networks continue to be deployed and grow in size, the number of associated video, audio and data flows within new facilities is growing faster. In order to manage the new flows, new tools, including AMWA IS-04 and IS-05, have become more critical.
Another requirement for IP facilities is detailed orchestration and control of network resources. Evertz' MAGNUM orchestration and control system works as a single unified point of control for all devices on an IP network. MAGNUM's integrated set of functions is scalable from small to large infrastructures and also supports IP, baseband and hybrid architectures, thereby addressing important issues in the transition to IP.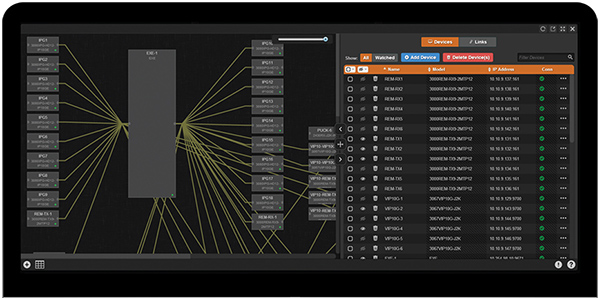 MAGNUM display screen
Regarding the ST 2110 suite of standards, defining the carriage of professional media over IP networks, the demonstrations include MAGNUM's and PRISM's ability to interoperate in an ST 2110 environment utilising AMWA IS-04 and IS-05.
IP infrastructures need to do more than replace SDI. IP, with its flexible nature and ability to share resources more easily, has enabled new, efficient operational workflows. Evertz' VUE Intelligent User Interface platform takes advantage of these new capabilities by creating highly customised user interfaces for each operational application. At NAB 2019, Evertz is also demonstrating the integration of VUE and PRISM in these user interfaces, including PRISM widgets for UIs exploiting the PRISM platform's functionality. evertz.com