Sony Continues IP Live Development with Live Orchestrator and SDI-IP Converters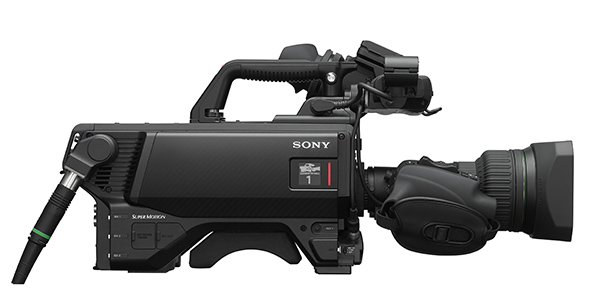 Sony HDC-5500 camera
At NAB 2019, Sony continues its IP Live development by introducing a new Live Element Orchestrator, an IP orchestration system designed to increase performance and use resources more efficiently. Sony also launched two new SDI-IP converter boards, the NXLK-IP50Y and NXLK-IP51Y, that support SMPTE ST 2110 standards with HDR compatibility. The NXLK-IP51Y also supports 12G-SDI.
Sony's aim in developing the IP Live system is to address pressure on broadcasters to create high quality content while controlling production costs. Available in June 2019, Live Element Orchestrator is used to manage and control IP Live devices across multiple locations - minimising downtime and maximising the potential for output over time.
Resource Sharing
By supporting major industry protocols, the Live Element Orchestrator is compatible with Sony's and third-party systems. Configurations can be set up centrally and operations monitored across all equipment.
Sony developed the software in collaboration with Skyline Communications, adopting the company's DataMiner, which is used to view and manage an enterprise's entire operational chain through one user-definable UI, irrespective of the hardware deployed. It makes use of built-in artificial intelligence to manage live operations through intelligent fault detection, incident analysis and trend forecasting.
SMPTE ST2110 in HD and 4K Support
Sony continues to support open standards and interoperability. Sony's XVS series of switchers with 100G IP interface boards, several different camera control units including the new HDCU-5500 shown at NAB, plus two new SDI-IP converter boards, the NXLK-IP50Y and NXLK-IP51Y, all support the SMTPE ST 2110 standard.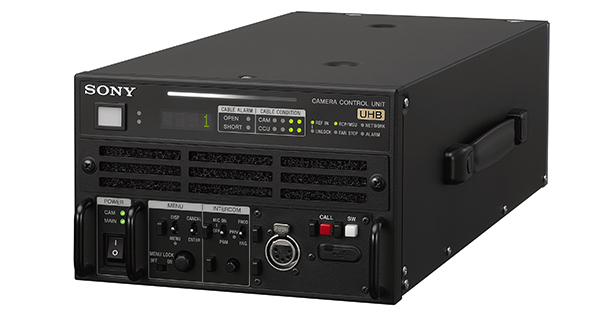 Sony HDCU-5500 camera control unit
The NXLK-IP50Y has eight bi-directional 1.5/3G-SDI ports and two SFP28 ports for redundant network connection, and the NXLK-IP51Y has two 1.5/3G-SDI ports, two 12G-SDI ports, both bi-directional. Future upgrades for both converters will have optional up/down conversion and HDR/SDR conversion. The NXLK-IP50Y is available in July and NLK-IP51Y by the end of 2019.
HDCU-5500 is a half rack size camera control unit to be used with the new HDC-5500 camera and has 12G-SDI 4K output interface and IP interfaces, supporting SMPTE ST 2110 and NMOS IS-04/05 via hardware options. The HDC-5500 and HDCU-5500 are connected through a single fibre cable without a base band processor unit. This pair also offers Ultra High Bitrate transmission that transmits two channels of 4K signals at a time.
The HDC-5500 is a new multi-format 4K live camera capable of direct 4K signal output in 12G-SDI, with a 2/3-inch 4K CMOS sensor with global shutter for recording in HD, 4K and HDR live production. Optional software achieving high frame rate up to 4K 2x and HD 8x1 will be available. The HDC-5500 sends 4K signals directly from its 12G-SDI output.
Using signal processing between the camera and CCU, the high bitrate transmission allows two camera signals to transmit simultaneously using a single fibre cable, resulting in a more flexible system. The 4K TRUNK functionality conveys two sources from the HDC-5500 to the CCU, one source from the host HDC-5500 itself, and a second camera connected to the HDC-5500's 12G-SDI input.
NMOS IS-04 and NMOS IS-05
Owing to Sony's work with AMWA, the IP Live System Manager will support NMOS IS-04 and NMOS IS-05 with version 2.2, which will be released in May 2019. This allows third-party devices that are NMOS-ready to be controlled through the IP Live System Manager. Sony's new camera control units will also support NMOS IS-04 and NMOS IS-05.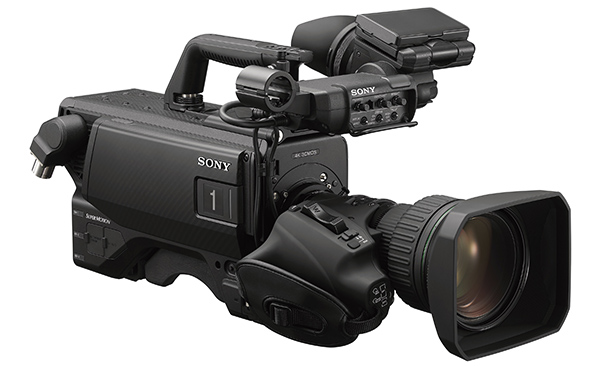 Sony HDC-5500
Remote eSports Production
At NAB, Sony demonstrated operational IP-enabled remote production of real-time video game tournaments taking place in the eSports Arena located at the Luxor Hotel in Las Vegas, along with a 4K demonstration managed by Sony's Live Element Orchestrator at their stand at Las Vegas Conventioan Centre. The remote production signals were transmitted in SMPTE ST 2110 via 10GbE WAVE provided by Century Link Internet.
This set-up demonstrated production using one control system for several productions. When switching between the two production sites, the Live Element Orchestrator was used to change the configuration of each respective production resource, while directly switching IP networks and system formats.
IP Live Adoptions
The Sony IP Live Production System has so far been adopted in more than 50 OB trucks and studio systems around the world. Portuguese commercial broadcaster SIC (Sociedade Independente de Comunicação) has built Portugal's first IP Live production facility in Lisbon which is one of the earliest large-scale IP Live deployments in Europe - delivered by Sony and its partner Telefónica. The facility uses the SMPTE ST 2110 suite of standards and the whole system includes programme production, audio, intercom and other functions, plus the integration of Sony's Media Backbone Hive news system at SIC's Lisbon and Porto production centres.
In December 2018, FUJI TELEVISION NETWORK (FUJI TV) broadcast live the female relay race tournament in Fuji city, Shizuoka. In limited space and with minimum set-up of IP equipment, FUJI TV carried out remote production opreations, transmitting AV and incoming and control signals with a single IP cable to an OB van located in the City Hall which served as the live broadcast centre.
Low latency and interactive transmission were maintained with other sources delivered from different relay points, and smooth communication was supported between the director at the base and the cameraman onsite. The flexibility of the system set-up and the stable transmission enabled efficient program production.
Hokkaido Cultural Broadcasting Co (UHB) has built a new IP network routing system that manages ingest sources fed into a file-based system based on the Networked Media Interface, Sony's IP Live transmission system. UHB completed a flexible and expandable routing system and prepared for future migration from HD to 4K. UHB chose Sony for its ability to build multiple IP Live systems and its past experience with Sony when developing and maintaining its current SDI based routing system. UHB also implemented Sony's Media Backbone Hive news system for an integrated news production workflow that keeps the current SDI-based network routing operation.
CHINA CENTRAL TELEVISION (CCTV), China's national broadcasting station will have a new 4K IP OB Truck in September 2019 with 22 camera chains in a SMPTE ST 2110 compatible IP delivery system, and six chains comprised of HFR Sony cameras. The OB Truck will be used to live broadcast nation-wide programs including news and live events. CCTV appreciates benefits of IP including the use of open standards and simpler, centralised system management. www.pro.sony.com.au