Panasonic Develops 8K ROI and IP Capable Acquisition, Moves P2 Cast to AWS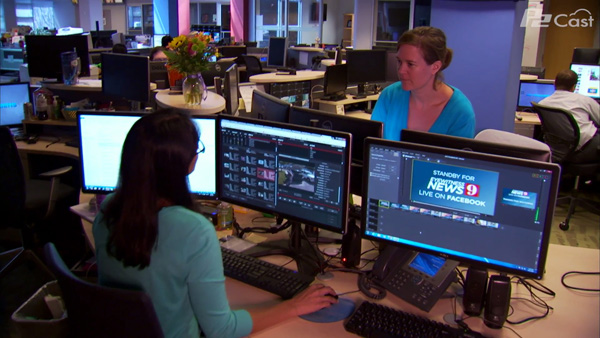 Panasonic's new developments in content acquisition for broadcast include an 8K ROI camera system, cloud-based news production on AWS and an integrated PTZ camera supporting 3G/SDI output via HDMI, USB and IP transfer.
The new 8K ROI (Region of Interest) camera system uses high-resolution 8K cameras that each allow up to four separate HD videos to be cropped from a high-resolution, wide-angle 8K image. Built as a multiple-purpose system that helps improve efficiency and reduce operating costs at sports and other live events, it is based on the compact, box-type AK-SHB800GJ camera with an 8K full-size CMOS image sensor and EF lens mount, and the AK-SHU800 Image Processing Unit.
The ROI system is configured by connecting the camera and processing unit to a PC installed with Framing Control Software, accessed by purchasing an optional AK-SFC101 Software Key.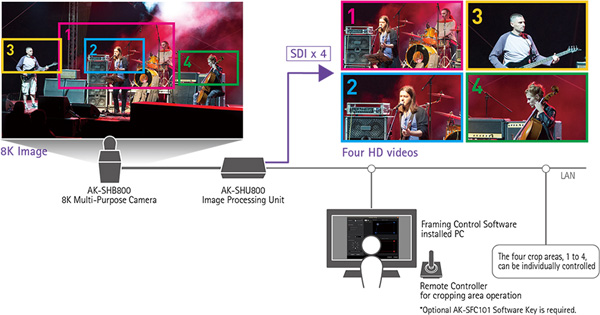 Users crop up to four different HD videos from the camera's wide-angle 8K image. [See above.] Using the software, each cropped image can be panned across, tilted and zoomed into individually so that, in effect, the single 8K ROI camera serves as four HD cameras. Wide-angle distortion correction is automated and achieves natural-looking images from anywhere inside the entire region, including videos cropped from the frame periphery.
A series of up to eight 8K cameras can be connected and operated as one integrated system. By linking a crop area in one primary camera to multiple crop images in other cameras - taking advantage of different camera angles, for example - the pan, tilt and zoom functionality on the multiple crop images are synchronised and co-ordinated with the panning, tilting and zooming on the primary frame. [See image below.]
The 8K ROI multi-camera system improves operating efficiency and helps limit operating costs in live events and sports recording or broadcasting. For example, it helps reduce camera setup, relocation, size of crew and transport costs. It also makes the use of audience seats for setting up multiple cameras unnecessary. It is scheduled for market release in July 2019 as a made-to-order system.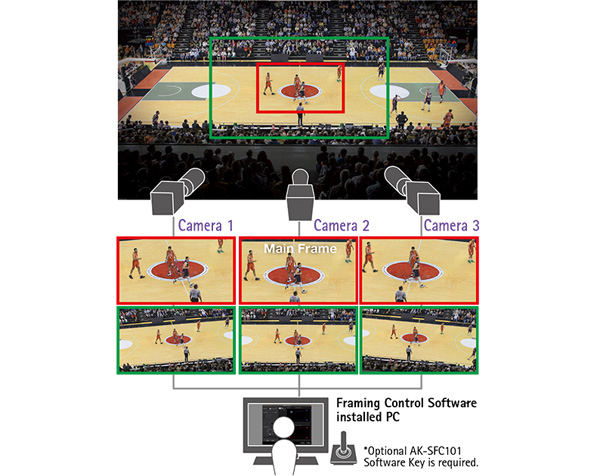 BELOW: Panasonic AK-SHB800GJ 8K system camera (left) and AK-SHU800 Image Processing Unit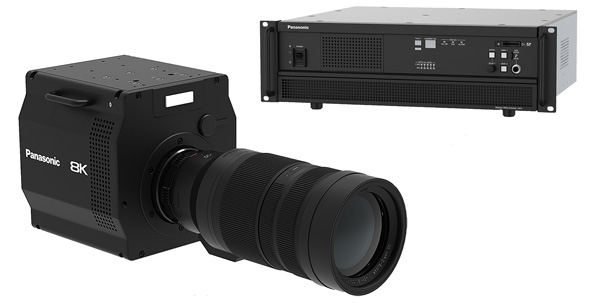 P2 Cast on the AWS Cloud
Panasonic is updating their P2 Cast workflow to run on the AWS (Amazon Web Services) cloud for the P2 series of cameras, recorders and archive system. The company is also developing a new P2 4K camera recorder and adding P2 MXF recording compatibility to the handheld AG-CX350 camera recorder. Trial operation together with Grass Valley's EDIUS Cloud NLE on AWS is underway, and preparations are being made to make the service available before the end of 2019.
P2 Cast is a cloud-based news production system that uses the networking functionality of Panasonic's AVC ULTRA camcorders with AVC-ULTRA recording. P2 cast integrates these capabilities so that content can be uploaded to the cloud for immediate reviewing and editing. Its purpose is to speed up delivery of news to air, and give access to content from almost any device at any location.
It moves low bitrate, high-quality proxy video from camcorders in the field to the newsroom, allows newsroom systems to automatically retrieve high-res video for air from the camera based on proxies, uses metadata to increase efficiency, and allows remote camera configuration, firmware updates and camera location tracking via GPS.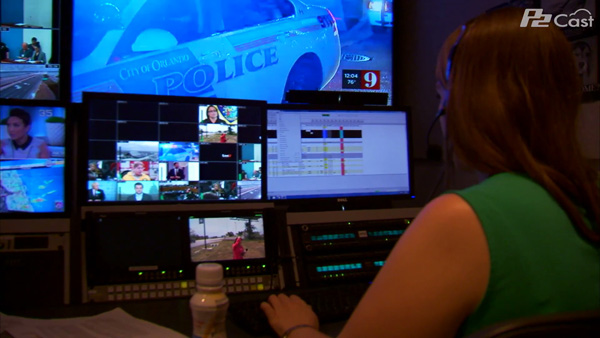 The current P2 Cast is operated by accessing the P2 Cast cloud server and then downloading the content to the station server, but with P2 Cast on AWS, the tools for tasks from editing to distribution can be implemented from the cloud as a complete workflow. Consequently, users will be able to conduct offsite news operations with fewer constraints due to location or equipment. Previewing, editing, distributing and streaming of news footage and monitoring of camera conditions can be carried out from any location using a PC terminal connected to a network, instead of only from a specialised, configured editing system at a broadcast station.
This public cloud-based infrastructure aims to make more efficient use of news production staff, shorten time to air and help reduce costs. Further expansion of the connection to Panasonic's PTZ cameras, image processing and archives using the cloud are being planned as well, and the potential to link with OTT, big data and artificial intelligence services on the cloud will continue to expand.
A P2 4K shoulder-type camera recorder, compatible with 4K broadcast acquisition is currently being developed as a new product for the P2 Series, scheduled for release within 2019. A free firmware and version upgrade that is compatible with P2 file format recording – MXF, AVC-Intra and AVC-LongG - is scheduled to appear, also within 2019, for the handheld AG-CX350 4K camera recorder, which has been available since February.
The Panasonic P2 Series has been a driver behind the development of SD card recording and file-based workflows for broadcast since 2014. The series has also contributed to increasing efficiency through IT-based operations for production, and both supplying connectivity and improving image quality in compliance with 4K broadcasting.
3G/SDI Output via HDMI, USB and IP Transfer
Panasonic's upcoming AW-HE42 is a full-HD pan-tilt zoom camera, designed for integrated image capture applications supporting 3G/SDI output via HDMI, USB and IP transfer.
The camera has a 1/2.3-type MOS sensor that records 1920×1080 60p/50p video, and has a horizontal viewing angle of 65.1 degrees with a 20x optical zoom that can capture a high resolution at up to 30x zoom using iZoom Panasonic's intelligent zoom. iZoom is a type of digital zoom that crops and upsamples the image and keeps the video sharp with an algorithm that preserves clarity.
Regarding the camera's interfacing, its IP control browser supports camera control from remote locations, and external control of recording, start/stop operations and transfer of saved files to an FTP server can be performed via an IP network. AW-HE42 supports upgrades to NDI|HX, acquired by buying a licese from NewTek, which means it can serve as a live video input for NDI compatible hardware or software from any point on the network. This increases options for automation and remote control over IP. Gen lock functionality is a further capability for camera matching in live production.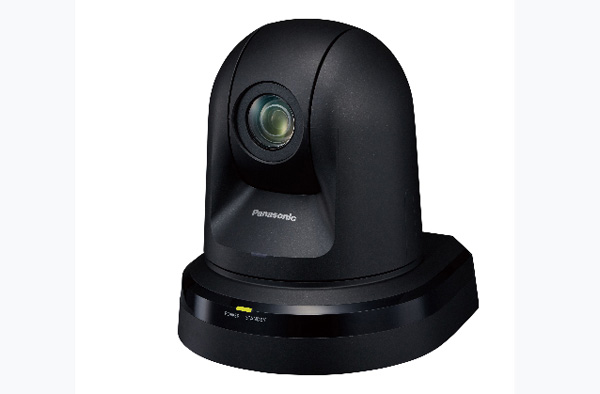 An Optical Image Stabilizer (OIS) increases users' choices when installing the camera by protecting it against vibrations caused by venue activity, audio systems and other installed equipment.
The AW-HE42W/K is designed to produce video and allow precise control and movement for demanding remote production and IMAG applications. Its attributes make it suitable for broadcast, conference rooms, live events, staging, distance learning and houses of worship.
It is equipped with a four-drive lens system in which three zoom lenses and one focus lens operate independently and simultaneously. By using its High Dynamic Range (HDR) mode, clipped highlights and crushed backs can be corrected and some of the lost information retrieved. A Night mode with automatic switching is included to assist shooting in low-light locations.
1080/59.94p, 29.97p, 59.94i, 29.97PsF, 1080/50p, 25p, 50i, 25PsF, 720/59.94p and 50p video formats are supported. The AW-HE42 in black (K) and white (W) versions, is scheduled for release in June 2019. pro-av.panasonic.net