Bitmovin Player with Analytics Gives Telekom Slovenije a Competitive Edge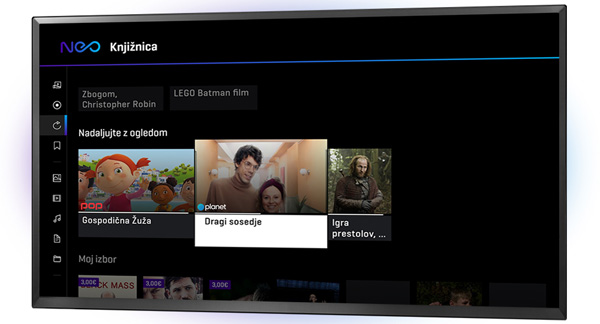 Founded in 1995, Telekom Slovenije has taken a pioneering role within the southeastern European region regarding the development and introduction of new mobile and fixed communications services, system integration and cloud services, and multimedia content.
In late 2018, Telekom Slovenije launched NEO, a home entertainment platform that integrates an open, secure, cloud-connected smart home system, which also supports pay-TV services, gaming and e-commerce. Users are able to centrally manage all TV/web content through the use of voice commands in their native language.
Subscribers can use the NEO platform to watch and discover content, manage smart home devices, shop online on the TV screen and play games without a console. The concept, architecture and technical design of the platform was handled at Telekom Slovenije, where the development was completed in collaboration with their existing local and international partners.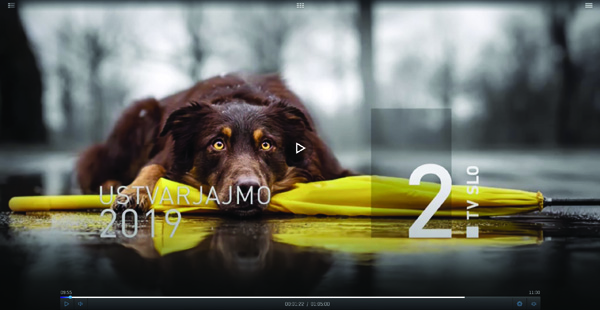 As an open OTT platform, NEO can be customised to use with different operator infrastructures and can be integrated into various customer relationship management (CRM) systems, billing scenarios and content libraries.
Consistent Viewing Experience
Telekom Slovenije was one of the first operators to make managing TV content and smart home devices via voice control available to users in the local language - a way of making the service more convenient when searching and viewing content.
However, developing a simple, consistent viewing experience overall involved several related challenges. For example, Telekom Slovenije needed a player capable of delivering streams to all major browsers on different devices - such as TVs, Smartphones, Tablets and PCs - with the same online experiences. The number of devices being used by consumers to access NEO also meant designing customisable UIs that look and work the same way across all screens.
Furthermore, Telekom Slovenije needed all content to comply with the content protection standards required by broadcasters and studios. Trying to integrate multiple DRM systems for playout via open source players had caused Telekom Slovenije some problems. What they needed was a multiple-DRM player that would simplify the process, while making sure that premium content was protected as the producers specify.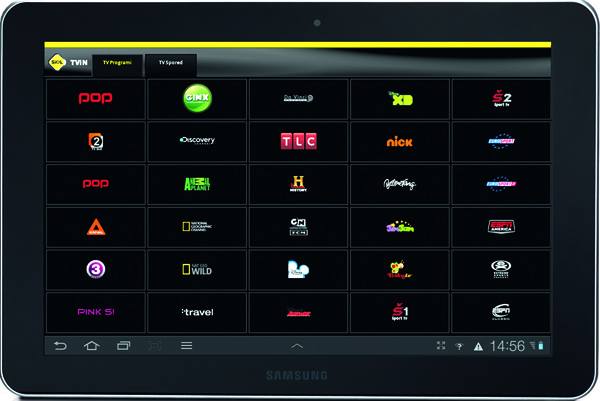 To guarantee that NEO would maintain a high standard while complying with all of these requirements, Telekom Slovenije needed insights into their quality of service (QoS). They looked for a tool that could visualise the performance of the whole streaming workflow, thereby giving them a better chance of improving their product.
Unified API
Up until that point, Telekom Slovenije had already been using Bitmovin's software for its TVIN OTT service and, while researching the market, determined that Bitmovin's Player and Analytics could supply the right functionality and capabilities as well for NEO.
The player takes care of multi-DRM support and cross-platform compatibility, delivering a smooth content stream to users regardless of which device they are using. The unified API approach of the Bitmovin Player and its SDKs for iOS and Android were also a deciding factor, bypassing specialised, disparate player stacks from initial development through to ongoing support. Instead, the engineering team had time to focus on developing special Telekom Slovenije features on top of the Bitmovin system, and also to collaborate with the other development teams to make sure these new features would be compatible across all platforms.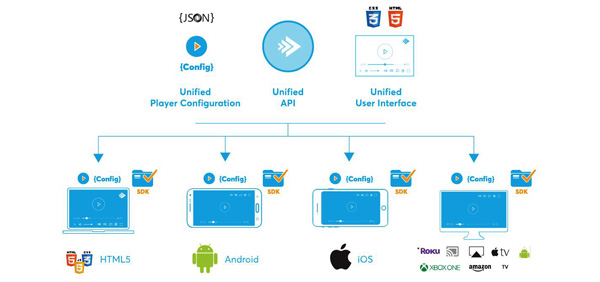 Bitmovin has Players for all platforms, all of which use a consistent API.
Consumer Insights
Bitmovin Analytics works as a complementary tool to the Player, revealing how NEO's customers were using NEO and helping them optimise workflows accordingly. This included being able to improve total startup time and learn more about the most common errors across the NEO platform. The Analytics also turned up important user information about peak-viewing times, which helped the team optimise its CDN delivery for the periods of greatest traffic.
The system Telekom Slovenije built starts with assets stored on the servers. This content is then sent on to be encoded. During the encoding phase, DRM encryption such as Widevine, Playready and Fairplay is added to all assets to protect the streams, and from there the newly encoded asset is moved to the CDN for distribution to the viewer. Each asset can be delivered to viewers using the version of the Bitmovin player that matches the device's environment – Internet OS, Android, iOS – for the best quality of experience.
Using a flexible API for all platforms, as well as the content protection standards compliance, making native SDKs available for each platform means NEO can take advantage of all capabilities of each individual device. During playback, Bitmovin Analytics is applied to monitor and optimise workflows based on Quality of Service in real-time.
Content-Based Optimisation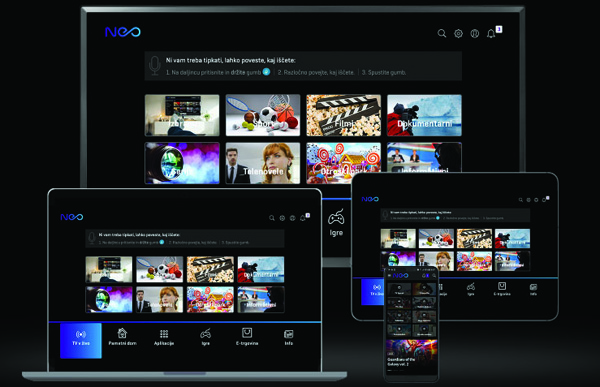 At the same time, this data gives insights into different parts of the workflow. For example, it allows Telekom Slovenije to optimise their encoding profiles using the bitrate ladder metric. Video-related services generally use static bitrate ladders without content-based optimisation, but Bitmovin has refined per-title encoding by developing and building content-specific bitrate ladders, and improving their algorithm to calculate the bitrates for each level of quality.
The company has also successfully used the peak-viewing time data to tune their CDN performance by adjusting their live and VOD streams, resulting in faster average startup times and less buffering.
As the numbers of Slovenians watching online continue to grow, the ability to innovate through services that consumers are choosing to use has made a difference for Telekom Slovenije in terms of product development. Specifically, using Bitmovin's Player and Analytics has helped them focus on activity that will bring results, and building new functionality on top of Bitmovin's API has brought a competitive advantage they can use effectively into the foreseeable future. bitmovin.com