Hyper RPG Powers YouTube and Twitch Live Streams with Blackmagic Design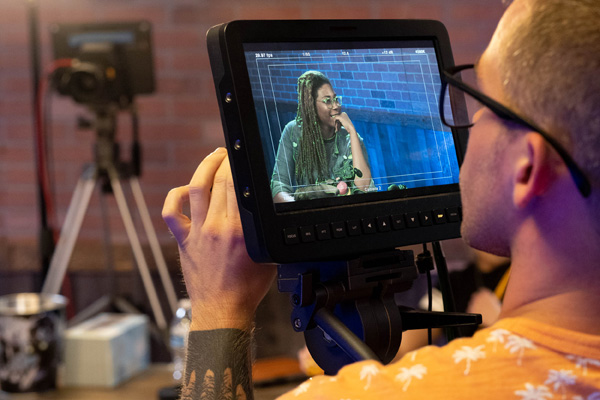 Hyper Rabbit Power Go, Hyper RPG, is an online gathering place devoted to video and tabletop gaming, comic books and movies. It was created in 2015 by game developer Jordan Weisman, known for BattleTech and Shadowrun, and former Geek and Sundry Twitch channel show runner Zac Eubank.
Hyper RPG experiments with collaborative storytelling styles and shared gaming experiences across the web, going live five days a week for several hours per day. During these live streams, its YouTube and Twitch channels attract more than 44 million unique viewers from around the world. Content ranges from live interactive role playing games, such as Dungeons & Dragons on Twitch, to superhero news and movie trailer reactions on YouTube.
"Since we started Hyper RPG four years ago, we've been using Blackmagic Design equipment. We have two studios in which the main gear comes from Blackmagic," said Zac. "We recently incorporated the Pocket Cinema Camera 4K, ATEM Television Studio Pro 4K, ATEM Television Studio HD and other products to shoot and live stream about 30 hours of programming per week on our channels."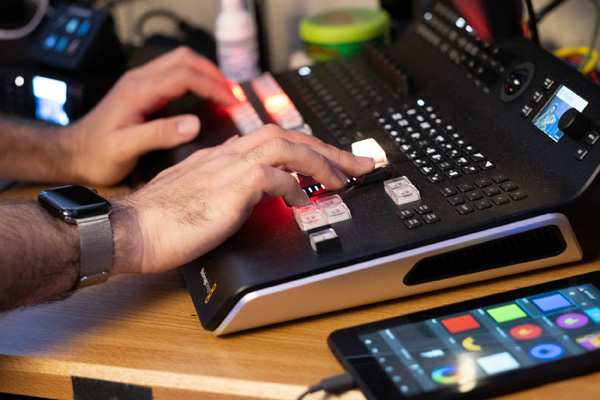 The smaller of the two studios is equipped with the Pocket Cinema Camera 4K and ATEM Television Studio HD to shoot YouTube content. Because most of it is simply reactionary pop culture pieces, it needs to be quite timely and therefore shot and posted with ease before its loses its attraction. Topics covered include movie trailer reactions, discussions on the latest superhero movies and more snackable content.

"We don't have a big team, so having gear like the Pocket Cinema Camera 4K and the ATEM Television Studio HD is a good match for us," Zac said. "They're very easy to use and don't require much explaination, which allows everyone to jump in and capture content as needed without missing a beat."

The Pocket Cinema Camera 4K is good for shooting sharp 4K footage for YouTube. Its ability to bake in LUTs as needed has made a big difference for the team because they use different LUTs for the different shows. Zac said, "We work on a very tight schedule so we need to save as much time as possible in post. We have specific looks built for each show that we have saved as presets in the camera. We can load them up before recording and save our post team some time."

The camera's compact size combined with its XLR input audio and control are also considered significant advantages because they cut down on the amount of peripheral gear the crew needs from day to day.


Using the ATEM Television Studio HD, the team creates multi camera programming when they cut together more than one shoot, and can also cut shows as they are recorded, also avoiding lengthy post production work. The small, lightweight design makes it portable enough to travel with for field work.

The second, larger studio includes an ATEM Television Studio Pro 4K, HyperDeck Studio Mini recorder, UltraStudio HD Mini capture and playback device along with seven Blackmagic Studio Cameras to shoot all of the Twitch content, which includes live table top gaming as well as dynamic discussions on various games and series. These broadcasts often have various actors join the episodes for more impact, their storytelling ability and entertainment value.

"The seven Blackmagic Studio Cameras we have set up in our second studio are all connected to the ATEM Television Studio Pro 4K. We split several of these signals and input them into the computer. One is our full program feed out, including graphics, while the others run directly into our computer capture card so that we have a clean feed to work with without any graphics. We mange the footage this way in part because all of our picture-in-picture windows are done in software instead of hardware, due to Twitch's particular requirements," said Zac.

He continued, "For syncing purposes, we run all of our audio through the ATEM Television Studio Pro 4K, and then output it to the computer. We do a full mix down of our computer audio inputs and outputs through the ATEM Television Studio Pro 4K as well."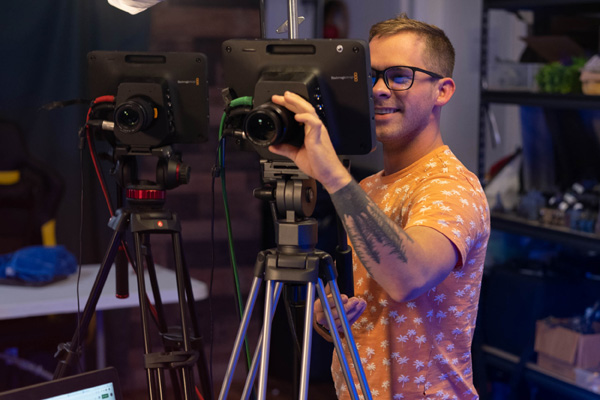 Even though the ATEM Television Studio Pro 4K is a powerful device, its compact size has been a considerable asset for Hyper RPG because space is at such a premium inside the studio, due to the nature of the games they play. Zac said, "When we play Dungeons & Dragons, for instance, we'll have up to six people join us, all sitting at a very large table that leaves us very little room for our gear."
Further more, Hyper RPG has the HyperDeck Studio Mini and the UltraStudio HD Mini built into its workflow at all times. They must record several of the streams because the output to Twitch is 5MB per second. "Sometimes the Twitch servers will get bogged down, so we make backups of the shows that we know have a better visual quality and then upload them to YouTube as clean edits instead of exporting from Twitch, resulting in much nicer quality," he said.
Zac considers that by using Blackmagic Design to power its unusual streaming workflow, Hyper RPG has been able to become both a production company and content developers. The gear's flexibility and ease of use has helped the team remain dynamic and interactive, and quickly adapt content to meet its audience's interests. www.blackmagicdesign.com