Telestream Lightspeed Live Streams and Captures Life at Auburn University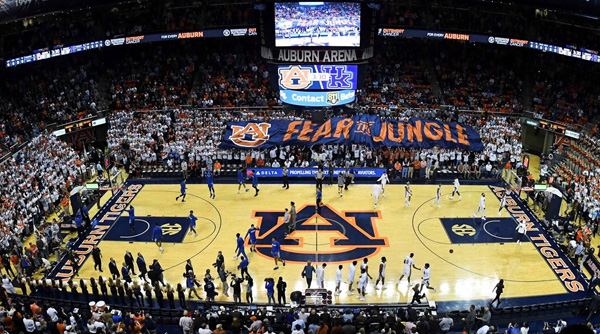 Auburn Arena
The Athletics Department at Auburn University regularly live streams a large number of special events to social media platforms throughout the year. While the University has contracted with ESPN network to produce, deliver and stream exclusive live video of its Auburn Tigers Southeastern Conference (SEC) sporting events, the department believes that the strong social media presence it has created independently is an important part of its contribution to university life.
Auburn Athletics has an affordable video production infrastructure and workflow that it purchased about one year ago and uses to produce football game day fan engagement videos, post-game interviews and press conferences. It also covers graduation ceremonies, speaker programmes and signing ceremonies.
Stream, Record and Archive
During live games and special events, a Telestream Lightspeed Live Stream system takes live video feeds from production switchers, video routers, ISO (isolated) recording cameras and other sources, and streams them simultaneously to the University's Facebook, Twitter and YouTube channels, as well as its own website, from their dedicated Athletic Video Services Building.
While streaming is underway, the department uses Telestream's companion product Lightspeed Live Capture to ingest and record live video from the events onto their NAS system, ready for post-production or broadcast. In this way, Lightspeed Live Capture creates an archive of Auburn's sports footage that can later be repurposed into fan engagement videos, highlights reels and other promotional material.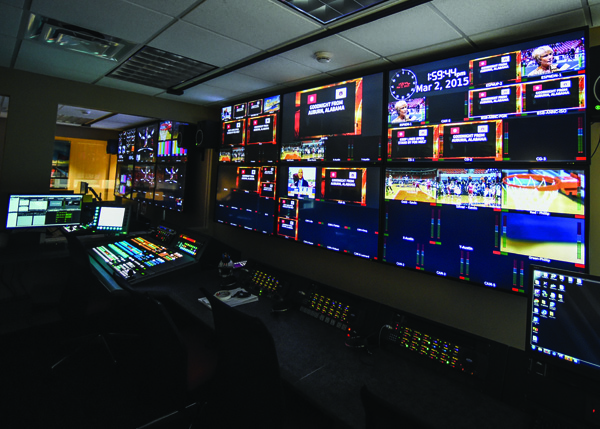 Earlier on before they purchased this system, Auburn Athletics considered their requirements and realised that their particular combination of streaming and recording was fairly demanding. They knew that, on the streaming side, the system would need to run uninterrupted for long periods of time - for example, throughout football gamedays for pregame and in-game events. It must also be able to live stream important events to a combination of social media sites simultaneously, including Facebook, Twitter and YouTube.
Recording Management
On the recording side, they needed to have the capacity in place to record about 350 live events per year, amounting to some thousands of hours of programming. The home games of the uni's mainstream sports like football, baseball, softball and basketball are recorded live and produced in one of the two control rooms in the Athletics Video Services facility.
They also had to manage the ISO streams that are sometimes captured of live video feeds from cameras at different playing fields, sports facilities and arenas across campus. These isolated recordings give Auburn a lot of flexibility regarding what they can do with their content after the events are over.
While Auburn Athletics has permanent staff, students and freelancers frequently operate the equipment as well. This means their streaming and recording system must be straightforward for new team members to learn, set-up and operate, as well as reliable and ready to go out to locations. To meet their live streaming goals, it needed to be robust enough to produce high volumes of broadcast-quality media, and self-contained in one, affordable unit. They also preferred a system that is sold and serviced by a single vendor.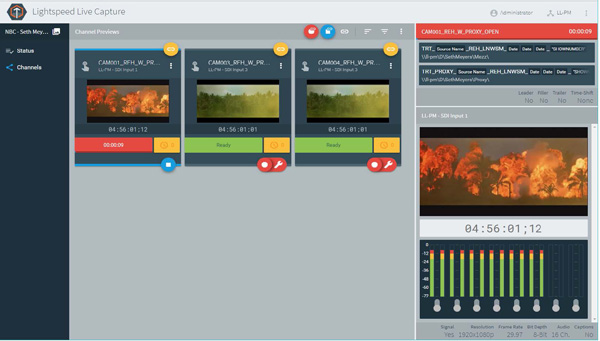 Lightspeed Live Capture web app
Parallel Workflow
The integrated Lightspeed Live system underwent a testing phase in the first quarter of 2019. before it was put into production to run on the same network as the department's two video production control rooms and centralised machine room.
During live sporting events when the control rooms are busy producing the shows for ESPN, Lightspeed Live Capture operates as a separate, parallel workflow. Thus, it can be set up to ingest that same live game video as it flows through the facility's central video router or via an ESPN video downlink. It can also capture and record live video from the ISO cameras positioned at various campus venues, backed by SMPTE fibre.
For special events like the graduation ceremonies held in the spring and autumn, Lightspeed Live Capture can be quickly set up to record the content as it is produced in one of the two control rooms with very little lead time. Events can also be scheduled to record in advance - including the day, start and end time – similar to operating a digital video recorder.
Instead of ingesting and recording video straight onto the Lightspeed Live Capture internal storage, Auburn Athletics records the media onto the NAS system so that authorised users can immediately access and share it from that central archive. Meanwhile, Lightspeed Live Stream is configure to immediately process this video and stream it to social media. As an alliterative workflow it could also playback a video file from the network storage.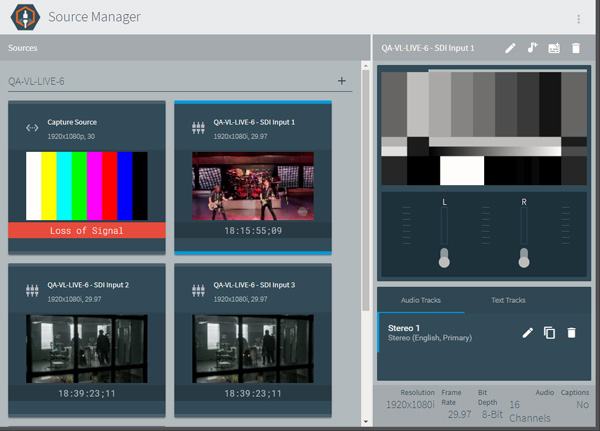 Lightspeed Live Soure Manager
Networked Device
Although both systems run on the same hardware, each has its own unique web-based user interface with a separate URL that are operated from separate browser tabs. Weston Carter, Director of Video Services for Media Systems, likes having this separation for recording and streaming so that trainees can't accidentally confuse the two functions.
From the recording interface, Auburn users select the sources to record, the storage device to use, and then, when set-up is complete, click Record. As part of the recording setup, the operator gives the recording a title, which immediately serves as the metadata to search the archive for that file. To set up live streaming on the Lightspeed Live Stream page, Auburn users select the necessary video inputs or video file from storage, the desired social media destinations and, once set-up is complete, click Stream.
Via the browser interfaces, the Lightspeed Live system is accessed and operated remotely as a networked device. The processing hardware is permanently installed in an equipment rack in the central machine room, which is accessible by the two nearby video production control rooms. These rooms remotely produce live sports shows from six competition locations via the campus fibre network.
Efficient Eduction
The same fleet of fibre-connected HD cameras is moved from venue to venue. One location, the Auburn Arena, also serves sthe venue for graduation ceremonies, when the cameras are repositioned from the usual basketball configuration.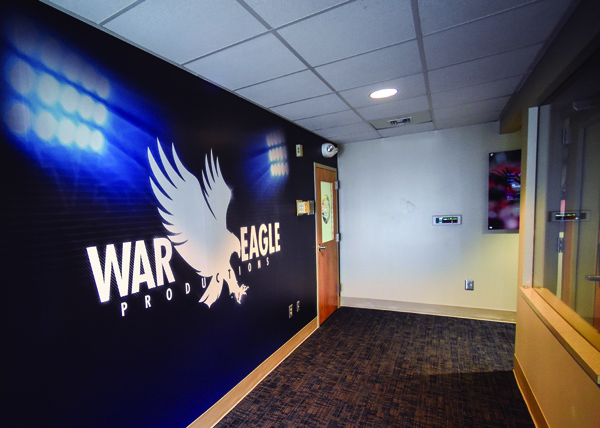 Weston Carter said, "Since students make up a big part of our production team, we wanted to make sure that the Lightspeed Live system would be both easy to use and robust enough for the tasks we regularly perform. We found that our students could jump on and start managing the live streams and recordings. This makes us more efficient - we're saving considerable time training students to handle the work independently, and we can fill our social media channels faster. In the end, we are also preserving video of our heritage for posterity." www.telestream.net