Cinegy Backs SRT for Software Defined Television, Enables 8K via IP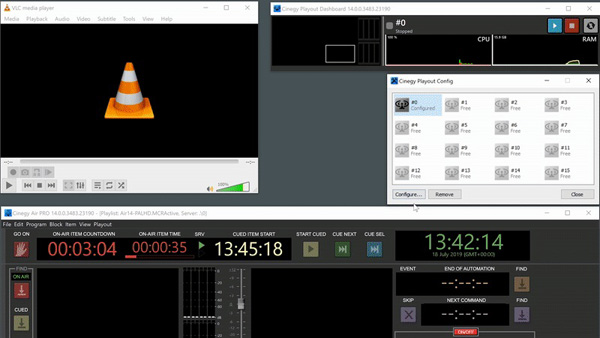 Cinegy SRT set-up panel
At IBC2019, Cinegy will demonstrate the advantages of building Secure Reliable Transport (SRT) and 8K capabilities into its broadcast playout software - on-premise, hybrid and in the cloud. Cinegy Air 14 multi-channel playout server and broadcast automation software has been released and will be ready at IBC for evaluation, go-live testing and production use.
Cinegy Head of Product Management Lewis Kirkaldie said that SRT can oversome the need to establish connectivity by plugging in cables. "Through SRT, ensuring that a signal gets to and from where it needs to be is now feasible and widely available. You can locate content, tools and services wherever your business needs them - in the cloud, on rented virtual machines, on-prem, or at remote data centres," he said
SRT is a streaming protocol and technical package that connects two endpoints in order to deliver low latency video and other media streams across lossy networks, and is able to detect network performance such as packet loss, latency and jitter between endpoints. It uses AES 128/256 bit encryption and can identify endpoints as sender, receiver or rendezvous mode, as required. It is also able to perform packet loss recovery through low latency retransmission, and timing recovery of video streams.
Although internet streaming has improved, live video transport still faces latency challenges that have typically meant provisioning expensive reserved links like MPLS (Multiprotocol Label Switching) routing or satellite networks. However, the open source implementation of SRT gives anyone access to a secure, reliable streaming protocol.
It also allows developers to enable SRT functionality over any network, including low-cost public internet, using a combination of video components to support the best quality live video over unpredictable networks, internet included.
Cinegy regards the maturity of SRT as a route to a large variety of new applications while simplifying the existing ones. "It's no longer necessary to compromise business goals due to connectivity or bandwidth limitations," Lewis said. "Users can design exactly what they want to deliver, with precisely the results they need, irrespective of inputs, outputs, or location."

Cinegy Air Events panel
SRT is baked into Cinegy software, including the license, so that users do not have to establish whether they have legal right, proper subscription or adequate bandwidth to deploy the software.
In the case of 8K, Cinegy has optimised all of its products, making them 8K-ready and deployable in the cloud. The new Cinegy Multiviewer, as well as 8K capability, has had further improvements made to its strong, existing GPU optimisation, increasing its effectiveness and flexibility when used with Cinegy Air PRO Playout and Cinegy Capture PRO Ingest. For greater scalability and efficiency, by using the same hardware, both systems are capable of capturing 8K in 10-bit at up to 60, as well as managing four channels of UHD/4K.
Cinegy Air 14 Multi-Channel Playout
Cinegy Air 14 multi-channel playout server and broadcast automation software has been released and will be ready at IBC for evaluation, go-live testing and production use. Cinegy Air serves to simplify the complex nature of channel delivery by supporting multiple channels with multiple functions in a single unit. Cinegy Air handles Dolby Digital encoding, Nielsen watermarking and Cinegy Titler channel branding as one integrated software system.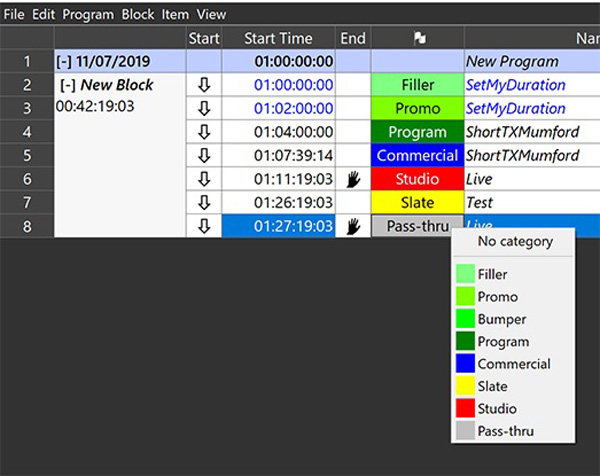 Air 14 colour coding
Since version 12 (Cinegy skipped over version 13) the company's continued development in 8K support via IP and SDI has resulted in 8K output from a production, shipping software application, Air 14.
Central to the release is Cinegy's development of their massively-threaded optimised codec Daniel2 from scratch, and redesigning the playout pipeline to sit natively in either CPU or entirely in GPU. Compression to YUV 4:2:2 is required to allow a PCIe card such as the Blackmagic Decklink 8K Pro to operate. Successful 8K playout depends on hardware - newer hardware is helping to avoid overloading the system, but Cinegy advises those planning to work with 8K to understand the CPU and motherboard specifications of their machines.
GPU Composition Pipeline
Air 14 can now run the whole composition pipeline natively inside a GPU. Combined with the Daniel2 codec, Air 14 can transfer compressed frames at a 10:1 ratio into the GPU for compositing without straining the bus, a key factor if the 8K application needs the I/O of multiple 12G SDI.
Regarding bitrate, the Daniel2 content can peak at up to 3.5Gb/s which means fast storage access is required. also Because of the large frame size, the RAM of the GPU device is critical, and the queue size for frame pre-caching in the playout engine must be limited, calling for fast, smooth storage.
Cinegy started making GPU compositing available in the previous version 12 of Air, and found that in some cases, the computation overhead of taking source material decoded within the CPU could become a limiting factor. Consequently a connection between the input stage of the media layer and the compositing stage was developed to avoid involving the CPU at all, performing colour-space or any other conversions now within that interconnection. Not all codecs and containers can be decoded within a GPU– decoding mareial that is only supported by CPUmay result in performance similar to the Air 12 engine.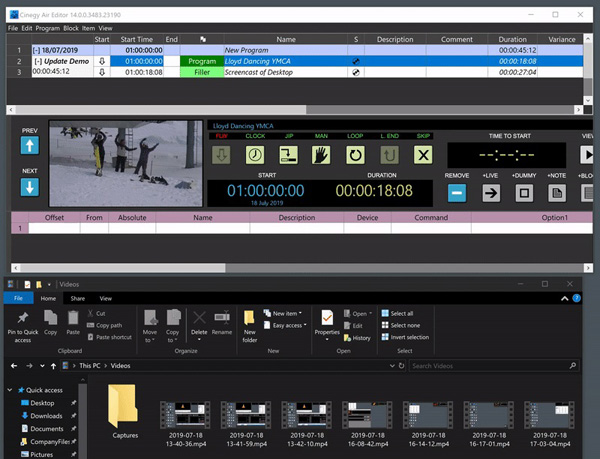 Air 14 playout item replacement
SRT Encapsulated IP I/O
With the increase in public cloud adoption, and a more connected environment to report from or hold events in, an open system for signal transport is an important development right now. Cinegy is pleased to add SRT Encapsulated IP input-and-output capability to their products so that they will simply work with others in a straightforward manner. Although this concept is not new, anyone can apply this functionality directly inside Cinegy Air 14 and backhaul a stream from AWS or Azure via the public Internet back to their location.
Usability improvements in Air 14 include visibility for labelling and replacing items in the playlist. Items in the playlist can be flagged with customisable colour categories so that users can immediately see what types of content are within the grid and a dialogue box has now been added to make replacing items inside the playlist panel simpler. Users can set their own defaults, and also configure automated systems through Air 14.
Air 14 Engine as a Windows Service
Cinegy has re-introduced the ability to configure the engine to run as a Windows service again. This was initially available before Windows 2008 was released, which prevented running such services. The new version allows users to choose to install the Air 14 engine as a Windows service, but keep working interactively and using the dashboard as usual. Using this script, you can convert all configured Playout Engines to a service and prevent dashboard conflicts with the services.
Working this way is not only more secure, it also helps limit dashboard loading on the servers. With the combination of XML-based engine configurations, you can configure and run a playout server without logging into the console. https://www.cinegy.com/