EVS Develops Automated Systems for Affordable Live Production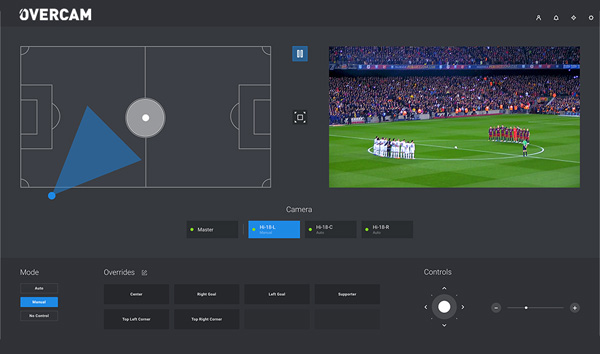 Overcam recognises and analyses key parameters of the game.
EVS showed lean production systems at IBC2019 that deliver live production standards achievable at lower operational costs, and are built with IP interoperability and options for integration with third-party tools.
EVS introduced a software system, Overcam, that uses machine learning to autonomously control robotic PTZ cameras in live sports environments. It gives sports producers a way to capture the action economically from more camera angles. It also integrates directly with the EVS X-One unified production system for single operators. X-One ingests feeds from up to six cameras, which can be humanly operated, automated or a mixture of both.
For small and mid-sized event producers, the Overcam/X-One combination supports broadcast-standard, low-cost live production, especially now that X-One automates highlights production – more information about this and other updates is included below.
Smart Tracking with Automated Control
Overcam controls multiple PTZ cameras positioned around a pitch and uses smart tracking to recognise and analyse key parameters of the game, such as player and ball positions. It then adjusts the camera angles to frame the scene effectively. Its real-time processing is what allows it to be integrated with existing multi-camera live production workflows in which the robotic cameras are mixed with manually controlled cameras. Such set-ups help overcome the challenge of balancing the number of camera positions against available funds, to optimise conventional productions.
The system is based on neural networks and computer vision, which automate camera moves at key positions. This automation is powered by VIA Mind, a proprietary AI engine that integrates machine learning methods that now drive several different EVS systems. In terms of hardware, the Overcam software runs on a compact 2RU off-the-shelf server, which can be located either in the venue or in a remote operation centre. Camera calibration is automatic.
The first iteration of Overcam, controlling four cameras, is intended for live football, especially smaller leagues with tighter budgets. The system will eventually be suitable for use with other sports like basketball and hockey. In a typical football deployment, the system would simultaneously drive the main central camera along with two offside cameras and a tactical or action camera. Otherwise, it serves as an affordable way for producers of major sporting events to capture extra camera angles and shots to work with when the budget limits the crew size.
Teams can standardise hard-to-achieve viewing angles, and position cameras in costly or constrained areas without occupying seats. Certain camera positions, such as the offside cameras in football, are considered critical in the overall coverage, especially for replays. Beyond automation and simple tracking, Overcam's AI-based approach imitates the movements of human camera operators, creating smooth, natural-looking framing of the action with real optical zoom and depth of field. The Overcam system will be commercially available in early 2020.
X-One – Automated Highlights, Replay Speed Settings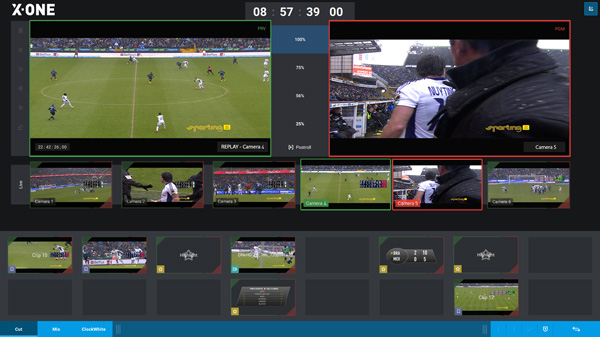 The updates to EVS' unified production system X-One shown at IBC, which are available now, make it possible for a single operator to very quickly produce highlights and dynamic live productions. Operators work through the X-One's user interface to handle live switching, create replays, control audio, create and insert graphics and play back content. Making all of these facilities available to the operator makes the system a good choice for niche sports organisations, because it helps to control costs.
With this version, which runs on compact new hardware, X-One can now be used to create, edit and produce automated highlights, including multiple-angle clips, picture-in-picture effects and new replay speed settings. The system automatically creates a playlist for highlights based on the replays that are created during live production. The operator can then choose to playout the suggested playlist or edit it.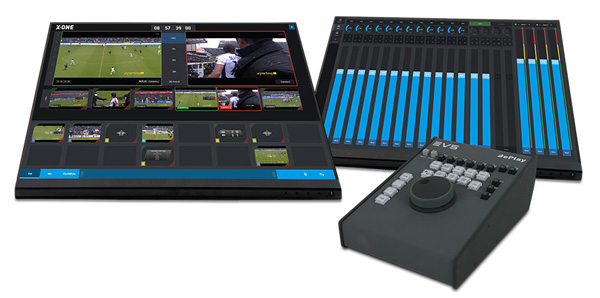 X-One components - dual touchscreens and Beplay controller
The new speed settings for replays allow the operator to define up to three speeds - a typical selection could be 75%, 35% and/or 28% of the normal speed. The multi-angle clip creation tools mean that the operator can set in and out points to create clips based on the six incoming camera feeds that the system records via EVS' PMX processing module.
The X-One software is operated with interfaces displayed on a dual touchscreen, supported by a thin client, and with a Beplay remote controller with manual controls. Depending on their preferences, operators can choose between using the dual touchscreen alone, or the controller, or both – all tools can be operated by either the touchscreen or the controller. evs.com