AVIWEST Updates Management and Distribution of Live Video Streams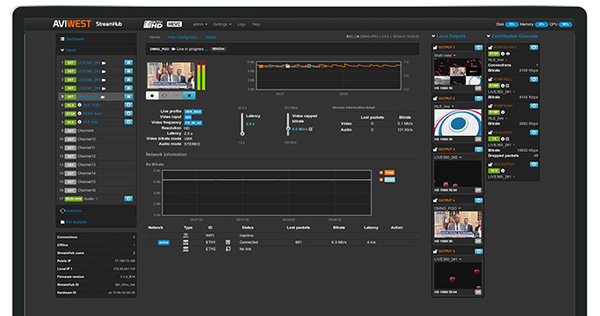 AVIWEST has produced a new software version of its StreamHub transceiver that is now vendor-agnostic and compatible with all third-party transmitters. Using StreamHub, broadcasters and other organisations working with video can receive transmissions from various types of transmitters and simultaneously share live content with multiple affiliates and other broadcast facilities, fast and at high quality.
AVIWEST StreamHub is a scalable, customisable video system for managing and sharing live streams from a number oftransmitters via a single interface in a many-to-many scenario. A StreamHub user can manage multiple incoming streams and distribute them to multiple affiliates from a single point of control. Being able to interconnect numerous third-party live transmission tools with zero delay saves time and money.
Because broadcasters often work from remote locations outside of conventional facilities, StreamHub is designed with a web-based user interface with a video thumbnail view. This capability allows broadcasters to build a live video multiview composed of all relevant input streams, which can then be fed out to affiliates. The multiview can be augmented with overlay information for each source, such as audio level and transmitter name.
The main advantage of the combined view is that it limits the total data volume while still supplying multiple streams, and allows each affiliate to choose a primary stream from all of those available.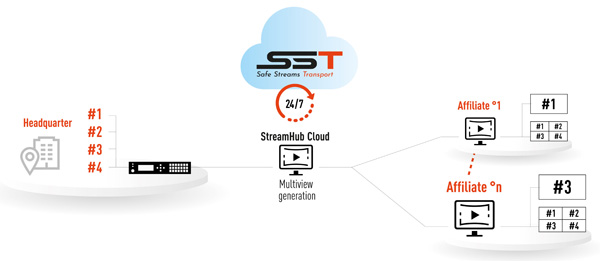 "By making their production workflow simpler and optimising costs with the AVIWEST StreamHub transceiver, broadcasters can increase their levels of live video content and the quality of viewer engagement," said Ronan Poullaouec, CTO at AVIWEST. "During a live event, broadcasters also need to make sure there is no delay. Viewers do not want to miss a second of the action, especially for live sports. Choosing a dedicated live video system with HEVC encoding like AVIWEST's can optimise the critical factors – that is, result in the highest quality video possible, at the lowest bit rates with lowest latency possible."
StreamHub employs AVIWEST's Safe Streams Transport protocol, an Emmy Award winner this year at NAB 2019, which combines algorithms including forward error correction (FEC), automatic repeat request (ARQ) and variable bit-rate control with IP bonding techniques to improve the quality of service.
StreamHub's universality enables it to support a variety of streaming protocols as well, such as RTMP, RTSP/RTP, HLS and TS/IP, so that broadcasters can transport video feeds through a low-cost public internet connection with the same reliability as traditional broadcast transmission methods. Further transport resiliency and redundancy is supported by bonding up to 12 unmanaged IP networks, including 4G/3G and soon 5G cellular networks, LAN/WAN, satellite, telecom, public internet and Wi-Fi.
AVIWEST's transceiver can be deployed on-premises or operated as a cloud-based service tailored to news or live video production organisations' workflows and operational constraints, making it useful in the current evolving multiscreen video delivery environment. www.aviwest.com