Game Creek Video Builds Agile HDR, IP, UHD Workflows on EVS XT-VIA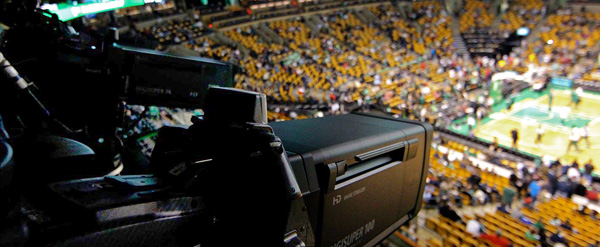 Game Creek Video in the US supplies mobile production units for large-scale live events, and is involved in nearly every major televised sports and political event that takes place across the country. The company has recently upgraded and expanded their equipment to support HDR capabilities across all of its services, including UHD/4K and 1080p production.
Among the new equipment are 20 EVS' XT-VIA servers. These have been deployed for the first time by FOX Sports at the start of the new college football season and will continue to help Game Creek support other broadcast clients staging large-scale sports productions.
XT-VIA servers replay, edit and produce content, and can be set up into the specific configurations the client needs to capture live action for a particular event at high quality. XT-VIA can output either HD or UHD, in SDR or HDR in any I/O setup, and in both IP and SDI environments. Its wide codec support and ability to upscale 1080p to 4K for UHD playout means a user can customise different workflows at any time from the same server.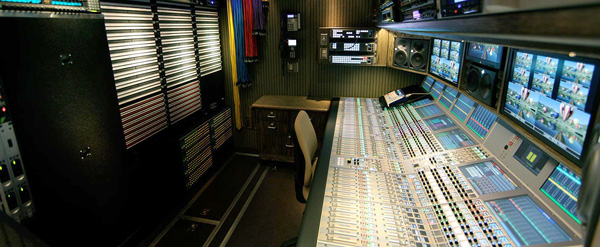 "We see HDR as the future for production systems," Jason Taubman said, SVP Technology at Game Creek Video. "Because many clients are actively experimenting with the format, it's essential to staying ahead of the curve. We're now building all of our trucks to produce in HDR."
The servers support a good range of super-motion cameras – which have become increasingly important in live sports production – in 1080i, 1080p and UHD/4K resolutions, and maintain their valuable channel density at the same time. Also, a server can start with four HD channels using SDI and expand to 12 or more channels, changing to IP as required, without having to invest in new devices. The VIA microservices platform is updated continuously to stay in line with future versions of regular workflows.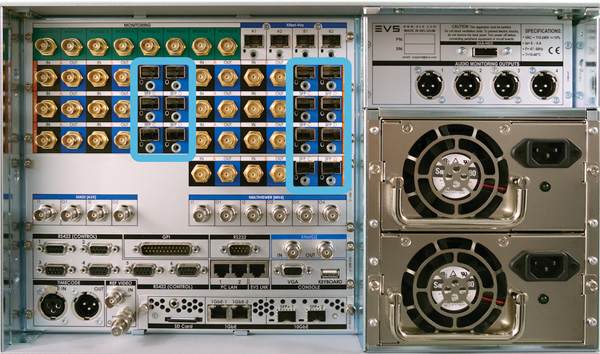 XT-VIA and XS-VIA back panels with IP native Ethernet SFP connectors
In order to take better advantage of the flexibility and performance of the XT-VIA servers, Game Creek is using the new EVS XNet-VIA high-speed, Ethernet-based media sharing network with the servers to make more options and faster transfer speeds available to clients. It supports high-resolution networking between XS-VIA and XT-VIA servers and live production tools on the VIA platform, and is faster and simpler to set up than using IP addresses.
To record and playback multiple feeds of video and audio in different, required formats, Game Creek's investment includes XS-VIA production servers, optimised to record multiple audio/video feeds, and control multiple channels of playback operations. XS-VIA is built with a high UHD/4K channel density and supports both SDI and IP environments.
The company is also upgrading 60 of its existing XT4K and XT3 servers to the EVS Multicam 16.00 operating system as part of a scheduled overhaul of its EVS fleet. This will improve the performance and increase the bandwidth of its servers to handle live productions in higher resolutions.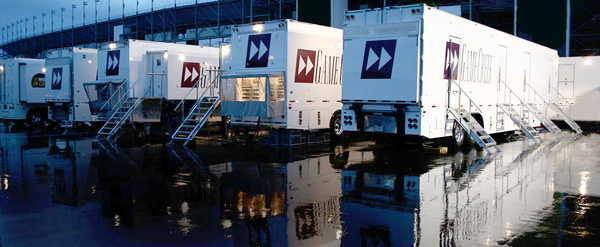 When combined with the servers' hardware, Multicam 16.00 expands options for users creating live programming from events, with twice the internal bandwidth of the earlier EVS' servers, plus greater server capacity. Multicam also supports the use of an internal multiviewer, allowing users to visualise and optimise resources better. Equally important, switching to the updated operating system means Game Creek can incorporate the XT4K and XT3 servers into an Xnet-VIA media sharing network.
Overall, the EVS gear aligns with Game Creek Video's longer term planning, which includes upgrading all of its trucks to accommodate new high resolution, HDR formats, and transitioning to IP video. Eventually, the company's goal is to build all of their mobile units to the SMPTE 2110 IP standard, which the XT-VIA has been successfully tested for by the Joint Task Force on Networked Media. www.evs.com