Matrox Monarch EDGE Encodes Skate Culture for Vans Showdown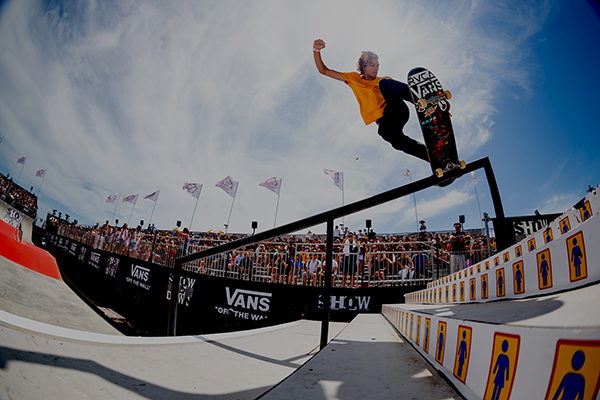 The world's top skateboarders are extreme athletes who are constantly trying to push the limits of what is physically possible on wheels, performing ingenious tricks and making them look easy. Not surprisingly, skateboarding fans love tuning into live webcasts that give them the look and feel of being at the skate park, following their favourite performers.
The Vans Showdown, held in early August in Huntington Beach, California, was a speciality competition that featured some of the best international skaters competing at one of the biggest skateboarding events of the year, the Vans US Open of Surfing. Throughout the competition, remote fans used their smart devices and desktops to connect to the Vans US Open of Surfing's official website and watch the stars.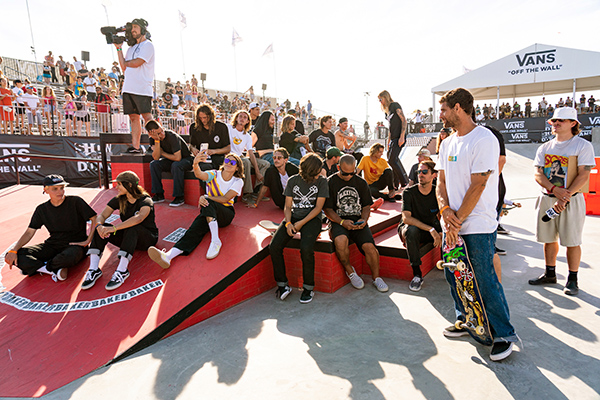 Live event production company B Live from New York City produced the online show for the Showdown. Viewers accessed live streams of the action at the skate park through the proprietary B Live interactive user interface. B Live have developed their UI to allow users to switch directly between multiple camera views, resulting in a fan experience that was in some ways superior to being at the venue.
Quad-spilt Composited Streams
B Live handles many live production and delivery services, with an emphasis on digital streaming experiences. They carry out on-site or remote encoding, bandwidth and transmission procurement, with adaptive streaming of live video in an unbranded, non-tracking player. Their customers retain creative control over all stages of an event from the lead-up into live and on-demand viewing on the customer's own and 3rd party sites. The multi-view video switcher within their interactive user interface is one of various options that help users enhance viewer engagement.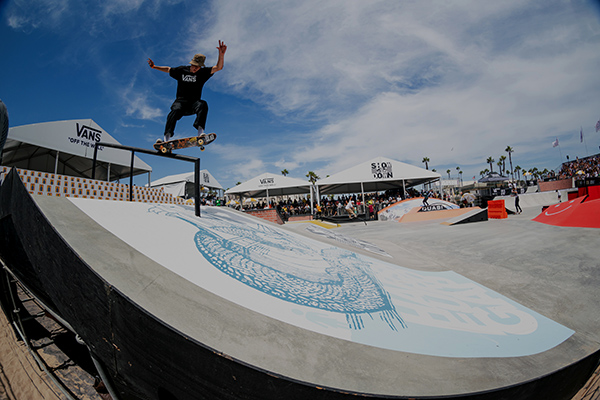 To encode the multiple camera feeds from the event, B Live chose the Matrox Monarch EDGE encoder because they needed hardware that could accept four discrete HD SDI inputs and deliver a stream as a single quad-split composition. Earlier on, before B Live started using the EDGE encoder, the player would need to buffer each new camera angle as the user selected it, before the video would become available for viewing.
"Formerly, every time a viewer switched camera angles, it loaded a new independent stream," Jay Kopelman, Director of Digital Engineering for B Live. "Now, because Monarch EDGE dynamically encodes robust H.264 video and generates quad-HD streams, we can feed the vision as a single 4K stream into the player and viewers can switch, directly and without delay, between the cameras on the B Live interface."
At the Showdown
B Live's work at the Showdown began with their camera crew, which captured each competing skater separately. Four 1080p30 video streams, including three isolated views of skaters and one director's cut produced on-site by a different team, were sent back to the B Live office. There, Monarch EDGE received all four feeds and encoded them into a single 4K, 20-Mbps stream that was then sent to the B Live platform.
Through the B Live user interface embedded in the Vans Open of Surfing website, fans watching on their smart devices or desktops would decide from moment to moment which view they were interested in, and meanwhile experienced no buffering.
Jay said that B Live is also planning to use Monarch EDGE's upcoming closed captioning support, and continues to use the device for live events with high quality, complex quad-stream requirements. "The Monarch EDGE's 4:2:2 10-bit encoding is functionality I haven't seen in any other device," he said. "It is a tested, mature platform that we know will keep working." www.matrox.com