Freaks 4U Builds Blackmagic Workflow for Esports Broadcast Production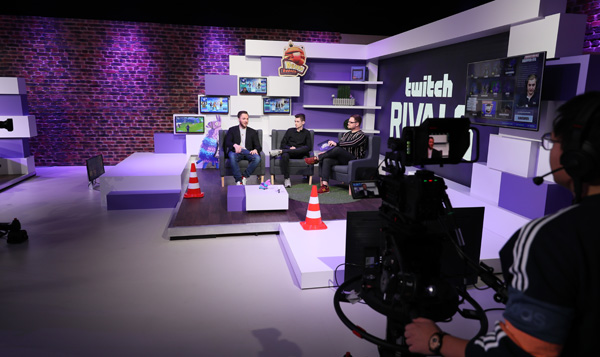 Freaks 4U is an integrated marketing and communications agency in Berlin focussed on gaming and esports. It operates services such as brand consulting, social media management and editorial, as well as media production. Their campaigns and strategies target audiences in gaming and esports around the world and include their own community brands and brand marketing influencers.
Freaks 4U's services include production of specialised digital content, suitable to use for traditional or live streaming broadcasts. Its Gaming facility can support most show styles, ranging from esports content out of gaming tournaments, to Twitch battles, to magazine-style esports programming. As well as customisable studio sets, caster booths and presenter spaces, the company also makes 20 studio pods available in which influencers can create content for their own social media channels.
Production Space
Working with gaming production equipment specialists at Teltec Berlin, Freaks 4U Gaming has fitted out 2,800m2 of multipurpose production space at its headquarters in Spandau, Berlin. Among the camera equipment is a fleet of URSA Broadcast and URSA Mini Pro G2 cameras paired with 4K B4 lenses.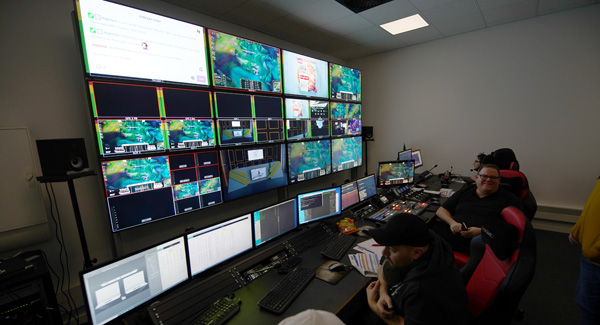 "Freaks 4U Gaming works as a bridge between esports, broadcasting and influencers to create engaging, exciting content," said Matthias Remmert, Freaks 4U Gaming's Senior VP, TV & Media Productions. "With a good understanding of what the gaming community wants, we can translate ideas in different ways – into broadcast shows like ran eSports gaming magazine for ProSieben MAXX, as well as international events such as the European Twitch Rivals tournaments."
Matthias said that this insight into the community was the driving force behind the studios' flexible production infrastructure. "We chose to install a SMPTE fibre network as the facility's backbone so that we can produce shows and content simultaneously. It also means that, when a production needs more than one location or space, the various sets and studio spaces for it can all be controlled remotely, through a single gallery."
SMPTE Fibre Network
The SMPTE fibre network at Freaks 4U is SMPTE hybrid cable. SMPTE cables make it simpler to carry multiple signals, as well as power, over long distances – useful for broadcast because, in this case, they won't need several cables to connect each camera to the central switcher. With a SMPTE 311 hybrid fibre optic cable, a single standard optical fibre cable can connect each camera to an ATEM switcher, and then send all video, power, talkback, tally and control signals along the one cable. Optical fibre is also able to carry these signals and power over longer distances of up to 2km.
The Blackmagic Design Camera Fibre Converter and Studio Fibre Converter both use SMPTE fibre cables as well. By using the URSA cameras, Camera Fibre and Studio Fibre Converters along with an ATEM switcher, all products communicate to form the facility's fibre network backbone that allows them to produce shows and content simultaneously.
As the central base unit, the Studio Fibre Converter takes the program feed from the switcher plus all return sources, and feeds them to the Blackmagic Camera Fibre Converter via the SMPTE cable. The built-in LCD monitors the camera feed and each source connected to the return feed inputs, showng a heads-up type display with status information and audio meters.
Production Hub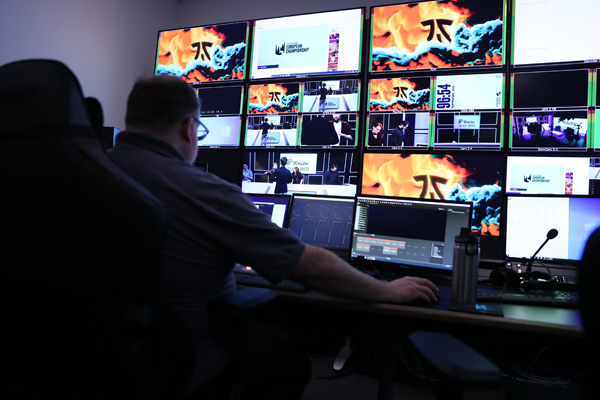 Three new galleries are equipped with the ATEM Constellation 8K production switchers, forming a production hub with versatility. "A major challenge for esports production is managing multiple layers of content from within the gameplay itself, as well as matching up reactions from gamers and commentators," Matthias said.
"The ATEM Constellation switchers facilitate a leaner, more straightorward workflow. The larger number of inputs reduces the complexity at the back end of the system and the need for additional I/O capacity. Standards conversion on the inputs also means we need fewer patch panels to juggle all of the incoming sources, which can vary tremendously from production to production."
The Freaks 4U Gaming team covers a schedule of external live events and tournaments in Europe, for which they have built up a series of bespoke PPU mobile production systems. These have been configured around the URSA Mini Pro G2 for acquisition, ATEM 2 M/E Production Studio 4K production switchers and Teranex AV for standards conversion.
"The Blackmagic Design workflow is an integral part of our work as a creative agency and ensures consistency across our production schedule," said Matthias. "That uniformity also means that we can redeploy resources wherever they are needed for flexibility, but still have confidence that we can maintain the same quality production values for clients."
www.blackmagicdesign.com