Bonded Cellular and 5G Simplify Live Remote Broadcast Production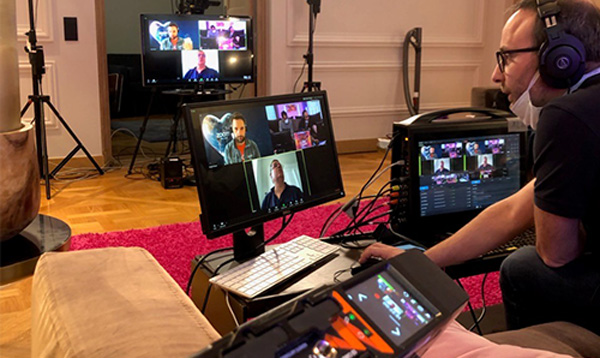 A major challenge that every broadcaster, news agency and video professional faces today is the cost of live broadcasts. Consumers want to watch everything live as it happens, whether it's breaking news, sports or other events, no matter where it is taking place. But live broadcast production is expensive and sometimes very difficult due to lack of connectivity. As broadcasters aim to deliver superior-quality video content for live news and event coverage, data costs continue to rise.
Ronan Poullaouec, CTO at AVIWEST, talks here about how bonded cellular systems help to resolve this issue by enabling live interviews and events to be streamed and stored, and recorded content forwarded, under unpredictable and unmanaged network conditions. Also, as 5G networks are rolled out around the world, broadcasters can expect to find more advantages for live video delivery.
Before bonded cellular techniques were developed, the primary ways that broadcasters delivered live sports and events was via satellite, ENG or mobile production trucks. The drawbacks of using those distribution methods is their cost, as well as the length of time required to set up the satellite links.
Fast, Efficient, Available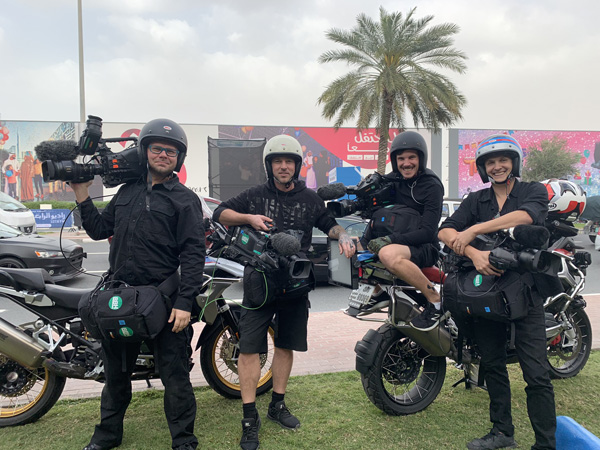 Covering the Dubai Marathon 2020, BBH Best Broadcast Hire
Using bonded cellular techniques changes the situation for broadcasters in several ways. First, it means they can receive bandwidth anywhere in the world. Ericsson reports that in 2018, global LTE population coverage was about 74% and that 5G is forecast to be used by about half of the world population by 2025. In other words, cellular networks are widely available around the world and can become a great resource for broadcasters.
Ronan said, "Second, certain aspects of cellular bonding increase the efficiency of live video production. Bonded cellular systems are lightweight, portable and mobile, making them simple and quick to set up in the field for a live event. After a bonded cellular modem has been set up, broadcasters can manage live video transmissions from anywhere globally. Any issues that arise in the field can be resolved from a remote master control room and therefore, fewer people are needed onsite.
"Moreover, bonded cellular enables broadcasters to deliver live news and sports with sub-second latency by bonding together multiple unmanaged cellular networks, thereby achieving the bandwidth needed for broadcast at a reduced cost." In managed networks, resources would already be allocated between different cell sites, limiting inter-cell communication.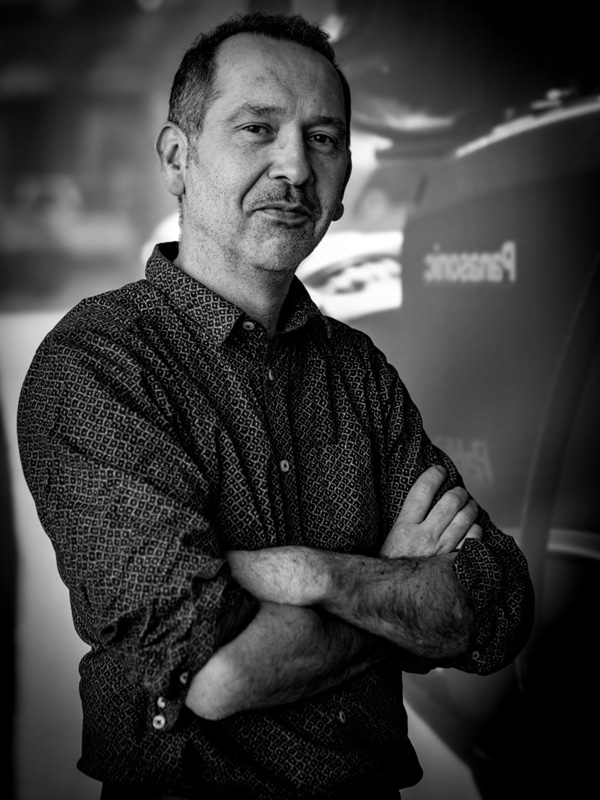 Ronan Poullaouec, CTO at AVIWEST
Gathering Speed
The first professional live video transmission systems using cellular networks appeared more than 10 years ago, using the 3G networks that existed at that time. Although 3G networks only afforded low speeds and limited coverage, that fact did not prevent the emergence of professional live transmissions. These systems, based on the use of several 3G networks, have not only revolutionised live content production but also enabled news channels and content producers to create live content under conditions where it would otherwise have been impossible.
When the first 4G networks arrived, the number of live productions on cellular networks increased significantly. Over time, the use of bonded cellular transmission systems has also grown, including transmissions for sports and entertainment TV channels that earlier on hadn't thought it would be possible to produce live content on cellular networks while maintaining their quality requirements.
Evolving with 5G
"5G networks are expected to bring many improvements to the current bonded cellular transmission scenario," said Ronan. "Gigabit speeds and a reduction in transmission latencies are the initial advantages broadcasters can realize from 5G. In the future, new developments will appear, such as network slicing, which will allow media organisations to operate their own network in critical environments or locations, such as stadiums and event spaces."
Network slicing allows multiple virtual networks to be established on common, shared physical hardware. Distributors can then customise the virtual networks to meet specific requirements of their applications, services and devices, and their customers or operators. In effect, it will mean broadcasters can still deliver a competitive quality of service in situations where the public network is totally congested.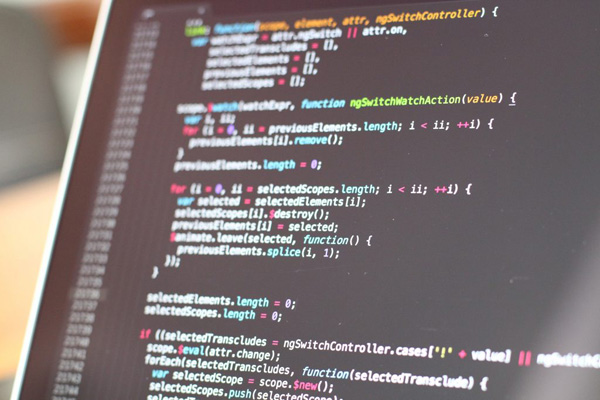 Encoding data for use with Safe Streams Transport
Other important developments such as multiple access edge computing, or MEC, will enable the emergence of new transmission services with very low latency for cases where quick response time is critical. MEC moves the computing tasks for traffic and services – analysis, processing and storage – from a centralized cloud to the network edge, that is, closer to the customer. The goal is to reduce latency and allow real-time performance for high-bandwidth applications.
Ronan also considers that private 5G networks will allow media and broadcast professionals to focus 5G connectivity on isolated needs in specific locations, such as inside buildings or outside in demarcated areas. "It's possible this will replace unreliable WiFi set-ups with a more powerful, reliable 5G wireless infrastructure," he said.
"In the 5G future, systems such as AVIWEST's SST (Safe Streams Transport) will become more useful than they were originally for live video transmission under any network conditions. SST aggregates multiple IP network connections, dynamically adapting video bitrates according to network bandwidth fluctuations, protecting stream content, and supporting the retransmission of lost data. Even if the 5G network brings new capacities and services, the SST protocol will maintain consistent, continuous quality of services and make the best use of the performance and power of 5G."
Building Bonded Cellular Systems
Typical bonded cellular systems comprise a camera, tripod and cellular backpack. When choosing this approach, Ronan recommends that broadcasters look for several key capabilities to make sure their video is delivered at the expected quality.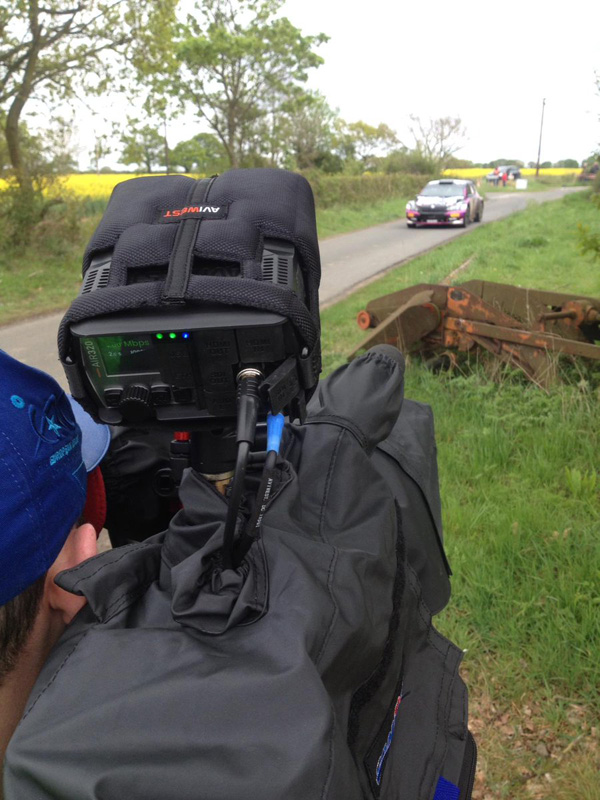 AVIWEST remote system at the 2019 Corbeau Seats Rally.
"Having a strong encoder is critical," he said. "Through encoding, broadcasters can reduce the bitrate needed for high-quality live video delivery. Today, H.265 and HEVC are the prominent codecs used, and VVC is expected to be completed as a next-generation standard in 2020. HEVC gives a 50% improvement in bandwidth efficiency compared with H.264, while delivering the same video quality. When VVC arrives, it promises to decrease the bitrate needed for live video delivery by an estimated 30% to 50% with the same perceptual quality as HEVC, but with an estimated 10 times or more encoding complexity.
"Beyond standard encoding capabilities, live broadcast delivery applications require specialised processing like adaptive bitrate and low latency encoding to preserve the quality of experience for viewers on every device. Forward error correction (FEC) and Automatic Repeat reQuest (ARQ) are essential to support reliable transmission over congested networks. With the greater value that 5G will bring to the broadcast environment, having bonded cellular equipment that that supports it is also important."
The global COVID-19 crisis has exacerbated the demand for remote production. The impact of 5G on remote broadcast production is expected to be significant, helping to facilitate installations and reducing costs. Ronan said, "In the future when 5G networks are relied for live video delivery, broadcasters will also increasingly rely on bonded cellular systems for their efficiency, cost savings and ease of set-up.
Ronan said, "By combining bonded cellular systems with modern encoding, techniques like FEQ and ARQ, along with 5G connectivity, broadcasters and other video distributors can deliver live news, sports and events coverage with greater efficiency, higher quality and cost-effectiveness, from any part of the world." www.aviwest.com