Viz Social and Never.no Visualise Social Media Content in Real Time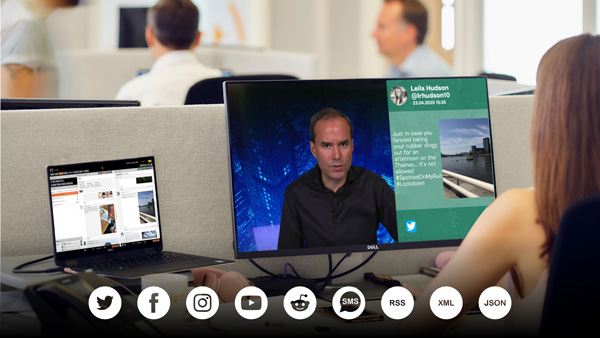 Viz Social is a cloud-based subscription service from Vizrt that editorial staff can use to interactively moderate and curate social media content for broadcast in novel ways. It was developed in collaboration with software developers Never.no, who specialise in audience engagement and interactive TV. Viz Social connects directly with the data fields in Vizrt graphics tools so that broadcasters can use data-driven graphics templates to build stories driven by social media content, curated as it occurs. Graphics can be updated in the rundown and taken to air as normal.
Real-time graphics workflows are not disrupted but rather augmented by Viz Social, adding a distinct type of data feed for consciously curated storytelling. In other words, Viz Social output does not replace real news and information a newsroom produces, but is used to add a focussed point of interest and establish a way to engage the audience on a social level.
Managing Social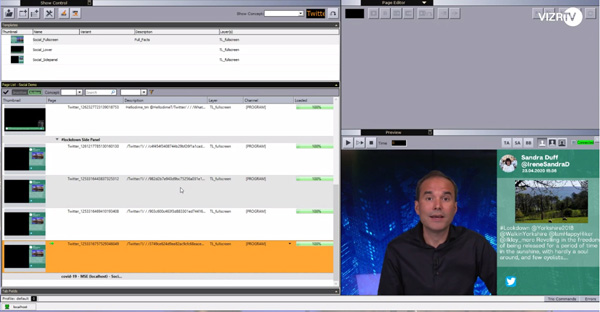 Vizrt believes that broadcasters today need tools that make it easier to work efficiently with social media content that may, for example, open access to breaking news. Viz Social maps collected social media content from Never.no to data fields in Vizrt's graphics platform, so that large quantities of apparently random social media content can be managed, visualised and used to tell stories that are clearer, more concise and timely.
Using Viz Social, producers search and monitor conversations on Twitter, Facebook, Instagram, YouTube and RSS feeds in real time to track and respond to content as it develops in the online environment. Filters and moderating techniques can be applied to send the most relevant, interesting content to air as content mapped directly to Vizrt scenes and tools, allowing storytellers to create custom content to engage audiences.
The filtering, moderating, polling and competitions are carried out using tools based on Never.no's social content harvesting software called BEE-ON that moderators use to find, filter and publish content directly into TV programming and ads, or digital platforms. Further audience engagement can be created using Viz Social by running BEE-ON's interactive polls and competitions with audience members interacting on primary and secondary screens in real-time. BEE-ON can also be used to trigger graphics and track social performance, users and analytics.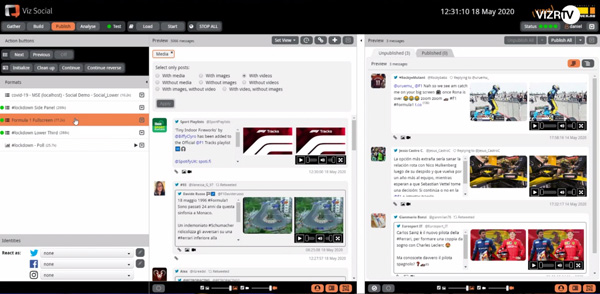 Selective Moderation
The producer or moderator is able to choose which content goes on air and at what time. Using Viz Social you can create collections of relevant content, called carousels, and filter, select and publish the most appropriate posts. You can filter content by geolocation, language, media type, etc. You can also apply exclude filters on a system-wide level to make sure that posts with unwanted material are always filtered out. Counting from the moment of posting, a message can be harvested, moderated and published to air within a few seconds. Automated content such as poll data could be displayed in real-time, for instance.
Over time, Vizrt and Never.no will continue to develop the service in different ways – for example, more social media platforms will be added, and it is already possible to use Viz Social on iPad. www.vizrt.com