Edgeware Upgrades Content Processing for the Future of Online TV
Edgeware's StreamBuilder software platform uses segmentation, recording and packaging to create competitive, responsive online TV. With specialised functionality for cloud-based channel regionalisation and multi-screen subtitling, broadcasters, content owners and distributors, including telco and cable TV providers, also have the tools to create regional and theme-based channels more cost-effectively.
Central to StreamBuilder's functionality are optimised segmentation and synchronisation capabilities, necessary for high-quality streaming. The software ingests live and VOD assets, and segments the content precisely and accurately in order to compensate for synchronisation issues between audio, video and subtitling streams, and between streams from various encoders. The result is a smoother viewing experience.
On the StreamBuilder Platform
For timeshift TV, segmented live streams are stored in a NAS circular buffer. From there, content is extracted and supplied through time-shift services such as catch-up and start-over TV. Storing the live segments in a circular buffer gives the operator flexible, redundant configurations that help optimise storage, and gives the subscriber glitch-free failover for smooth viewing.
With related functions such as synchronised redundant video streams, StreamBuilder can avoid drift caused by poorly encoded inputs, resolve glitches when applying fail-over between encoders, and correct content bleed between ad and content segments.
Before final packaging, Edgeware Packager and Protection software converts live and VoD assets to the different streaming formats required by consumer devices, such as HLS and DASH. VCC includes Microsoft Smooth Streaming – though use of MSS has declined worldwide, it is still important in many markets and Edgeware's system is unusual in its ability to insert regionalised ads for Smooth devices.
Its Ad Enabler detects the SCTE-35 ad markers in the live incoming stream and dynamically inserts ads in DASH and HLS formats for live OTT, live to VOD and time-shift TV. It adjusts and cuts the segments with frame-accurate segmentation to exactly fit the length of the ad break to avoid ad break drifts. The adjusted segments and the SCTE-35 markers are packaged in the requested ABR format in the manifest.
DNA TV Service in Finland
The first customer Edgeware has announced as a StreamBuilder user is Finnish telecommunications company DNA. The company is now using StreamBuilder to support its TV service DNA TV, meeting all of its origin server requirements and adding various new features for subscribers. Specifically, DNA has added StreamBuilder's functionality such as video on demand content ingest, network personal video recorder (NPVR) recordings, and just in time packaging, to help improve the service.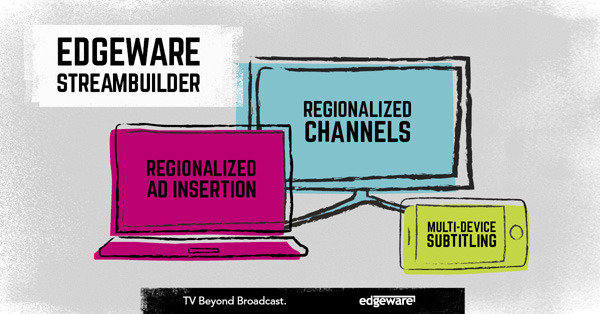 Launched in February 2020, the new DNA TV is an upgrade of DNA's IP-based delivery for TV. It now makes unlimited NPVR recordings available, has a new user interface and the video stream quality is better. Subscribers can view and record unlimited TV programs and watch live and VOD content whenever they want, anywhere in the EU via the DNA TV app. The service also gives content recommendations based on users' individual viewing preferences.
Channel Regionalisation
StreamBuilder includes Edgeware's approach to regionalised online channels and ads, Virtual Channel Creation. Broadcasters and content owners can use this functionality to attract viewers and advertisers by increasing reach and adding relevance to their content and services. In this context StreamBuilder's ad insertion also helps attract advertisers to a channel that gives them a chance to promote products to a local audience. It also gives users the means to control the encoder and storage costs associated with creating new channels.
"As more broadcasters and content providers move content distribution to the IP domain, the need for broadcast technology to merge with distribution technology is increasing, particularly in a way that overcomes inherent complexities and costs," said Andy Hooper, VP & Commercial Lead, origin products at Edgeware. "StreamBuilder empowers users to create online TV channels that are fit for the future by adding revenue, responding to advertisers' aims and viewers' demands and ultimately, improving quality of service."
Edgeware supplies StreamBuilder functionality as a managed service option in the Edgeware Cloud Service or a software option for cloud-agnostic, data centre or on-premises deployment.
Regional Expectations
Regional channels are not new to broadcast. Within national channels chosen for localisation, broadcasters are able to define segments where regional content is spliced in. The splicing is usually done in a central broadcast facility, and increasing the number of regional variations requires investing more in production, encoding and storage.
Theme-based channels associated with live events and pay-per-view are another way to increase viewing time and relevance for audiences. An example is fan-channels that address certain demographics or regions during online music or sports events.
But viewers used to regionalisation on channels will expect it to see it across all platforms and on all screens. That may create challenges for the broadcaster because, at least in terms of volume, the advertising value of a regional channel will always be less than a national channel. Nevertheless, as broadcast and TV distribution continue moving online, the potential for channel variations grow – regional weather and news, plus variations based on interest, advertising and content itself are all possible.
Dynamic Manifest
Creating them by investing in traditional broadcast playout resources is unlikely to pay off, and each channel alone may have limited impact. However, taken together, they can notably expand the operator's reach. Edgeware developed StreamBuilder as a way to efficiently scale regionalised channel production using the VCC system, which stitches channels in their segmented content stage before packaging them into ABR formats for internet delivery.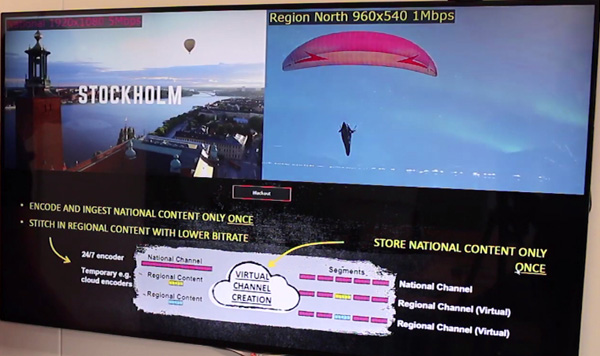 The result is a dynamic manifest in which each stitched piece of content is equivalent to the others. With no change to the broadcast playout capacity, broadcasters or content owners can stitch together content from different sources to create new virtual channels economically.
VCC's efficiency and ability to save costs is due to its handling of playout, contribution, encoder and storage resources. In the broadcast model, regional channels each take up a complete 24hr encoding resource and one full channel in the broadcast spectrum – in other words, the national content is encoded and stored multiple times, and then regionalised.
The VCC process, on the other hand, encodes and stores national content only once. Regional content is then stitched into the channel in the IP playout from the origin to create each full regional channel. As a result, encoder needs are reduced. If a catch-up service is required, each unique piece of content is stored separately, and the channel is re-created on demand during packaging. Because Virtual Channel Creation occurs ahead of final packaging, virtual channels may be packaged into all adaptive bitrate formats with Packager and Protection.
OCR Subtitling and Packaging
Multi-device subtitling functionality carries out image to text-based subtitling for online TV. StreamBuilder uses the Cavena-based Subtitle Transmission Unit (STU) to read subtitle data from an incoming TV signal/transport stream, employing Optical Character Recognition (OCR) to convert the image-based subtitles to text-based subtitles. The subtitle file is repackaged into any ABR-format requested by the client device, either using Edgeware's Packager and Protection or another packaging application. The subtitle file is delivered together with audio and video files in the ABR format requested by the client device. www.edgeware.tv