Dalet and Bitmovin Integration Improves and Accelerates NRL's OTT Services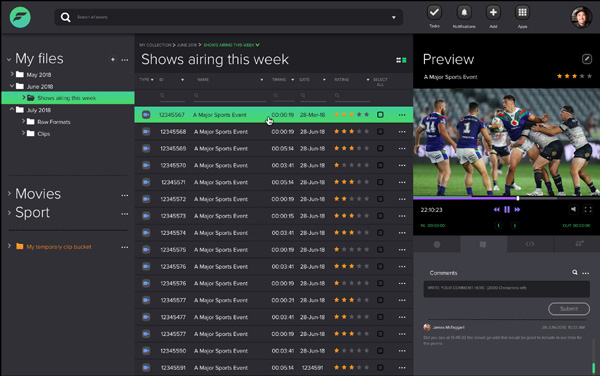 Dalet and Bitmovin have been collaborating on ways to improve the preparation and accelerate the delivery of OTT content for broadcasters, sports leagues and teams, brands and other companies that generate and use large amounts of media.
The first organisation to put their partnership to work is Australia's National Rugby League (NRL). The workflow integration, which uses Dalet's Ooyala Flex media logistics platform and Bitmovin's fast encoding system, retains enough flexibility and agility for the NRL to continue optimising their OTT operations over time.
Integrating User Experience with Media Logistics
"Dalet's Ooyala Flex Media Platform has been deeply integrated with Bitmovin's encoding, player and analytics software, changing the revenue options and the handling of OTT video distribution for organisations like the National Rugby League," said Stefan Lederer, CEO, Bitmovin. "The higher quality and more diverse range of content will attract viewers, and streaming costs are controlled through better use of bandwidth."
Bitmovin's video software and cloud infrastructure for online media delivery focus on video encoding, playback and analytics that relate to the user experience. For example, their team co-authored the MPEG-DASH streaming protocol and the first commercial HTML5 MPEG-DASH player, and also massively parallel cloud-native API-driven encoding. The Ooyala Flex Media Platform is about business continuity by building hybrid or cloud based content supply chains, with tools addressing security and content discovery. Using OTT preparation and multi-platform distribution workflows in Flex can help content owners quickly scale their operations.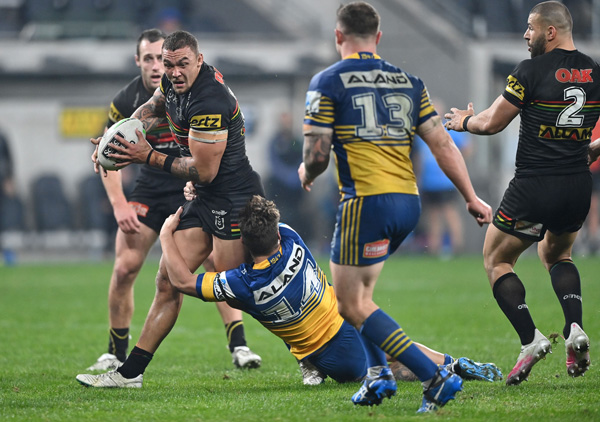 Deep integration of these two systems through their open APIs enables NRL to expand existing products and services into new markets and regions at scale. They have opportunities to engage fans through a choice of services such as VOD, apps and subscriptions. With the improved visibility across their production and distribution operations, they can anticipate and make better decisions about upcoming revenue opportunities for existing and future content.
Delivering NRL's Content
The National Rugby League (NRL) has a massive following in Australia and the NRL's telecasts have grown to become some of the most watched sports programs on Australian television. NRL runs a Digital division that creates, produces, archives and live-streams hundreds of hours of content to NRL's official website, NRL.com, and to the Telstra NRL Official app watched on smart devices and the Telstra TV OTT device. NRL Digital's underlying media system is also responsible for the 16 clubs and two of the state teams, as well as content delivery and operations of the NRL website and mobile applications, coordinating the fan and members content experience online.
The Bitmovin/Flex integration means only one workflow is required. Metadata is collected from a live feed or archived asset as it is streamed into the Ooyala Flex platform in preparation for delivery. After clipping, storyboarding and other creative input, encoding takes place to optimise the video based on metadata-driven analysis of the content. Sports content, for example, needs high-bitrate encoding at high-action moments to preserve complexity.
Bitmovin uses three-pass encoding based on machine learning. The first pass, a high-level scan, determines the optimised encoding parameters or settings, tuned to characteristics like general content complexity. The second pass analyses the chunked data to get precise enough data on the complexity in each chunk to allocate resources. Then the results of both passes are merged to produce the information the encoder needs for the best possible result. The third pass is the actual encoding process when an algorithm uses the analyses in the first two passes to make the final encoding decisions. Following the encode, the multi-platform workflows in Flex handle distribution.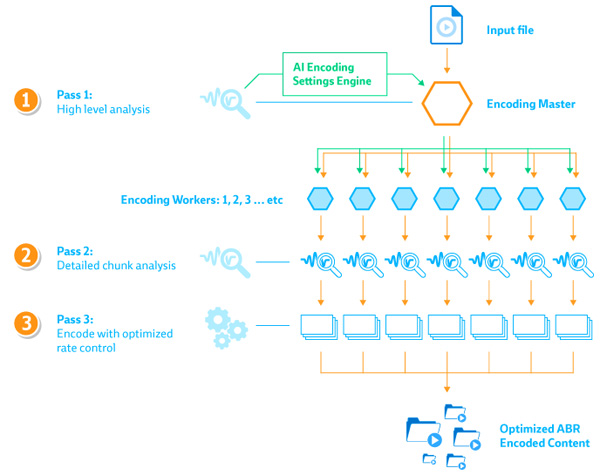 Bitmovin's three-pass encoding
Efficiency, Automation and Scalability
The automation and asset tracking used in both Flex and Bitmovin's encoder support scalablity within NRL's business – that is, they can build and add integrated systems, and still keep control over their asset life cycles. Efficiency gained through automation means that their relatively small digital and marketing teams can tap into extensive archives collected over 20 years, orchestrate content preparation with existing resources and scale distribution of content out to a wider audience.
The combined Ooyala Flex Media Platform and Bitmovin system made it easier for NRL's staff to build single-purpose workflows that could take better advantage of its inventory and distribute more editorial content, imagery and video across the NRL's websites and mobile applications. Ooyala Flex Media Platform's workflow and content management capabilities orchestrated the encoding, media movement and content discovery of the media catalogues to make near-live video available to their audiences.
Quanah McBride, Head of Digital Media Operations at NRL said, "When working with video content from varying sources that needs to be published online as live, near-live or on-demand content, every workflow, metadata layer and media processing step adds time and complexity getting content to the audience. By combining the Ooyala Flex Media Platform and the Bitmovin solutions we have been able to reduce complexity and issues, optimising inefficient steps and accelerating online delivery overall." bitmovin.com www.dalet.com