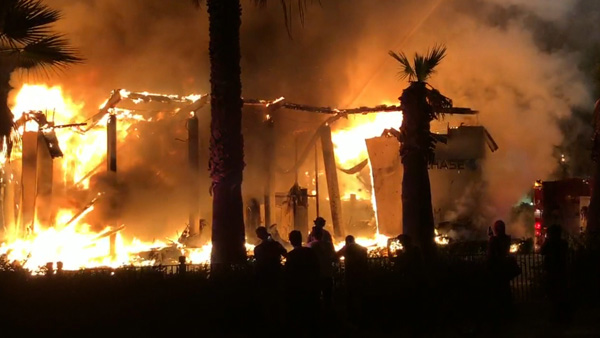 Wildfires near San Diego
San Diego TV station CBS 8, known locally as KFMB-TV, delivers seven hours of live news every day. Its crew, comprising news and weather reporters, photojournalists and producers, must all be prepared to deliver a live broadcast-quality transmission from virtually anywhere within a few seconds, without having to depend on a fully equipped ENG crew.
To support the station's emergency news coverage strategy, the team regularly uses Dejero EnGo mobile transmitters to send high quality live shots from remote crews in the field. More recently, due to larger than usual amounts of breaking news, they downloaded over 60 LivePlus mobile apps from Dejero to their smartphones and tablets. KFMB-TV's staff have used LivePlus to deliver crucial live footage from the Black Lives Matter rallies and San Diego's recent wildfires in June, and to respond ably to the broadcast challenges of the worsening COVID-19 pandemic.
Everywhere at Once
Chief photojournalist at KFMB-TV Kenny McGregor said, "San Diego covers a large area and our field crews and EnGo units can't be everywhere at once. When events became more frequent, we issued the LivePlus mobile app so that all staff could continue to produce live content. The app has changed our news coverage enormously."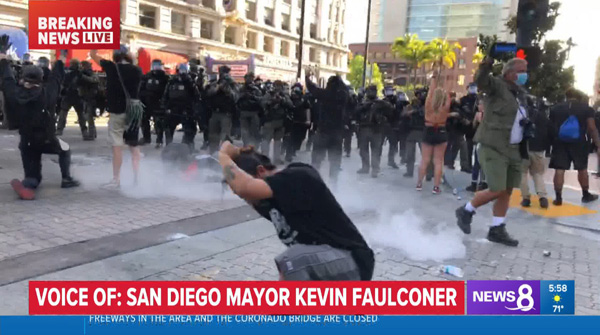 Dejero is giving access to LivePlus, which is available for both iOS and Android devices, via complimentary new licenses to organisations who need to deliver content during the COVID-19 pandemic. Being abe to capture events on a phone means journalists remain less intrusive and move more easily with the story, and can add cameras at more positions at live events. Kenny used the mobile app to capture unfolding events at close range during the Black Lives Matter rallies in San Diego, also in June.

Both the Dejero EnGo device and LivePlus app are based on Dejero's proprietary Smart Blending system to deliver images at high quality, reliably and with low latency. Smart Blending simultaneously aggregates wired connections like broadband and fibre, and wireless 3G, 4G, 5G, Wi-Fi and satellite IP connections from multiple providers to form a virtual 'network of networks'. This Dejero network is more reliable, expands coverage more widely and achieves greater bandwidth than streams on their own.
Stretching Resources
"The app has extended our resources, budget and most important, has meant our news teams can capture broadcast quality live shots in the field, move closer to the action and be first to deliver unfolding news to TV and online audiences," said Kenny. "As a result, when the COVID-19 lockdown was enforced, our reporters and video contributors were already equipped to be able to broadcast live from home using the app." It records in the MPEG-4, or H.264 codec.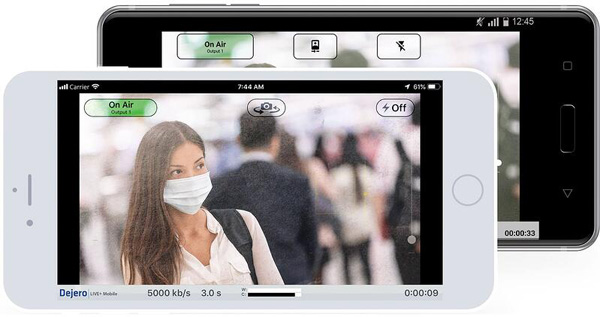 In the early stages of the pandemic, the Dejero mobile app was used at KFMB-TV to report the movement of cruise ship passengers in quarantine at local military bases. Using LivePlus on a mobile phone as a camera mounted to a car dashboard, reporters could follow buses from military bases back to the airport, and transmit video live, which would not have previously been possible using microwave signals alone.

Similarly, during the San Diego wildfires in October 2019, Kenny was able to report from inside the fire zone using only his cell phone and the Dejero app, arriving at the scene ahead of other news channel crews prepared to broadcast details and live updates to viewers.

LivePlus also has an advantage in terms of how KFMB-TV engages with its audience. The team can produce interesting content appropriate for online followers, ready to stream to their website and to video platforms like YouTube and Facebook. For example, reporters can deliver an insider's live coverage en route to a news scene and create anticipation over a mobile phone, without the usual equipment limitations. www.dejero.com