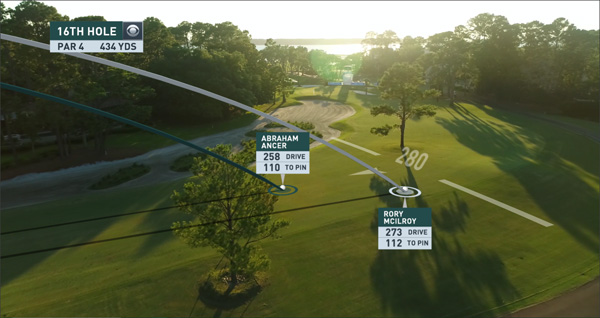 Virtual Eye is the sports division of Animation Research Ltd (ARL), a 3D computer graphics production studio in New Zealand. Launched 25 years ago, Virtual Eye now has a speciality in broadcast graphics for large scale sports events, delivered on multiple platforms. Their work has contributed to coverage of the Ryder Cup, The Open Championship (The British Open), the US Open, America's Cup, Formula 1, the Olympics, World Rally, Red Bull Freeride Tour, The Ashes, and both the PGA and European golf tours.
Until recently, Virtual Eye teams would travel around the world, carrying out production support on-site and creating 3D graphics that enhance and augment the action for viewers as it unfolds. Their schedule is intense. In golf, for example, ARL and Virtual Eye cover more than 90 tournaments a year across Europe, Asia, the Middle East, Africa and the US, and keep about 30 projects underway at any given time, each deploying crews of up to 12 people.
In 2020, COVID-19 caused the cancellation of most of ARL's sports business, which generates about 80 percent of their annual revenue. Long haul travel would put their operators at risk and some countries, including New Zealand itself, began closing their borders. John Rendall, Head of Technology and Innovation for ARL and his team had to think about how ARL could deliver to its clients if sporting events around the world resumed, without the ARL team on site to support them.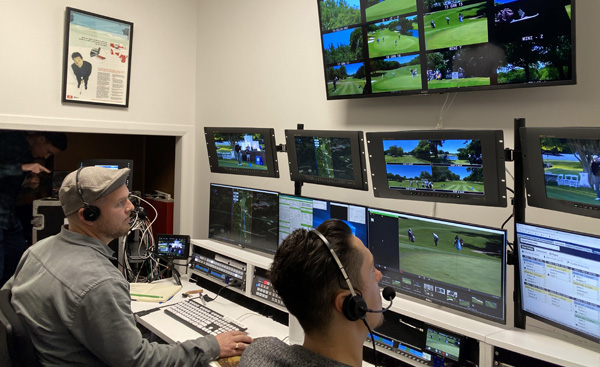 Low Latency Live Video Exchange
John said, "We wanted to use cloud-based remote production to develop a process that would allow us to carry out all tasks remotely, from New Zealand. We also needed our operations to be flexible, scalable and secure, and chose to work with AWS.
"Other platforms were more complicated to use. Having access to off-the-shelf managed services, a good set of APIs in order to access them and useful applications to go with them has really made a difference for us. Our company has to respond and move quickly. We have 30 to 40 projects going at once and, because the organisation is relatively small, we need to be able to find products and services that can deliver what we need with the least effort."
ARL has now set up a high-capacity bridge on AWS architecture between remote on-site productions and Virtual Eye offices in Dunedin, New Zealand. Using AWS global infrastructure and services, including AWS Elemental MediaConnect, Virtual Eye can manage all operations virtually without having to send crew to remote sports venues. Broadcasters can deliver live video from remote locations and exchange live video feeds securely between sports venues and central operations in New Zealand, and keep latency low enough to optimise their viewing experiences.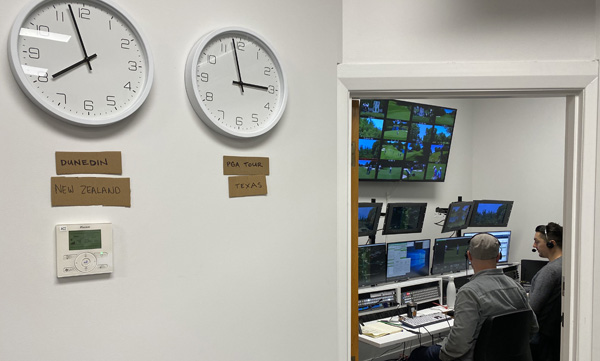 Clocking Dallas and New Zealand time zones.
AWS Services from VPC to Machine Learning
To maintain secure content delivery over its network, ARL uses AWS Virtual Private Cloud with site-to-site VPN, created by provisioning a logically isolated section of the AWS Cloud to launch AWS resources where the whole virtual networking environmen is user-defined, controlled and configured with route tables and network gateways. The AWS Global Accelerator networking service sends ARL's user traffic through the AWS global network infrastructure, improving their internet user performance. When the internet is congested, the Global Accelerator optimises routing automatically to help keep packet loss, jitter and latency consistent and low.
"I don't have a technical background, but as soon as John showed me how MediaConnect could support our work, I was interested," said Ian Taylor Managing Director of ARL. "Moving video around the globe has always been challenging and expensive, whether you were using satellite links or dark fibre lines. Using MediaConnect makes it possible for companies like us, and a lot of broadcasters, to avoid the huge costs previously associated with video transport. We have also found that many of our customers are using the same tools we're using."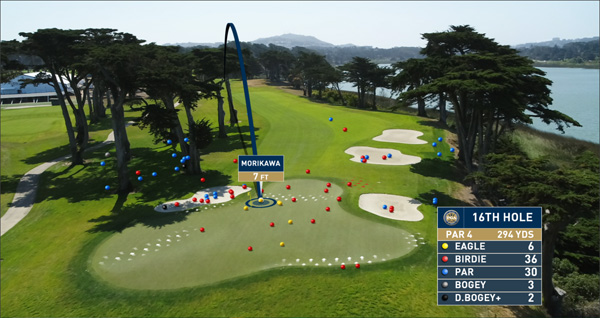 Telestration graphics at the PGA Championship 2020.
The Charles Schwab Challenge PGA golf event in Dallas-Fort Worth, Texas was one of the first sporting events to return after the initial COVID-19 shutdown. From 7,500 miles away in Dunedin, Virtual Eye supplied CBS Sports with augmented reality, virtual ball tracking and other graphic elements, rendered in real time, for their fans at home. "The system worked just as expected. We have now delivered every tournament for the past three months," John said. "Currently we are gearing up for the US Open and The Masters."
New Opportunities
"Basing our platform on the AWS cloud has opened up some new opportunities for us. It means we can still reach distant places at the other end of the world from New Zealand. If we can deliver from here to Dallas, we can supply our work to clients anywhere with the same reliability and confidence as usual," Ian said. "AWS is accelerating our innovation efforts into machine learning use cases as well."

Venue to cloud to Virtual Eye workflow.
For example, they can use the Amazon SageMaker service to build, train and deploy machine learning models fairly quickly. With Amazon Rekognition, ARL can identify objects, people, text, scenes and activities in images and videos. The service has accurate facial analysis and facial search capabilities used to detect, analyse and compare faces. Amazon ML serices are paid for by the hour. These give them the ability to automatically track players in the field using ML vision, and generate insights and analytics relevant to viewers, coaching staff and others.
Ian and John also saw the AWS cloud video infrastructure as an opportunity for Virtual Eye to reduce its carbon footprint. "We had originally planned to deploy a more sustainable model for remote production three to four years from now," said Ian. "Due to COVID-19, we accelerated those plans. We can now support multiple simultaneous remote productions on AWS without having to transport large crews, and reduce crew size for multiple-day events by about 80 percent."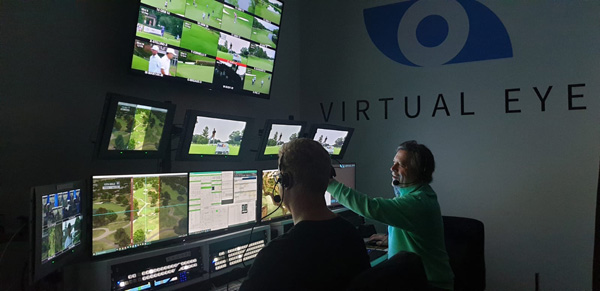 "Sustainability is very important to us," Ian said. The company is now creating an educational platform to be given free to all schools in New Zealand, inspired by a video called 'Papatuānuku Breathes' that was released in New Zealand during COVID-19. "By its very nature as a cloud provider, AWS upholds sustainability and so do we. AWS, including AWS Media Services, has become our partner, innovating on two fronts – remote production and sustainability. aws.amazon.com