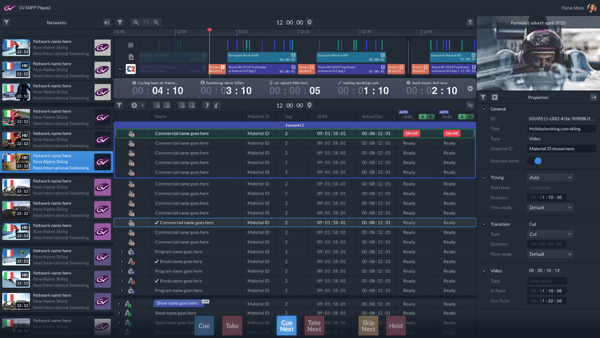 Eurosport, Discovery's main sports brand, has developed a cloud-based architecture supporting playout for all of the network's sports broadcasts. Aiming for a unified content delivery system, Eurosport chose GV AMPP Playout, a new suite of software applications Grass Valley launched for its Agile Media Processing Platform.
The project is part of a wider, unified production system Eurosport has been building, which includes using cloud and remote systems that they can use to create and distribute content onto any platform, from anywhere in the world. A primary advantage is efficiency – the new playout installation is set up to deliver every minute of its event coverage to all platforms including linear television, online, streaming and social media.
Eurosport was already a Grass Valley customer, and chose to work with them again for their systems' ability to establish tight integration between production elements and playout. Their installation is the first to use the new GV AMPP Playout system. For their wider unified production system, Eurosport re-built the backend of their production infrastructure in a private cloud environment.
Private and Public Cloud
Gordon Castle, Eurosport's SVP, Technology and Operations said their goals were to establish remote production, to open common access to all content for both sides of their business, linear channels and digital distribution, and to lower operational costs.
"Playout for Eurosport is a dynamic operation. The new platform, which we're continuing to develop, is initially supporting about 250 channels per data centre, or hub. All of these can be used dynamically, so while we start in a private cloud, we can also push out into a public cloud capacity for elasticity whenever we need to scale up. The extra capacity is important for our digital side to accommodate 'event streams'.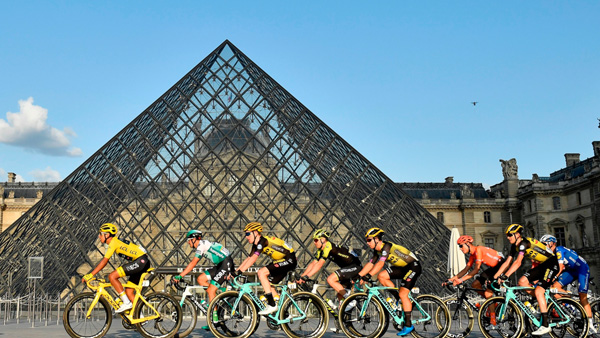 An example would be the French Open, a very large scale event that used our linear channels for the conventional coverage, plus further dynamic content streaming from individual courts and featuring speciality content. The flexibility to deliver both is what differentiates our coverage."
Looking for Choices
Neil Maycock, Grass Valley CMO, said that this type of production has become a trend because broadcasters are looking for choices. Cloud resources make it easier to develop new delivery ideas by experimenting with different configurations. The distributed nature of cloud resources also makes broadcasters more resilient. Eurosport's playout systems run on virtual machines located in more than one data centre, and meanwhile the workloads are orchestrated in the Amazon cloud.
"That design allows us to be more reactive to sudden demand, or to a loss of capacity due to the failure of a piece of hardware – transferring loads to redundant machines is a much faster operation now, in effect self-healing," Gordon said. "In the course of updating Eurosport's business and delivery across linear and digital platforms, we can unify and simplify our operations, many of which were previously hosted on disparate legacy systems. Now, we can make more effective use of content and encompass the whole organisation, from whichever location our teams operate."
In short – GV AMPP Playout, the latest set of applications available for Grass Valley's GV Media Universe ecosystem, works as an elastic, agile playout system that allows users to deploy channels, where and when they need them without requiring extra physical infrastructure. The applications include familiar functions such as a Master Control app, a multiviewer, I/O, a clip player, recorder and graphics capabilities.
Built on a cloud-based, micro-services architecture engineered specifically for live programming, a key feature is extreme scalability with the ability to provision channels quickly with very low latency. Because playout operations by definition need fault-tolerant systems – GV AMPP Playout's high-availability self-healing design meets these needs.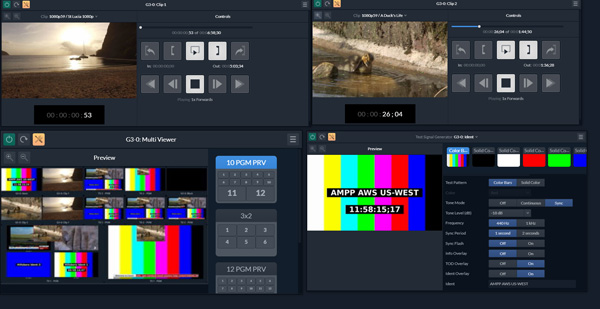 The GV AMPP GUI is a HTML5-based user interface that can host multiple web components for a quick view of all your AMPP applications.
Rapid Evolution
GV AMPP's architecture is based on five core types of management – managing the distribution, timing, processing and identity of video, images, audio and metadata, plus management of device connectivity. GV AMPP also addresses certain challenges that complicate IP and cloud deployments - particularly network connectivity and latency – thereby helping broadcasters planning to transition to cloud- and data centre-based operations.
Neil said, "Services today must also evolve very rapidly to keep pace with their core audience demands and need to be able to wind down as fast as they expand. Broadcasters also need the flexibility to support live events in various ways, from a traditional OB set-up to at-home production as well as hybrid approaches."
Equally important, as GV AMPP is cloud-based and expandable with future GV AMPP applications, Eurosport can use a distributed team of operators connected via the cloud to manage the high volume of content and playout channels that the broadcaster typically handles. www.grassvalley.com