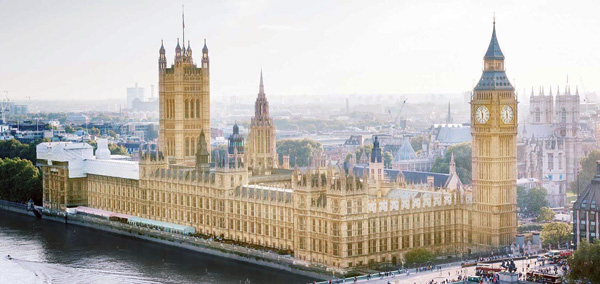 Public demand for access to government video content to keep them informed and educated has grown, a trend that is seen especially among the younger generation who are showing a fresh interest in political events. In response, governments are interested in using broadcast-grade equipment and systems to deliver content ranging from new information on Covid-19, to updates on the ongoing Brexit process over the course of the last few years.
At the same time, viewers have adapted to consuming content on-demand through streaming services such as Netflix, Amazon Prime and a growing list of OTT and VOD competitors. Many now expect content to be available just by clicking a button. Viewer demand and the amount of video being created are increasing in parallel. Furthermore, as younger viewers are now consuming content in smaller chunks, producers are in turn favouring short form video production.
Government to Public
With these developing trends in mind, governments are keen to adapt their video content sharing strategies to meet the change in audience demand and keep pace with technological developments.
VUALTO has watched the government-to-public relationship evolve from the point of view of the company's field of expertise – cloud based OTT video delivery and orchestration. Their two main products, VUALTO CONTROL HUB video orchestration platform and VUDRM Digital Rights Management application, are developed as adaptable, scalable, intelligent video delivery software, taking content from camera through to targeted viewers on multiple devices.
VUALTO's systems address industries ranging from broadcasters, OTT service providers and telecoms and operators to sports, governments and media & entertainment. In this article, VUALTO'S CEO and Co-founder Camilla Young talks about the government use case, in which scalability, reach and use of metadata are especially important.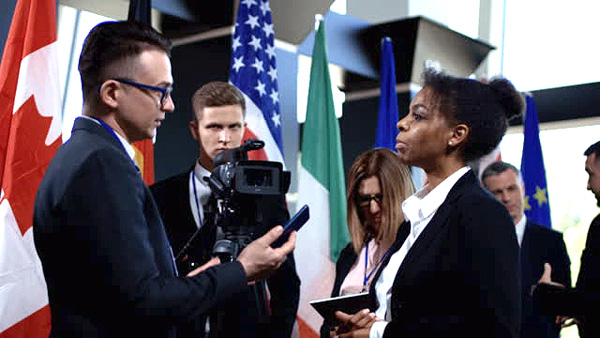 Searchable VOD Libraries
"For on-demand content, many government bodies are already supplying pre-recorded content in an intuitive searchable library, with basic video player capabilities. For example, the UK Parliament makes a library of video content available that is searchable by keywords or date," Camilla said.
"However, governments operating a similar provision should also be aware that public tolerance for rudimentary search functions is low. Many viewers are now used to the slick interfaces and ease-of-use experienced on the subscription services. Expanding search functions is paramount, and allows end users to take better advantage of intelligent metadata that accurately tags content for easier searching and less frustration."
Another factor in governmental content is the languages in which it is recorded, and in which it is available for access. In multi-cultural societies in any location, playing content in different languages, or turning on subtitles in a language of the user's choice, is necessary. For events with wider implications that may have global audiences, it enables governments to deliver content worldwide. A greater audience has continued to consume and share content related to European politics, following the peak in interest the UK's departure from the European Union, for example.
Social Life
Changing viewing habits include the fact that many people now consume video content via social media channels, especially in the younger demographic. Camilla said, "In the way that global brands use social media to maintain a level of communication with their followers, governments can also promote short clips on prominent channels and encourage engagement from their followers."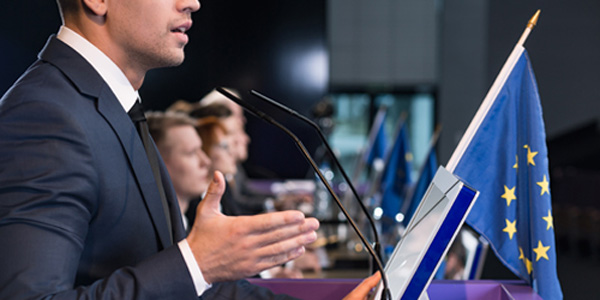 She noted that the ability to clip relevant sections of longer pieces of content for sharing on social media is now regarded as an essential skill for up-to-date government bodies, as it immediately shares important messages with the public. Timely sharing is useful in instances where speeches may still be in progress, but a government needs to quickly clip and share highlights. "As an example, members of the European Parliament will soon be able to clip live feeds, such as prominent speeches, and make them accessible through their own website or social media channels. From there, end users can share or download clips for their own use," she said.
Managing Spikes
Like other event-based services, governments need to monitor fluctuations in demand for their content. The spikes resulting from major events, if they are not planned for, can cause video services to slow down or crash. Referring back to viewing statistics for previous similar events assist governments to predict and plan ahead for changes in demand.
"One example was the critical voting sessions on Brexit in the UK Parliament," said Camilla. "Not only did the sessions attract greater numbers of viewers compared to a standard day, but more people wanted to access the content both live and on demand. With the correct infrastructure in place, governments can adapt their systems to manage increased numbers, freeing bandwidth through methods such as disabling embed codes for third parties to ease the pressure during high-traffic events.
"Certain incidents or events can also resonate with specific areas or countries, meaning governments need to be aware of the potential location of a demand spike and its audience. For instance, when a German newspaper included a UK Parliamentary video player in their news covering one of the key Brexit votes, large amounts of traffic followed due to widespread interest there in the result."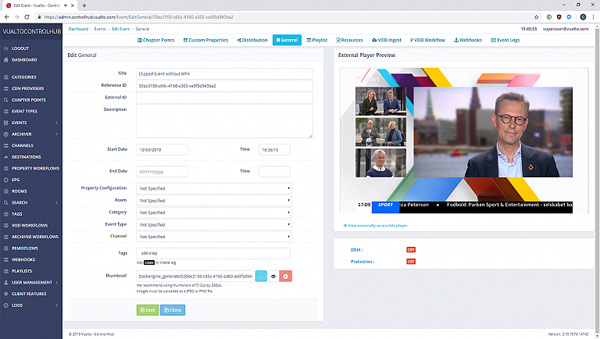 VUALTO's video control hub
Engagement
While broadcast developments have changed the way people consume content and inspired a technological change in how governments share relevant information, the challenge for government bodies has been to find engaging ways to disseminate content. One is capturing and sharing their own video. As transparency becomes more important to the general public, the ability to source video recordings of government updates and events will help maintain public trust and prevent the spread of misinformation.
"This is of real importance in the context of parliamentary content, where it is vital to remain neutral and unbiased," Camilla said. "Live streaming facilities show parliamentary footage in its original form, without editing, which is basic for absolute transparency and means the end user receives the content as it actually happened.
"Streaming services like Netflix or Amazon Prime use algorithms to present recommended titles to their users based on watch history and previous genre preferences. Through the same techniques, governments can direct relevant video content to the most appropriate audience. For example, video updates explaining new child benefits could be directed towards users who have searched for this kind of content previously. Recommendations also give niche content, held in large content archives, regular exposure among narrower, focussed audiences."
Through systems and methods similar to those broadcasters use, governments are able to share video content to anyone with an internet connection. If governments ensure that content is readily available to viewers and easily searchable, and consider the user experience, they can spread messages across a wider reach of people, in an authentic and transparent way. www.vualto.com