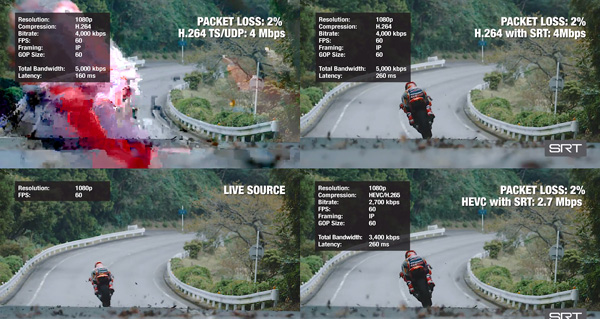 AJA has joined the Secure Reliable Transport (SRT) Alliance, an open-source initiative dedicated to overcoming the challenges of low-latency video streaming. To support the reliable streaming video pipelines now needed across many industries, the announcement follows AJA's recent launch of BRIDGE LIVE, a new multi-channel live video encoding, decoding, streaming and transcoding system that includes support for SRT.
As a member of the SRT Alliance, AJA plans to continue exploring ways to improve its streaming products for customers by integrating recent SRT developments into AJA tools such as BRIDGE LIVE.

Developed in partnership with Comprimato compression specialists, BRIDGE LIVE streams live video to various content delivery platforms with support for SRT and many other protocols. Starting with the same approach as AJA's HELO streaming device, it includes flexible multi-channel HD inputs and outputs, UltraHD I/O and encoding, decoding and transcoding between codecs. While streaming to CDNs for direct-to-audience delivery, BRIDGE LIVE can also deliver different streaming protocols and packages customised for many types of delivery workflows.
The SRT Alliance, founded by Haivision in April 2017, aims to overcome the challenges of low latency live streaming by collaboratively developing the SRT (Secure Reliable Transport) protocol. Haivision pioneered SRT as a free open source video transport protocol for delivery of high-quality and secure, low-latency video across the public internet. The SRT Alliance has over 400 members and receives widespread industry adoption. www.aja.com