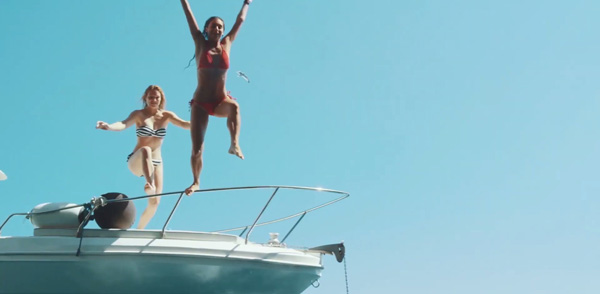 When travel began to slow down this year, online travel agency Trip.com switched its marketing strategy 180 degrees. Instead of helping people to travel, it chose to bring travel experiences to its more than 400 million customers via engaging, entertaining content.
As part of its #DreamNowTripLater campaign, each week the company has selected up to five favourite travel destinations around the world. From these locations, the company is live streaming video content to feature the area's top attractions and hotels.
Each place was selected based on the company's network of 1.4 million hotels spanning 200 countries and two million flight routes. To ensure an experience that effectively transports viewers to each spot, Trip.com built a video workflow using AWS Media Services, including AWS Elemental MediaLive, AWS Elemental MediaConnect and AWS Elemental Live, for live video processing and delivery to YouTube, Facebook and third-party video services across China.
Real-Time, High Availablility, Flexibility
These three services address live production, emphsising real-time, high availablility and flexibility. The AWS Elemental Live service connects directly to cameras, and then captures and processes live inputs as the first step in delivering Trip.com's multiscreen video. In this case, it streams directly to AWS Elemental MediaLive and MediaConnect.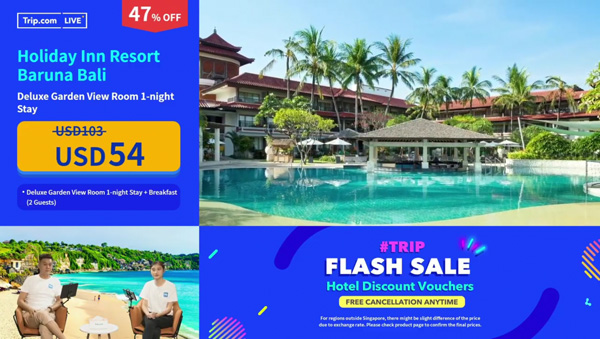 Elemental MediaLive encodes live video in real time for streaming to devices. The Trip.com's producers can use MediaLive to set up encoding streams, and the service then automates resource provisioning and management of scaling, failover, monitoring and reporting needed to power those streams. For reliability and resilience, MediaLive manages resources across multiple Availability Zones, automatically monitoring, detecting and resolving potential issues without disrupting live channels.
AWS Elemental MediaConnect works as the video transport service in the workflow, built to combine the security of satellite and fibre with the flexibility and lower cost of IP-based networks. MediaConnect is used to ingest, share or replicate live video from a remote site for processing, with real-time network traffic and monitoring. The service also adds a video-specific QoS layer over standard IP transport supporting uninterrupted, conistent-quality delivery.
Amazon Interactive Video Service
For live video delivery to Trip.com and its mobile application, the process is a bit different. The company is using AWS Elemental MediaLive with the Amazon Interactive Video Service (IVS). Amazon IVS streams deliver low-latency live video as part of the service – if latency can be kept under three seconds, Trip.com can build engaging, interactive experiences alongside live video. The Amazon IVS player SDK moves live streams into iOS, Android and web apps, and achieves a consistent experience and low-latency live streams across different platforms at high quality.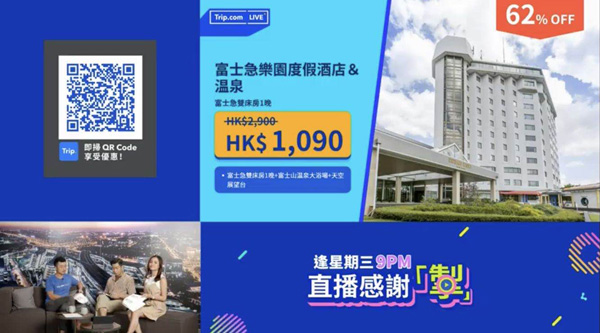 Each installment of the #DreamNowTripLater video series explores a new location and includes travel booking incentives. In building its video workflow, global reach was a key consideration. The team needed tools capable of delivering live, low-latency video streams at scale and via multiple streaming protocols. Working through AWS Media Services and Amazon IVS, Trip.com was able to deploy a robust, live stream workflow without the overhead of building one from scratch.
Asia Pacific
So far, the site's streams have featured scenic locations across the Asia Pacific region to promote travel packages, or live video of hotels with available discounts in destinations such as Singapore, Hong Kong, South Korea, Japan and Thailand, though it plans to continue expanding the covered regions and exploring how it can make its streams more interactive.
"For the stability and quality this campaign required, we needed streaming protocol support on a global scale. AWS Media Services and Amazon IVS make it possible to stream content across all of our digital platforms," said Bo Sun, CMO of Trip.com Group. "Having the ability to customise the parameters of the live video streaming for each platform with AWS services means we can launch live video shows quickly from anywhere in the world, at a predictable quality. Low latency is also important because our streams feature limited-time offers." aws.amazon.com