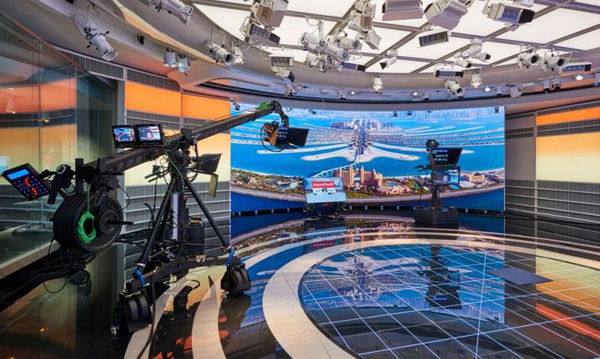 Asharq News' studio design encompasses video walls and floor displays.
Asharq News, the new Arabic 24/7 multiplatform news service, is now on air, delivering live news focused on economy and finance to the worldwide Arabic-speaking population. It reaches viewers via online, social media, TV and radio channels.
Headquartered in Riyadh with central offices in the Dubai International Financial Centre, Asharq News' all-IP infrastructure has scope and performance that sets it apart across the wider MENA region. Its hybrid architecture of virtualised on-premises systems and cloud applications for content aggregation, production and distribution also stands out within the region, designed and built by systems architect Qvest Media.
Asharq's equipment and systems give its production teams many options for location-independent collaboration – in other words, information can come from where and when it happens. The teams can produce news and analyses live on the spot, using the company's global network of journalists. Because of its exclusive content agreement with Bloomberg, Asharq News has real-time access to information from more than 2,700 economic and financial experts from around the world.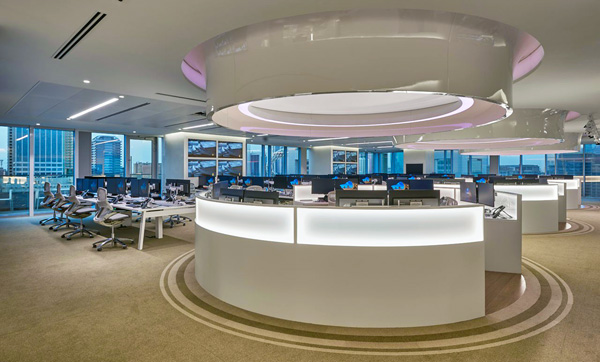 Newsroom
Journalists from Asharq News collaborate remotely using a custom built news workflow across the studios in Dubai, Abu Dhabi, Cairo and Riyadh.
Cloud Orchestration
Cloud applications are an important aspect of making these collaborations work, especially since Qvest Media's vendor management involved coordinating more than 25 manufacturers for the design and construction of the media infrastructure. To form an integrated live news workflow, Qvest's multicloud management platform qibb became a central component, serving as a cloud application management layer.
qibb is used to orchestrate and monitor the cloud applications relevant to news production like Avid iNEWS and Avid MediaCentral | Cloud UX. It also manages the media aggregation and research services x.news and Burli NewsHub, plus the social media publishing from Wildmoka. x.news links journalists to a range of diverse video/audio news sources with search tools and filters to help create stories. Burli NewsHub is a centralised platform for sharing news content across a network. Users can upload text, audio and images to the NewsHub, search the pooled content and feed data from the hub into newsroom systems.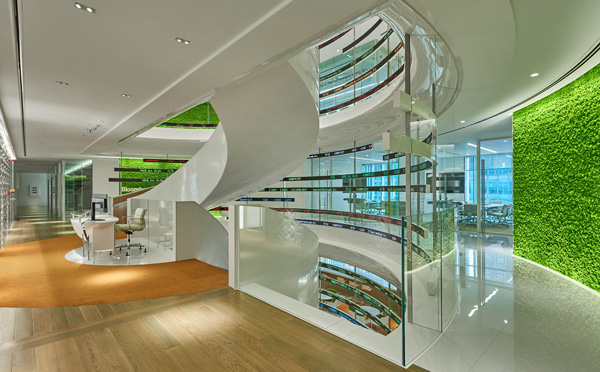 Stairway and hallway tickers
qibb also is used to curate and route these incoming news feeds to the associated journalists, and supports smart networking of these and other cloud services and applications, to create live news workflows for different purposes.
More generally, the qibb platform is for clients who are moving their IT infrastructure, software applications and workflows to the cloud. Third-party software can be orchestrated, managed and analysed either on-premise, with a single cloud provider, in a multicloud environment or in a hybrid model. As is typical for the cloud, system resources are scaled according to demand while clients keep control over running processes and user rights.
All-IP Infrastructure
The infrastructure is all-IP and capable of 100 Gb/s data transfer rates, designed and implemented by Qvest Media to create an adaptable, scalable production platform based on lean operating processes – that is, software-based and adhering to standards.
This infrastructure supports SMPTE ST 2110, NMOS IS-04 and IS-05 standards and currently supports enough bandwidth for an UHD/4K upgrade of the production infrastructure in the future. The audio-over-IP implementation supports IEEE, IETF and AES67 standards. Since the network consists of off-the-shelf IT components, it forms the basis for both a redundant broadcast network design and direct integration of the corporate IT network.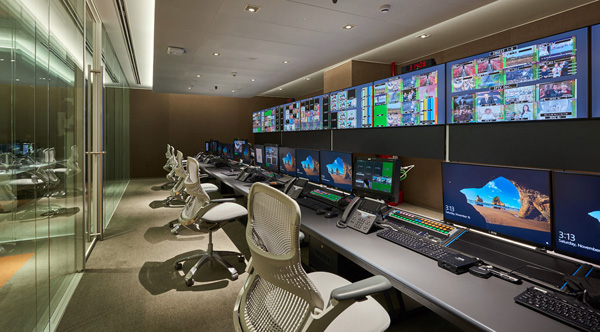 Control room
"Opportunities for collaboration and news research allows us to report live and on the pulse of the action quickly, which is crucial to our success," said Omran Abdallah, CTO of Asharq News. Since managing to launch and go on air successfully on 11 November 2020, in spite of the pandemic conditions and restrictions, the service has received a very positive international response.
Asharq News' studio design encompasses video walls and floor displays with a total area of more than 300sqm. The LED walls can be divided into several segments and have a motorised ceiling suspension that allows the news staff to move them silently when in on-air mode. As well as the design and installation of these systems, Qvest Media also integrated systems for visualisation of graphic and video material, which is used for the interactive display of programs accompanying content on the LED walls.
For more information about the graphics and video side of Asharq's news service, which was designed and supplied by Astucemedia in Spain, see the article here. www.qvestmedia.com
Studio presenter set-up