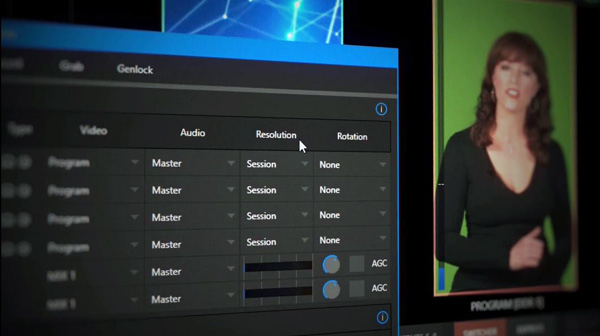 Working with the TriCaster Mini K
NewTek's Spark Plus IO 12G-SDI encodes and decodes 12G-SDI sources to and from the NDI protocol at up to 2160p UHD, preserving resolution, frame rates and colour fidelity. It is useful for productions that need to quickly convert 12G-SDI UHD video into an IP-based media production workflow.
The device connects to 12G-SDI cameras or devices, converts the video signal to NDI and shares it with compatible systems, devices or application elsewhere on the network such as UHD screens, monitors, projectors or video walls. It can also handle video from legacy 12G-SDI-enabled output devices, like a screen or monitor, into an NDI signal on the network by using the Spark Plus IO's decode functionality.

Setup requires one Ethernet cable. It has a web-based interface to configure your IO and connections and to monitor from a desktop or mobile browser, and has tally support via NDI with the option to mount onto cameras.
NewTek Spark Plus video converters are a simple way to start working with video over IP. As well as native NDI, they all have portable enclosures and support resolutions up to UHD 60p. If you work with NewTek's TriCaster Mini 4K and TriCaster TC1 systems, configuration is unnecessary, and NDI video can be routed directly to screens.
NewTek Spark Plus IO 12G-SDI converters are available now. www.newtek.com