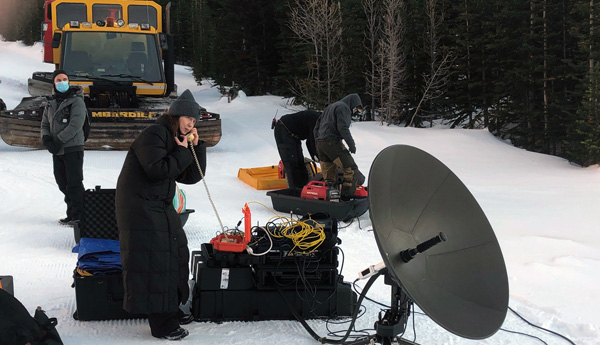 Production company OPC has recently shot a new Subaru commercial on a remote, secluded mountainside in Banff National Park, Alberta. The location brought several logistical and financial challenges associated with limited cellular connectivity at the site, and setting up and trying to use traditional satellite systems.
Instead, B2B integrated connectivity experts at First Mile Technologies set up a portable workflow in which the connectivity was based on the Dejero CellSat service, a blended cellular and Ku-band IP satellite system for remote broadcasting and communication that delivers resilient wireless connectivity in remote locations.

Dejero CellSat supplied connectivity to and from the set by dynamically blending cellular and satellite connections, allowing the team to continuously collaborate in real-time using live streaming video, although previously, such a set would have been too remote to connect to. "CellSat service eased all aspects of critical communication and feedback for this job by delivering resilient connectivity from a remote mountainside where usually the delivery of only a handful of stills would have been possible," said Brandon Cooper, president, film and new media at First Mile Technologies.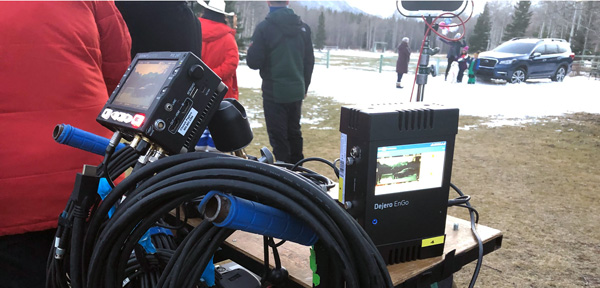 "This time, with Dejero CellSat, the team on set was able to receive real-time feedback, approvals and general collaboration which isn't normally feasible or affordable in extreme locations like this one. This development marks a significant change in the commercial production industry, allows us much more choice and control in terms of where we can film, at what cost, and the reliability and speeds at which we will be able to transfer video and data over a combination of cellular and satellite."

During the shoot of this Subaru commercial, which included extreme, dynamic shots of driving, skiing and other active footage against the backdrop of the Canadian Rockies in Alberta, First Mile Technologies set up an infrastructure that transported the camera feed from a Dejero EnGo mobile transmitter over the Dejero CellSat service to a Dejero WayPoint receiver at headquarters, where the stream was then sent to various platforms, including Zoom and First Mile's own Web RTC platform for real-time, virtual collaboration. Furthermore, Dejero CellSat maintained enough bandwidth to support VoIP phone connectivity for the six people on set in Banff.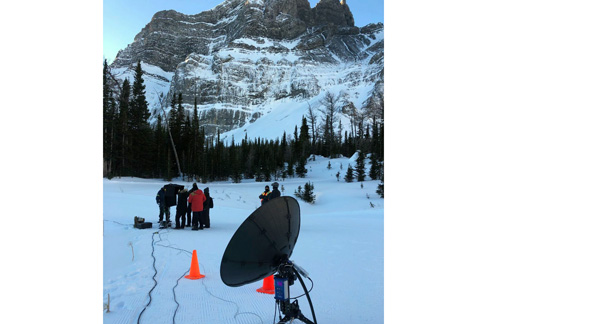 CellSat uses Dejero's Smart Blending Technology that intelligently blends cellular connectivity from multiple mobile network providers with Ku-band IP satellite connectivity from Intelsat – reliably delivering the bandwidth needed to transmit broadcast-quality video in real time. The CellSat service can be accessed from virtually anywhere in Canada and the United States, and because it is available from a single provider, procurement, management and billing are much simpler.

Line producer John Scarth, at OPC said, "From a snow covered mountain top we were able to stream live to our offsite client with a low latency and extremely solid connection allowing us to have a real time conversation with our client and work as though they were on set with us. As streaming becomes a key part of production, the Dejero platform is also becoming a useful tool for production in most environments." www.dejero.com