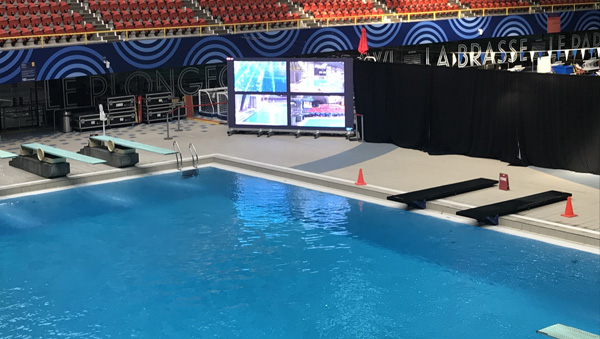 Diving Plongeon Canada (DPC), a not-for-profit organisation promoting the growth and awareness of springboard and tower diving across Canada, has been organising virtual meets to reduce the impact of the ongoing COVID-19 pandemic on the sport. A live video system, developed and supplied by local systems integrator Integrated Sports Systems (ISS), enables the athletes to compete from different locations simultaneously, while judges score dives from home in real-time.
ISS's video system, called u-Judge, uses Dejero EnGo mobile transmitters and WayPoint receivers to keep latency low enough to make these competitions as realistic as possible for the athletes. For the Virtual Nations Challenge, a transcontinental competition just held on 1-2 April 2021 between the top divers of Great Britain and Canada, each diver competed in his or her own pool on either side of the Atlantic. It was the first live international meet for the Canadian team since the country enforced COVID-19 lockdown measures in early 2020.
Live Competition
"During the COVID-19 downtime, Integrated Sports researched creative ways to build a virtual competition that would allow athletes to not only dive in real-time, but also to replicate the actual feeling of a live competition against others with immediate scores from judges," said Jeff Feeney, director of events and communications at DPC.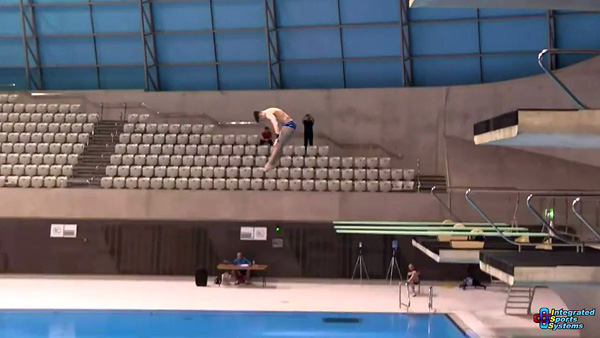 "Low latency, a feature of Dejero's devices, is crucial to the sport of diving, and to make live viewing and judging possible at a distance. The Dejero workflow simplifies the process of receiving high-quality live video, producing a stream and switching, on the spot. As it saves time and travel costs, the system seems likely to impact the way we handle national level training camps and competitions going forward, even beyond COVID-19."
Dejero devices like the EnGo transmitter aggregate diverse connectivity paths including LTE and 5G cellular, satellite and broadband networks, resulting in an on-demand, custom virtual network that is reliable, expands coverage and increases bandwidth using cloud resources. It enables transmission with latency as low as 0.8 seconds. Dejero WayPoint receivers reconstruct video transported over IP connections from Dejero transmitters, decode HEVC or AVC, and output to SMPTE ST 2110, SDI or MPEG-TS.

DPC tested u-Judge at a national competition involving pools in Montreal, Saskatoon, Victoria and Toronto, a one-man production team in Thunder Bay, Ontario, a celebrity announcer in Vancouver, a judge controller in Victoria and international level judges working from home sites across Canada.
Virtual Nations Challenge
The Virtual Nations Challenge involved over 35 athletes, including the best divers from the Canadian and British national teams, all competing at their respective locations – the London Olympic Pool, the Commonwealth Games Pool in Edinburgh, Scotland, and the Sports Centre at Montreal's Olympic Park in Canada. Divers from Jamaica and South Africa also joined the line up, diving at one of these UK pools. Seven judges across Canada and the UK submitted their scores as the competition proceeded.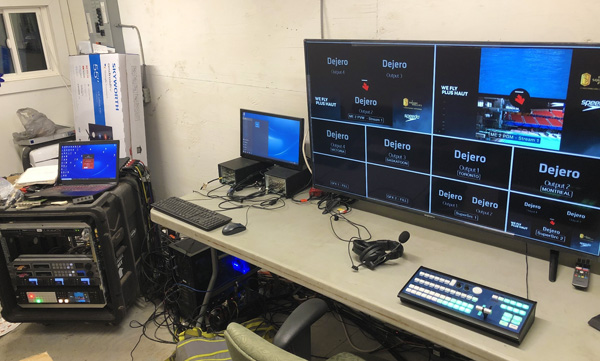 In Montreal, DPC also displayed the live production feeds from the EnGo mobile transmitters onto a large poolside video wall at each venue to more deeply immerse the athletes into the action, and meanwhile allow the Canadian team to watch their competitors perform in real-time.

The production studio in Thunder Bay centralised the live streams received from three Dejero EnGo mobile transmitters at each of the poolside locations and delivered them via a Dejero WayPoint receiver, with delays of under one second, to international-level judges watching from around the world, via Integrated Sports' u-Judge proprietary platform. At the same time, live streams were streamed to the public via Vimeo, available through DPC's website, and recorded for archive.

Chief Programmer and Director of Integrated Sports Michael Morris said, "The typical 20 second delay during the regular streaming of live events can ruin the experience of diving. Judges like to score a dive every minute, which is why we chose an aggregated, bonded streaming workflow like Dejero's to solve this latency problem.
"The judges view live video of dives via our u-Judge platform with less than a second delay. Currently, we can stream from up to four different pools simultaneously, but with the help of Dejero, we have our eyes set on more feeds, with the potential to virtualise future competitions that include more countries and more competitors, starting as early as May."

You can see the results of the 2021 Virtual Nations Challenge here. www.dejero.com