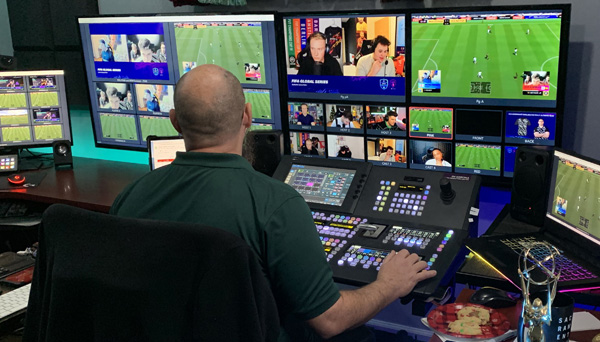 Electronic Arts Competitive Gaming Entertainment (CGE), the company's esports division, produced its competitive gaming events EA SPORTS FIFA 21 and Apex Legends with a remote, dispersed production team in which all members worked from home. EA broadcast the competition action to its global fanbase, while the live tournament actually took place at various locations in Europe and the US.
The workflow connects Grass Valley's GV Korona switcher control panel over the public internet to a K-Frame production switcher engine running on GV AMPP. GV AMPP is part of the company's GV Media Universe, a system of connected hardware and software, services and marketplaces that support cloud-based media workflows.
Following a trial with Grass Valley for an Apex Legends live tournament in early December, EA first went live with AMPP later that month to support its FIFA 21 Global Series European Qualifier 1 Event that took place 12-13 December. More than 20 camera feeds from Europe, plus live contribution feeds for the talent, came into an AWS datacentre in Northern Virginia.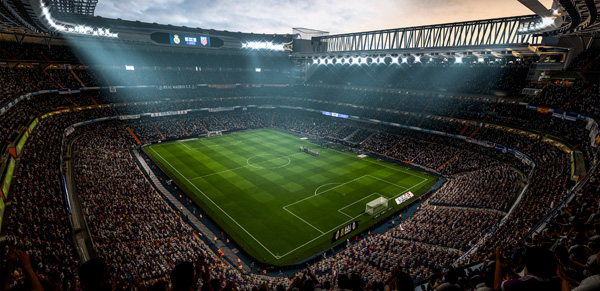 Joe Lynch, EA CGE's Head of Broadcast, said, "We learned that a live production in the cloud brings together several unrelated systems, creating a lot of complexity — if one part of the workflow fails, the entire system falls down. These were completely new circumstances to prepare for during COVID-19 in order to support continuous esports competition.
GV K-Frame on AMPP
"Grass Valley's GV AMPP helped by managing all of these demands within one system. In effect, AMPP puts the Grass Valley professional broadcast quality platform in the cloud, with the same production values. For our operators, using K-Frame in the cloud makes no perceivable difference to audiences or users, compared to working in a studio environment."
EA's Technical Director Geoff Butler produced the show using GV K-Frame on AMPP from his base in Sacramento, California. The production went smoothly, owing to AMPP's low-latency and intelligent timing management, but also because any of Grass Valley's control surfaces – Kayenne, Karrera, KSP and, in Greg's case, Korona – connect directly to GV K-Frame on AMPP to make his transition to cloud-based video production simpler.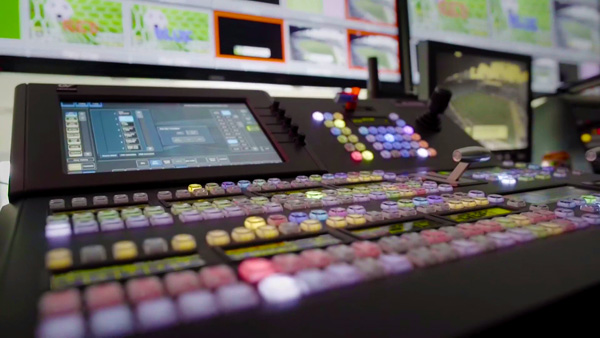 GV Korona switcher control panel
The Korona switcher control panel could be operated as usual, including when transferring show files between AMPP and K-Frame engines, regardless of the changed production environment. Greg was able to focus on the incoming video sources and cues to switch the show, without experiencing delays on button presses and transitions. Three M/Es and six keyers are available with 2D DPM per M/E, with provision for stills and animations with fill/key including transparency. Looks can be created and stored with hundreds of eMEMs and Macros for one-button recall.
Flexible Worflows
On GV AMPP, everyone from the TD to the talent works remotely as necessary, without having to compromise their performance. The EA team can manage live gaming events production efficiently, by rapidly shifting workflows to serve esports fans across Europe, Asia and the Americas. AMPP was chosen for its low latency, high frame rate delivery and viewing experience.
Grass Valley's K-Frame switcher now integrates with the AMPP platform with a simple software upgrade. While the physical switcher panel remains, the frame runs on either a COTS server or a public cloud service. With K-Frame on AMPP, operators can set up a show on a regular K-Frame, then produce the live event using an AMPP-connected frame accessing all the functions they are used to. For EA, the familiar operator-specific UI is an essential part of running productions consistently.
AMPP Applications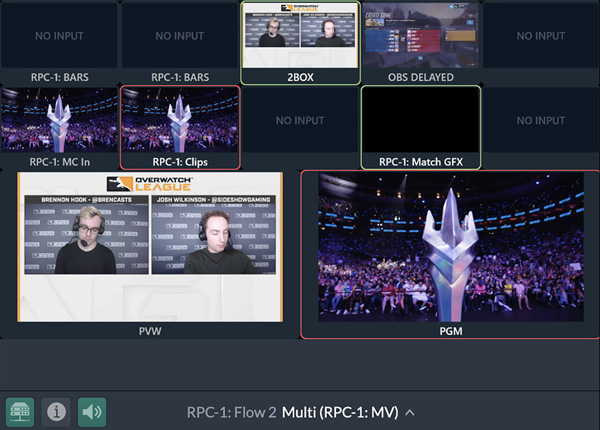 GVAMPP Master Control
Alongside K-Frame on AMPP, EA's set-up includes a range of AMPP applications, including Master Control, Flow Monitors, Clip Players, Master Control Switcher, I/O, Test Signal Generators, AV Mux, Delay module, HTML 5 Graphics Render, Multiviewer, Recorders and Streamers.
Master Control, for example, is scalable and supports regionalisation by driving multiple outputs from a single user interface. Its flexibility may also help deliver live content to a wider audience, through its ability to reach emerging distribution platforms.
The team has access to extensive probing and monitoring functions as well, for transparency across all parts of the workflow to prevent issues. The GV AMPP system will be used on an ongoing basis for the 2020-2021 FIFA World Cup qualifying tournaments. www.grassvalley.com