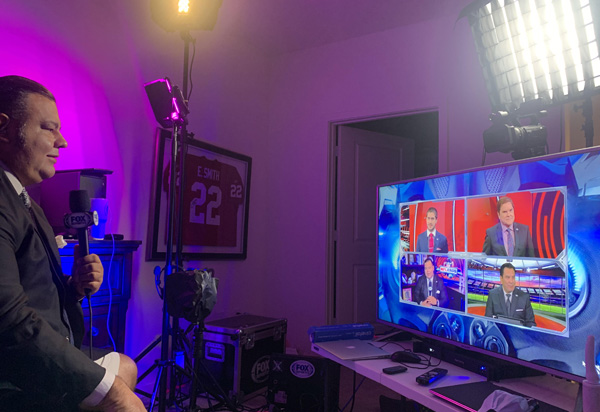 Fox Deportes home studio located in Phoenix Arizona used to call NFL games. The Dejero PathWay encoder is under the screen.
FOX Deportes has been a pioneer of flypack development for remote working for several years, delivering sports broadcasts live from venues around the world to a Spanish-speaking audience living across the US. This work has given the company an advantage in the time of Covid. While many other broadcasters had to start from scratch to shift their business to remote operations, FOX Deportes was able to reassign its flypacks to comply with pandemic-related restrictions with relative ease.
To keep the network operating during the course of 2020, the team vacated its Los Angeles headquarters and quickly moved all of its Production Control Room (PCR) operations to a work from home – or garage – workflow. Subsequently FOX Deportes has continued to deliver a weekday talk show throughout the pandemic, involving up to seven participants in places ranging from Spain to LA, San Francisco and Miami to Mexico City, Honduras and Argentina.
Critical Connectivity
The situation made the reliability of the packs' connectivity an essential part of their staff members' ability to continue working and producing programming together. Over the years, FOX Deportes has been using configurations of Dejero EnGo mobile transmitters, FlexPoint transceivers and PathWay encoders in remote production flypacks to support on-site reporting at major sports events around the world, such as the World Series, UEFA Champions League and the Super Bowl.
Fox Deportes production FlyPack used to cover MLB, NFL, MLS and boxing events in the US.
Using PathWay for example, a team can collect eight separate feeds at a stadium – such as primary feeds, backup feeds, beauty shots, press conference feeds, sideline reporter feeds and drone shots – and send them back individually to Los Angeles to package and enhance the live coverage of each event.
"Five years ago, I went to Honduras to cover a match, which was a difficult environment to report from. Even at that time, I was already able to work using my Macbook Pro, depending on hotel Wi-Fi and using only the Dejero NewsBook software. Although I had a professional camera and lighting equipment, I could successfully send content of that quality back to LA," said FOX Deportes director of operations Ruben Rocha.
NewsBook can make use of Wi-Fi and Ethernet connections and plug-in USB modems for local cellular network access, or can be used with portable IP-based communications over satellite. "Over the last six years, Dejero equipment has been a cost-effective means of producing high quality broadcasts for FOX Deportes," Ruben said.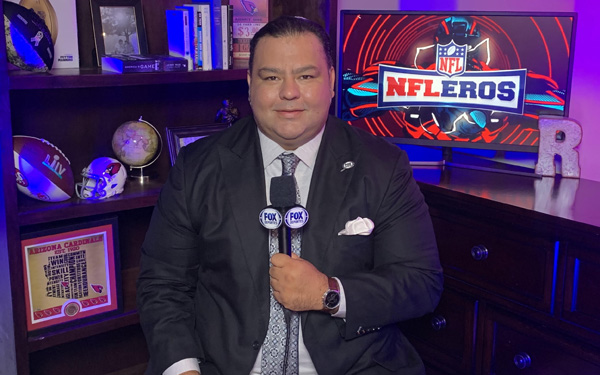 Studio monitor with show graphic.
Groundwork
By the time the company had to vacate its headquarters in 2020, FOX Deportes had already invested in portable equipment to allow its reporters to work remotely from stadiums across the world. They had also pre-tested and approved a home studio concept in the previous year, to support remote-working talent across South America. It was straightforward to repurpose this equipment to support a short-notice switch to remote operations.
Conveniently, the network had also set up a fixed home studio, fitted with Dejero devices, in Mexico City in the previous year to support its local anchor and reduce his travel costs. All of this experience meant that FOX Deportes was able to repurpose existing equipment to quickly set up a new workflow to bypass the LA broadcast centre when the pandemic arrived, pressuring them to move production entirely to a remote setting.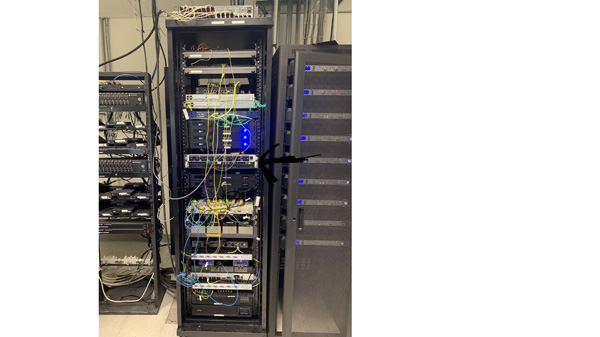 Fox Deportes transmission rack used for Santos Laguna games in Torreon, Mexico.
Home Base
In under a week, FOX Deportes reassigned its existing technical set-ups and deployed a temporary PCR in the garage of the director of operations, Ruben Rocha, and installed seven mobile broadcasting flypacks at the homes of its main on-screen talent, which meant no change was evident to viewers.
FOX Deportes then reassigned its remote production flypacks, normally dedicated to stadium and outdoor reporting, to the homes of its presenters, and to the garage-based PCR to continue the production of live global sports coverage and the creation of original content such as its nightly round-table show, with guests appearing from home via the Dejero LivePlus app. Participants can transmit high quality live video and simultaneously receive low latency return video or teleprompter feeds.

As in the graphic above, the hub of the garage-based PCR (far right) is three Dejero WayPoint receivers delivering IFB (one-way communication from the director) into the home studios and aggregating all feeds coming from the home studios back to the temporary PCR. Four CuePoint return servers make eight channels of video and audio return available with ultra low latency — as little as 250 milliseconds. One of these channels discloses what is running live on air for talent-cueing, and one delivers and changes the graphics located behind the reporter.
The talent uses the Dejero NewsBook software, professional cameras or the user's built-in FaceTime HD camera, and PathWay encoders for the creation and delivery of broadcast-quality video. At the PCR, the three WayPoints, each with four ports, is able to receive, manage and switch up to 12 live streams simultaneously. www.dejero.com