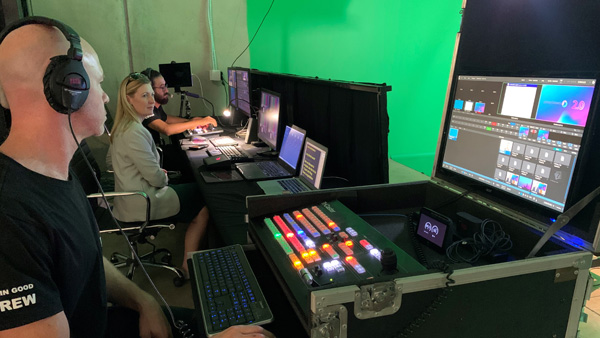 American e-commerce and shipping company Pitney Bowes holds annual launch meetings for its global regional offices. The meetings for 2021 had to be redeveloped as live virtual events, delivered by local production companies. The meeting for the Japan, Australia and New Zealand region was handled by Damn Good Productions in Sydney, who specialise in the corporate and entertainment markets.
In the end, the program was fairly complex. The company produced a live broadcast-quality virtual meeting that featured simultaneous English and Japanese program feeds, alongside the real-time multi-lingual translations. The event included presenters in-studio, multiple pre-recorded playouts, supers, graphics, a host in a green screen studio with a custom designed virtual set, and sessions with up to six Skype panelists.
Integrated Streaming
Making the integration of live video and streaming work together directly was a major step, and was supported by NewTek systems. The main program, presented in English, was anchored by an MC in a green screen studio using TriCaster's virtual set system. Corporate presenters were in another studio covered by three NewTek NDI PTZ cameras. All inputs were fed to a TriCaster TC1 production system used to switch and stream the main program. The NDI open protocol, used extensively in this project, allowed the video, audio and metadata signals to be shared bi-directionally over standard Ethernet IP networks.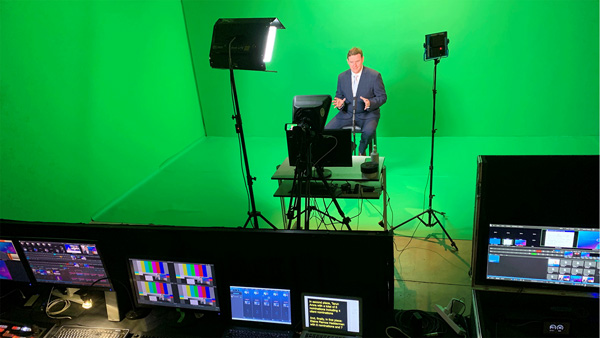 The presenters' English slides were fed into the TriCaster TC1 from a MacBook Pro laptop via NDI Scan Converter, free downloadable software. Up to six remote panelists were combined using the TC1's two internal Skype channels, along with four further ones from a NewTek TalkShow VS4000 device. The TC1 has direct studio-grade Skype TX software integration, and TalkShow supports four concurrent Skype video channels.
Multi-lingual Switching
Although English and Japanese presenters were speaking simultaneously on Skype to different audiences, re-routing TalkShow feeds back to the presenters via NDI was simple to do according to the language of the speaker.
A completely separate Japanese program was switched and streamed using a TriCaster 460 running Advanced Edition software. This channel also took the Skype feeds via NDI, as well as Japanese versions of the English slides from a second MacBook Pro using NDI Scan Converter.
Another TriCaster 460 with Advanced Edition software took a feed from the Japanese breakout participants, again via NDI Scan Converter, and added an English translation. This was streamed out as another translation channel.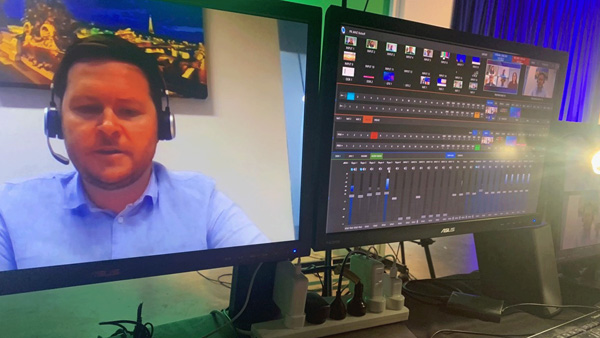 Adding Skype panelists to sessions.
NewTek's Advanced Edition software for Tricaster expands on the hardware's capabilities, for example, enhancing the graphics integration and supporting data driven graphics with real-time updates. It supports more sophisticated 3D implementation of layers of video, graphics or using text as elements. Virtual inputs are added for taking video sources over a network using Dante, which also supplies network tally information. Users can incorporate source material from the web, stream to multiple providers and publish content to social media sites directly from TriCaster.
New Applications for NDI Monitoring
Translators were set up with displays receiving the NDI Studio Monitor feeds, allowing them to monitor Skype feeds from both TriCaster TC1 and TalkShow—anything that required their translation. Clients also used NDI Studio Monitor to view the different outgoing streams.
During the event, one of the on-screen presenters suddenly asked the production team to show behind-the-scenes shots live on air, with only a few seconds' notice. The director downloaded the NDI-HX Camera application for mobile devices. When connected to the same network as the NDI production system, an iOS or Android device serves as an IP-ready live video sources via this app, and was used to capture the requested content. The director then selected it as an input on the main TriCaster with tally.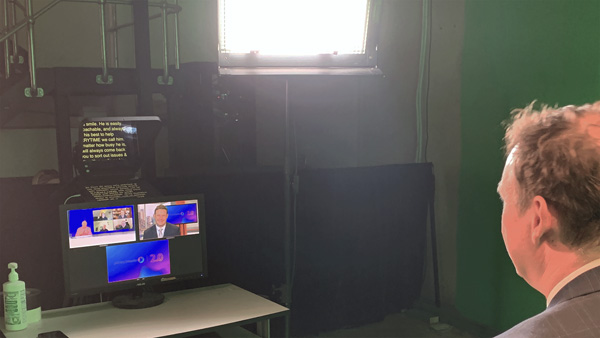 Viewing the teleprompter and monitoring return video.
Clear Vision
Aye Verckens, Marketing Communications representative at Pitney Bowes, said his team hadn't had a clear vision of how their first region-wide virtual event would work, but were very pleased about the end result. "Our event was more like a television broadcast than a virtual meeting. We were impressed with how easy it was to join presenters from the US, Japan and New Zealand with our hosts in Australia, and to set up simultaneous streams in English and Japanese. Most importantly, the audience was engaged throughout."
Ben Alcott, Damn Good's Managing Director agreed, and especially appreciated the fact that participants found it 'particularly engaging'. He said, "Also, due to the complexity of the production components, it would have been very hard economically without NewTek products. This event has opened up new production possibilities coming from Pitney Bowes businesses globally, at a fraction of what operators were spending previously." www.newtek.com