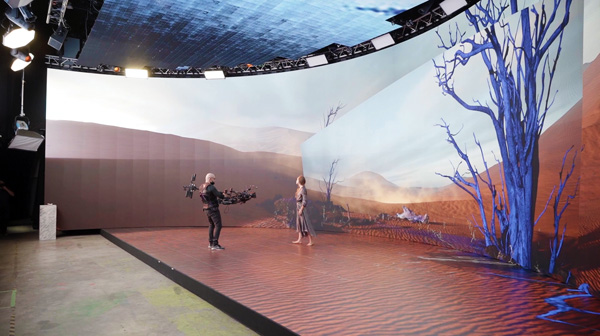 Studio-xR, located near Paris at TSF Studios, is one of France's largest 360-degree LED facilities specialising in virtual production, delivering XR services to most types of pre-recorded or live production. The space is constructed as an LED cave built with ROE Visual LED panels and ARRI Skypanel SC60 lighting, Ncam and Stype camera tracking and Unreal Engine with NVIDIA RTX8000 GPUs for rendering and compositing.
The studio was created as a partnership between PRG event services company and MADO XR, Virtual Production Set Operators. "We designed a modular studio of approximately 800m2 in a way that gives us full control over both the lighting and the filmed scenes in a real-time recording environment. We have put together a dedicated team for the studio composed of PRG and MADO XR staff who advise and guide producers to realise projects," said Thierry Kra, Managing Director of PRG France.
CEO and Co-Founder of MADO XR, Louis De Castro puts his years of experience as a creative director with major European fashion companies to work at the studio, merging that creative industry knowledge with PRG's global reach and technical expertise in XR production.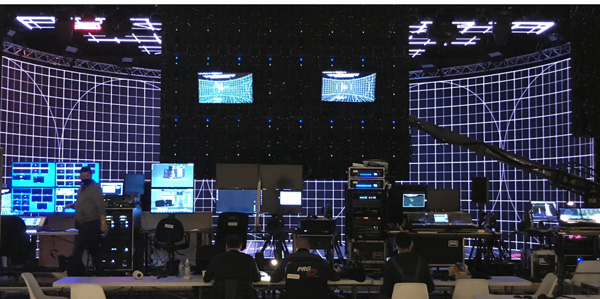 Yves Winand is PRG's Senior Video Project Manager & Technical Advisor. "Our studio is 15m wide by 5m tall and 7m deep. It has an LED backwall, a ceiling, a floor and front panels – one of the only studios in France of this type," he said. "With MADO XR, we have put together a system in which real time tracked images are rendered at extremely low latency, allowing the actors to be immersed in photorealistic 3D environments. Up until now no one was even imagining live set-ups like these."
Full LED Set
115m2 of ROE BO2 2.8mm LED panels are used for the curved LED back wall with 105m2 of ROE BM4 including the new matt covers for the floor. 75m2 of ROE CB5 panels for the ceiling and front wall create effective virtual lighting. The set is constructed to be fully modular, with the LED floor, ceiling and front wall easily moved to suit specific production requirements. To complement this physical set are the Brompton Tessera SX40 LED processors that run the complete LED cave.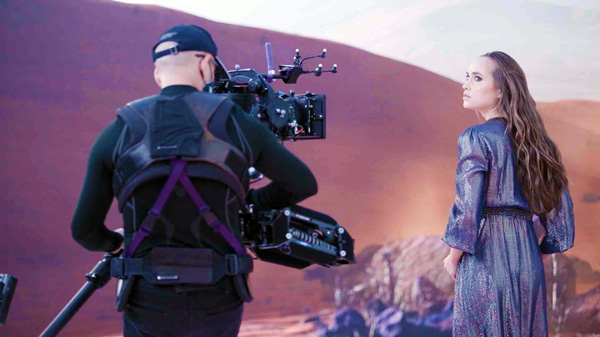 Tessera processors were chosen from the start because they have a lot of features that address the challenges encountered in an LED studio. For example, shooting against an LED screen requires the camera's shutter speed to be precisely matched to the LED screen refresh to prevent artefacts from appearing. With Tessera ShutterSync you can tune the LED refresh to the camera, not the other way around, which gives the user more creative control.
ShutterSync can also be used in conjunction with Frame Remapping, which makes it possible for multiple cameras to each see different content when viewing the same LED screen at the same time. Most virtual production workflows rely on camera tracking, which updates the perspective of the digital content on the LED backdrop as the camera follows the live action in front of it, creating the illusion of really filming in that virtual location.
Flexible Tracking
But tracking means the scene only looks correct for one camera, since the VFX will only have been rendered for one camera's perspective. Any other cameras, located at different positions, would see the background from the wrong angle, breaking the illusion. Frame Remapping overcomes this limitation so that multiple cameras can each see a unique rendered background with the correct perspective, even though the cameras are all viewing the same LED screen.
Tessera's HFR+ processing means you can play video content on an LED screen at up to 250fps to give a smoother look. It also makes it possible to shoot slow-motion visual effects with high speed cameras against LED screens and still maintain screen-to-camera sync. System latency is just 2 frames end-to-end – with all features enabled – supporting camera tracking, virtual studios and visual effects.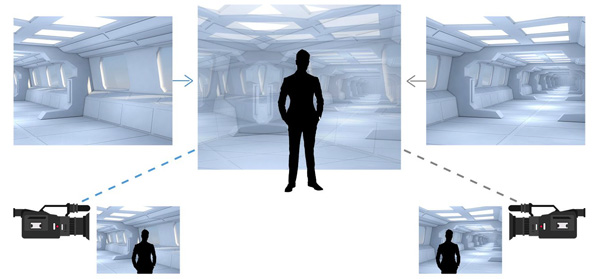 Frame remapping
The Tessera processing system is genlocked from the video input down to the LED refresh cycle to prevent dropped or doubled frames. The panels always refresh at an exact multiple of the input frame rate, with inputs of 23.976Hz – 250Hz supported. The processors will automatically compensate where the source frame rate and the internal refresh rates are different.
High Dynamic Range
The processors also automatically detect and handle HDR content, accepting HDR video at up to 12 bits per colour. HDR is supported at all resolutions and frame rates, in both the PQ (ST-2084) and HLG formats. Rec.709, DCI-P3 and Rec.2020 colour spaces are included and custom, wide colour gamuts are all supported. The system switches between SDR, PQ and HLG with no interruptions, while HDR support continues from video input through the processor, network, data distribution units and panel receiver cards.
Some special Tessera features include Thermacal, compensating for thermal artefacts like pincushioning and gradients due to swapped modules. Puretone overcomes limitations in the driver chips, LEDs and panel electrical design to keep a neutral colour balance across the grayscale. Dark Magic improves the appearance of panels running at less than maximum brightness by reducing banding and increasing detail.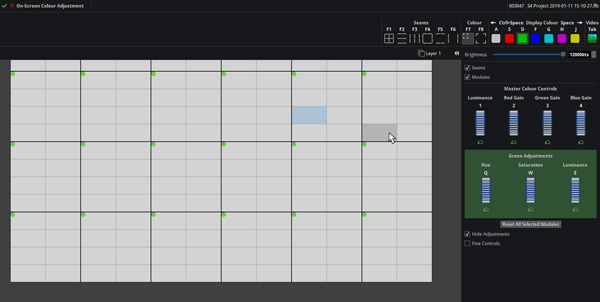 OSCA – On-Screen Colour Adjustment – is a UI (above) that is projected onto the LED wall and used to quickly match panels of any model. Mechanical tolerance issues are common, causing the appearance of bright or dark lines between adjacent modules or panels. Inconsistent ageing, mixed batches or calibration problems may cause colour/brightness mis-matches between modules or panels. OSCA automatically detects adjacent LED units and adjusts the brightness of both edges simultaneously.
Colour Profile
The MADO XR team said Tessera's On Screen Colour Adjustment and ChromaTune were the features they found especially useful. "In XR, the relationship between the colour profile offered by the LED processor in relation to what the sensor of the camera is receiving is extremely important," said Louis, "To be able to fine tune the colour profile in the Tessera software made our workflow much more precise and efficient. It gave us extremely realistic images."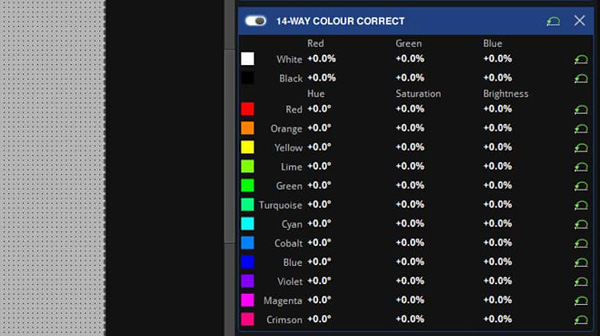 ChromaTune makes precise adjustments and corrections to colours in the incoming video signal. The 14-Way Colour Corrector mode to independently adjust primary, secondary and tertiary colours without affecting any other colours. A Colour Replace mode allows you to select a colour in a video for adjusting and supplies tools to fine-tune it. You can also import a 3D LUT, which is applied after any ChromaTune adjustments.
Wave of the Future
PRG and MADO XR believe firmly that XR is set to become a new tool for companies to express their brand identity and bring their stories to life.
"At PRG, virtual production has never played a more significant role, not only for TV and film creators, but in music, corporate events and emerging fields like esports. The range of equipment and skilled people available, and our ability to bring all these systems and workflow experiences together in our studios allow us to realise customers' project vision," said Stephan Paridaen, COO & President of the PRG Group.
Apart from the cost efficiency and sustainability that come with using digitally created XR environments, rather than building a physical set design that is normally discarded after an event, Louis notes that XR can be used to produce broadcast content with visual interest and quality that is exclusive to artistic films. "Viewers feel immersed in a beautiful, life-like image they can access as a livestream on devices from anywhere in the world. It opens doors and brings diversity and inclusion, not just to the world of fashion but to corporate presentations, music events and many others," he said.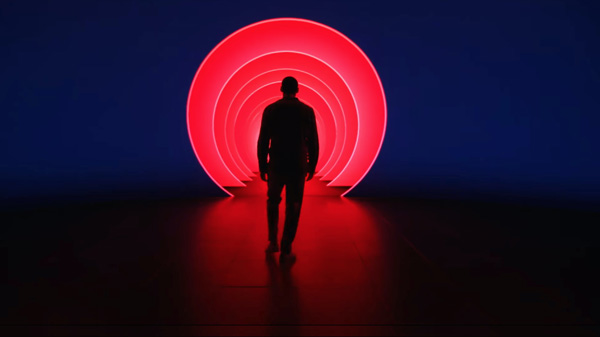 Two Worlds
Feedback on the Virtual Production Studio facility has been very positive, and productions such as the unveiling of the new brand platform and Peugeot logo design by Havas Events, Dassault Système for Live! and the fashion shoot of the Balmain FW2021, have been the first to take advantage of the studio's creative tools. "It really depends on where you are coming from," Louis said. "In live entertainment, for example, creative boundaries can be pushed a long way and you really can go in all possible artistic directions.
"In contrast, the motion picture business is a lot stricter in terms of photo realism, colour science and precise skin tones. Tools like Brompton's Tessera LED processing allow us to move between these two worlds. Our team from PRG and MADO XR can demonstrate how best to use virtual production techniques for most productions. Once a client has had a chance to test it, they are very enthusiastic and love the results." www.bromptontech.com