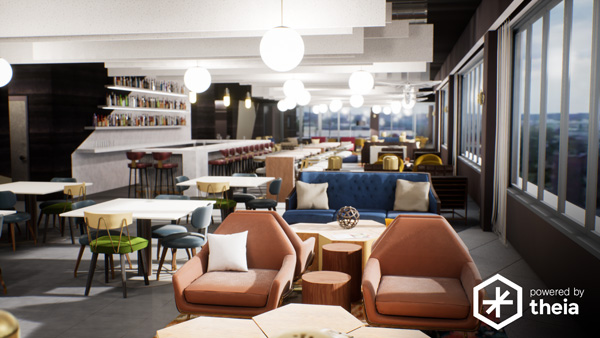 Toward the end of 2020, The Gettys Group Companies completed TownePlace Suites Capitol District, a new upmarket hotel in downtown Nashville. When creating the look and atmosphere of such a project, every design decision needs to be carefully considered and approved. To help the planning stages to progress faster and more effectively, the project's design and development team used visualisation techniques led by Theia Interactive to give them an advantage.
Theia, who specialise in XR services, created a fully rendered, high-quality 3D build of the hotel in VR via Unreal Engine, giving the designers the ability to walk through and experience its virtual rooms and make design decisions on the fly. Matthew Shouse, Chief Operating Officer & Co-Founder of Theia Interactive, talked to Digital Media World about this project.
Virtual Scale Model
Matthew described how building a highly detailed 3D model in VR meant The Gettys Group was able to save a huge amount of time by seeing all of their options ahead of committing to any of them. "Taking advantage of new approaches like VR and game engines gives us a chance to give designers more flexibility at a small cost, changing how hospitality design is handled," he said.
Using Unreal Engine and their own Optim software for Unreal, Theia created a scale model of the TownePlace Suites Capitol District hotel, focusing on the lobby, guest rooms and common area. Opening in Nashville's Capitol District in October 2020, it includes 204 suites and studios, a 50-person meeting space, an outdoor courtyard and several other amenities, including a rooftop bar.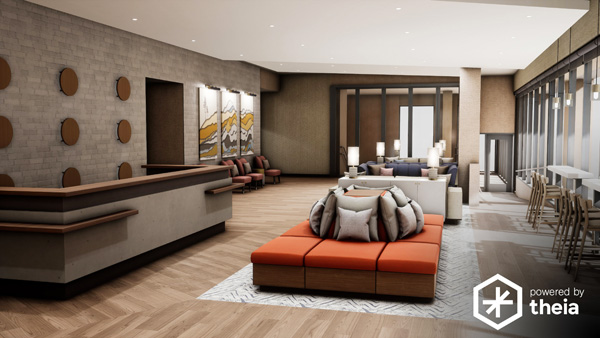 The virtual model allowed the designers to change every aspect of the look, including furniture, flooring, the colour of the paint, materials textures and so on. The model also featured varied lighting to show how spaces would look at different times of day and at night.
Visualise and Optimise
Optim is Theia's optimisation software that prepares complex models built in Revit, AutoCAD and other design applications for import into Unreal Engine, where models must be reduced down to a suitable size for use in applications, in services, in the cloud and so on. Matthew said, "Optim complements Unreal's own Datasmith software, which is a collection of tools and plugins that bring entire pre-constructed scenes and assets into Unreal. Optim, on the other hand, gives the user a chance to visualise, customise and optimise their model in specific ways prior to import."
For example, Optim helps speed up, simplify and automate processes like merging meshes, which can be very time-consuming, and lightmap management. Optim has a clustered merging tool used to select hundreds of meshes to merge within a scene, and automatically divide them into user-defined chunks. A lightmap resolution tool automates the assignment of practical resolutions to groups of meshes all at once, relying on given parameters for Low, Medium and High resolutions.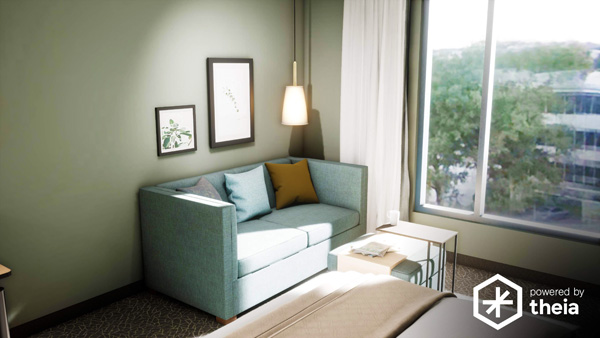 "Those automation values are based on the Theia team's own project experience," said Matthew. "Similarly, Optim's Smart LODs intelligently apply LOD settings to multiple meshes at once inside the viewport, to save time and polygons. As we worked on the hotel's three main spaces – the lobby, guest rooms and common area – we used Optim to optimise the assets, reducing the model from about 10GB to 2GB."
The Optim Template is a ready-to-use game mode for hosting review-and-approval sessions. It comes with avatars, a voice communication function and, most important, a virtual camera for creating renders so that clients, designers and stakeholders can experience projects, without coding, via the desktop or in a VR headset.
3D Tour
As the design came together, the teams and people involved had the ability to tour the 3D model remotely using NVIDIA's Cloud XR streaming service, either on their desktop or by wearing a headset to wander around the model in VR. In effect, they had access to a camera inside their VR headset.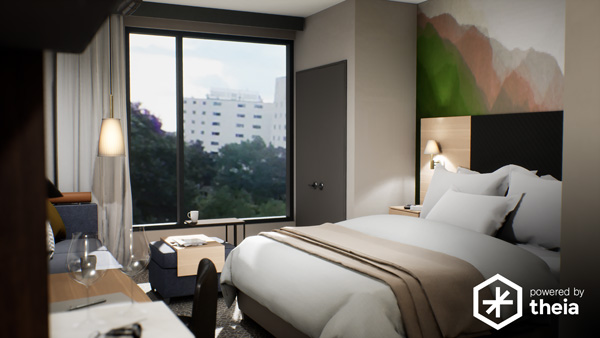 They could then leave notes for the designers, or even have full voice conversations with them in real-time, without having to leave the home or office where they were working. The designers also had access to a fully-equipped virtual planning space where they could collaborate remotely as needed, in or out of VR.
To show the looks and effects of the lighting at different times of day, Theia used Baked Lighting for efficiency. But they could also have used Unreal Engine's Lighting Scenarios to swap between baked lighting options. That feature stores and displays multiple lighting setups so that you have the flexibility of dynamic lighting, but at the fixed cost of pre-computed lighting.
"As future updates, Theia is interested in making NVIDIA RTX GPUs accessible to Optim, and using Pixel Streaming as a way to design Unreal Engine content for viewers to experience as a live stream in a Web browser or mobile device," said Matthew. Pixel Streaming involves running a packaged Unreal Engine application on a desktop PC or a server in the cloud.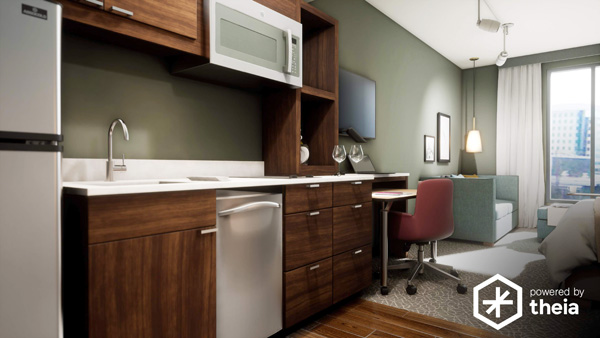 Viewers connect via a Web browser and stream the rendered frames from the Unreal Engine application as if they were streaming a YouTube video, except that they can also interact with the application. This means that viewers don't need to install or download any software.
Once the TownePlace Suites Capitol District visualisation model was complete, The Gettys Group contacted hospitality management firm Big Little Fish and gave them a virtual tour of the 4,500-square-foot rooftop bar. The group immediately saw the potential, and leased both a coffee shop in the lobby and the rooftop bar. Soon after, they hired a well known chef and opened their restaurant, named Zeppelin, in November 2020.
Long Range Platform-agnostic Sharing
Matthew also talked about the importance of Cloud XR in this project to make completely sure that all parties, anywhere, were accessing the same design. NVIDIA developed Cloud XR to stream graphics-intensive VR/AR and XR content over wireless or wired networks to untethered or tethered end devices. The SDK accesses a high performance graphics server and streams over a radio signal such as 5G or Wi-Fi, to fairly low-powered graphics hardware clients like PC-connected head-mounted displays (HMDs) such as Vive Pro.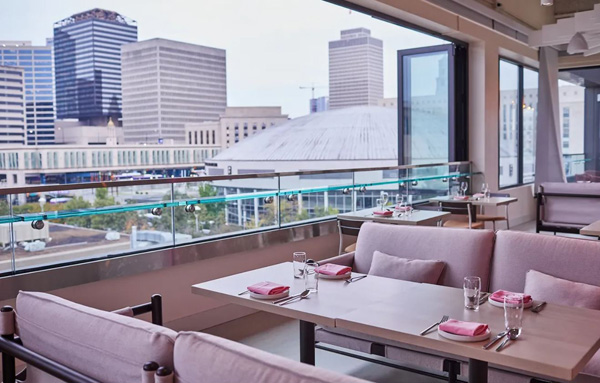 A large, diverse group of people were looking over materials and finishes that were going to affect costs. They needed to make quick decisions, and wanted to take advantage of the fact that they were not relying on physical drawings and models. Cloud XR was built to allow a viewer anywhere to review projects on any type of device, overcoming latency via AWS. Going beyond AWS regions, users can access AWS Outposts, Metro Centes and Wavelength 5G networks to achieve low latency.
The service's platform-agnostic nature, suitable for viewing on a tablet or through a VR headset, was another reason for choosing it. It produced a consistent vision of the look and feel of the interior of the hotel environment. Viewers can consider such questions as "Is this a good place for my business and customers? Could I work there?"
The real-time rendering combination of Theia, CloudXR and AWS helped make The Gettys Group's vision feel more real to the client and designers, tenants like Zeppelin restaurant and other stakeholders, and helped them better understand its potential. theia.io