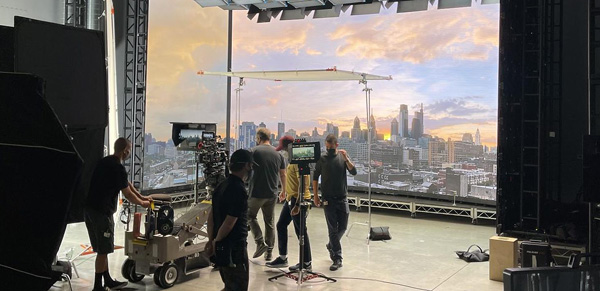 ARRI has established the ARRI Solutions Group to focus on the design and engineering of customised production infrastructures, including mixed-reality (MR) environments and new types of TV studios. As well as using ARRI products, the new Group's customers work directly with ARRI's engineers and project managers, plus a worldwide network of ARRI partners. These are specialised businesses that ARRI works with to match the region and scope of services required, per project.
"ARRI is no longer solely a hardware manufacturer, but has moved on to consulting, configuration and turnkey installations. The ARRI Solutions Group designs very specific systems for cinema and broadcast clients. Collaboration with companies supplying external products and services is also very important to us," said Stephan Schenk, General Manager Global Sales & Solutions at ARRI.
Mixed Reality Production
One of ARRI's first mixed reality projects is the DARK BAY Virtual Production Studio in Babelsberg near Berlin, one of Europe's largest permanent LED studios for virtual film productions. ARRI Solutions Group was responsible for the overall technical planning, and the coordination and installation of all components. All three of ARRI's business units – Camera Systems, Lighting and Rental—worked together with the client under the project management of the ARRI Solutions Group.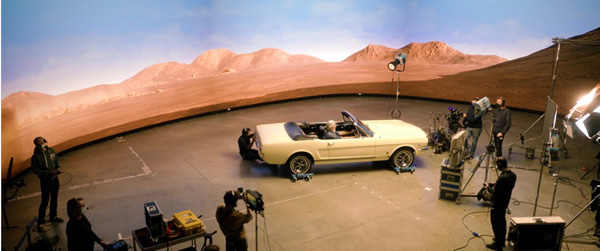 "In [northern] spring 2021, we built the LED studio in only three months at Studio Babelsberg AG. The team from the ARRI Solutions Group operated as a vertically integrated service provider in this case, applying expertise spanning LED, lighting, camera and data management," said Philipp Klausing, Managing Director of DARK BAY GmbH.
Currently, filming is taking place in the DARK BAY for the Netflix production '1899', an upcoming mystery-horror series. The actors are being filmed in front of 55m long, 7m high LED wall, curved around 270°, with an ARRI ALEXA Mini LF camera and ARRI Rental lenses. The LED wall is complemented by 70 ARRI SkyPanels that combine to interactively illuminate the volume. The set, camera package and lighting rig were designed specifically for this production.
More MR Studios
"Balancing the needs of diverse specialist departments including direction, camera, lighting and VFX was essential in order to guarantee a satisfactory recording result in the studio. The Solutions team has been able to assemble and deliver all the diverse equipment and partners into a system and end-to-end workflow for the customer," said Philipp.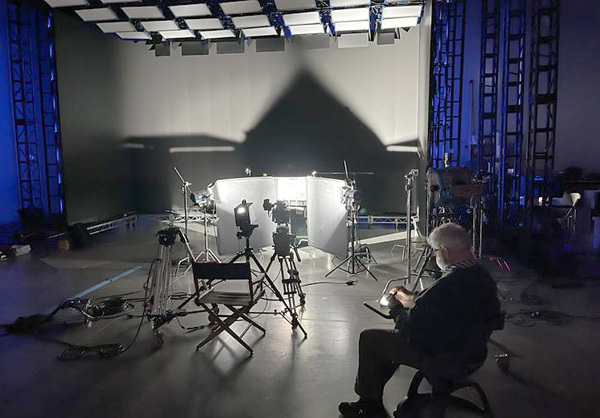 ARRI will continue expanding its global partnership network and regional mixed reality testing environments In Uxbridge, near London, ARRI and ARRI Rental will open a mixed reality studio in June 2021 that will be used for commercial and demonstration purposes, and the company operates further test and demo stages in Burbank near Los Angeles and in Munich.
More mixed reality studio projects are underway. As a shareholder of Volucap in Babelsberg, the first volumetric studio in mainland Europe, ARRI has worked on the further development of recording techniques for virtual reality and augmented reality since the studio opened in 2018. ARRI cameras, lighting systems and production support equipment have already been used in varied professional mixed reality film productions, including 'The Mandalorian' for Walt Disney.
Ethernet/IP-based Lighting for Broadcast
ARRI Solutions Group is basically a realignment of the ARRI System Group in Berlin, which previously specialised in broadcast and lighting systems. Most recently, the team equipped two TV studios for broadcaster WeltN24 in the new Axel Springer building in Berlin. These two news studios are among the first to be equipped entirely with Ethernet/IP-based lighting equipment, including the spotlights.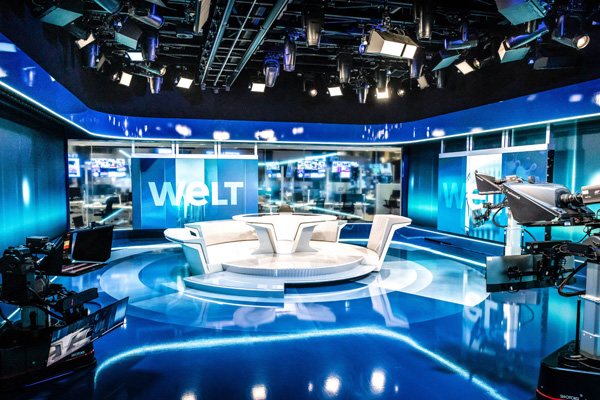 100 ARRI SkyPanels with different apertures were specified to control light distribution. Meeting the lighting quality requirements of an HD/UHD environment over time was also important, including colour rendering index levels, options for colour temperatures adjustments and calibration standards.
ARRI integrated an IP interface into the SkyPanel series early on, finding that the DMX network protocol affects the use of intelligent monitoring for lighting, and limits data rate and the maximum number of channels. Lighting control based solely on Ethernet/IP at WELT improved lighting system flexibility and reliability for 24/7 operation, and allowed the broadcast engineers to take control of all components.
Combined with other luminaires, the SkyPanels gave the Welt studios a very flexible lighting design. SkyPanel supports six colour modes and 17 lighting effects, each with several parameters that can be manipulated without a lighting console or programming. The calibration functionality means crews can establish uniform performance between different fixtures. Because they are built from different LED chips, the fixtures need to be tuned and calibrated to produce exactly the same colour and output performance.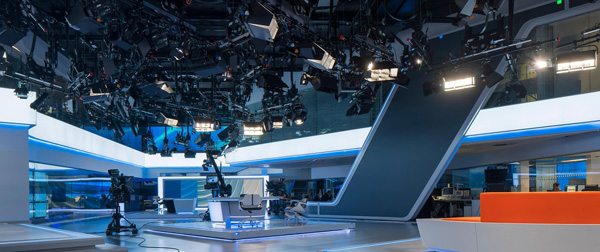 You can read more about ARRI's lighting work at WeltN24, here. Other broadcasters using ARRI's studio systems are ARD, Al Araby TV, CBC, Epic Games, NENT, Kuwait TV, Oman TV, RTCG Montenegro, RTV Serbia, RTL Group, SBA Saudi Arabia and others.
As well as the work described above, the new Solutions Group's activities have extended to consulting, planning, visualisation, design, implementation and training for the cinema market. In the future, camera systems such as AMIRA Live will be considered as well as lighting systems such as SkyPanel and Orbiter. AMIRA Live is built without external cables to suit multi-camera live broadcasts, but has the ALEXA Super 35 sensor for cinematic images.
ARRI Remote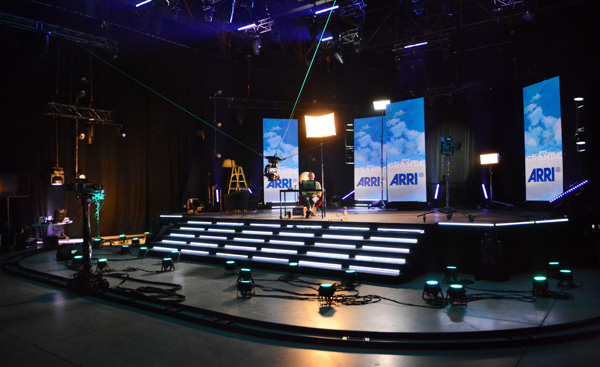 Following the onset of the coronavirus pandemic, ARRI Solutions Group started work on another holistic approach that is now in development called ARRI Remote Solutions. It involves a system of networked, remotely controllable ARRI cameras, lights, remote heads and accessories that support workflows with safe distance between performers and crew and between the crew members themselves – without compromising operational and creative control.
"In all of these applications, there are regionally specific customer requirements – even the local partner companies are often different. The ARRI Solutions Group tries to work out the best individual set-ups that serve the interests of clients," said Stephan Schenk. www.arri.com