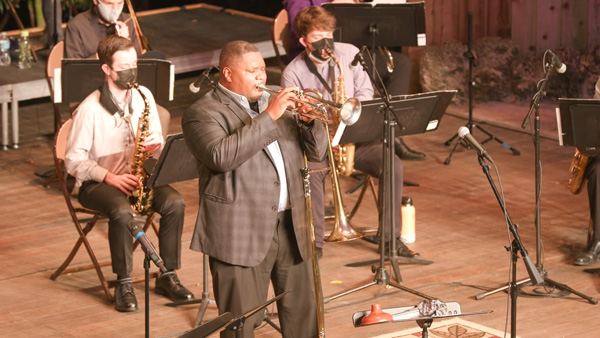 One of south Florida's top annual jazz concert series JazzAid Live at the Banyan Bowl has been held at Pinecrest Gardens Cultural Arts Park for the past eleven years, inside the Banyan Bowl 530-seat, open-air, acoustically dynamic amphitheatre built under a geodesic dome. Due to the COVID-19 pandemic, the series was threatened with cancellation for the 2020-21 season.
"Living through a pandemic brought disappointment, disillusionment and fear," said Alana Perez, Director of Pinecrest Gardens, the botanical park that contains Miami's Banyan Bowl amphitheatre. "I knew our concerts, our park, our recreation programs, our festivals – everything was going to be affected."
However, video producer and director Daniel Sell, also a musician who had performed at the Banyan Bowl, suggested streaming the performances from the stage live to viewers. He planned to produce the show with NewTek TriCaster and NDI software connectivity standard to make the project simpler and affordable. The price of the TriCaster is low enough for the venue to hire Daniel as producer and use the event to test how many patrons would actually pay for remote viewing.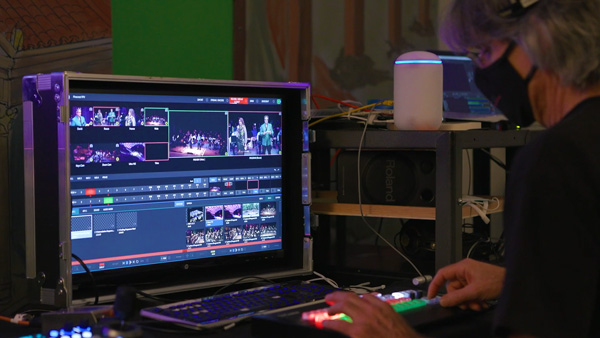 Compact and Connected
The TriCaster makes all necessary media production capabilities accessible from one piece of hardware. The TriCaster Mini – which Daniel initially used in his production – is also easy to transport. NewTek's NDI protocol was used to establish a communication link between video-compatible gear to deliver and receive HD video and audio over standard IP networks, suitable for switching in the live production environment.
NewTek reseller Midtown Video in Miami supplied PTZ cameras to the organisers at a special rate as payment for a sponsorship package. General Manager Jesse Miller agreed that TriCaster would be a good choice to produce the concert series' live streams. He said, "TriCaster can cover nearly all tasks from the one device. For streaming events, which typically need to fit all of their gear into a small footprint for a control room space, TriCaster switches multi-camera feeds, records, livestreams and incorporates extra cameras as needed.
"Also, when you are working within a constrained budget, TriCaster does the job for much less than it costs to add all those components individually, particularly at multi-camera virtual events," Jesse said. "That's where it really shines."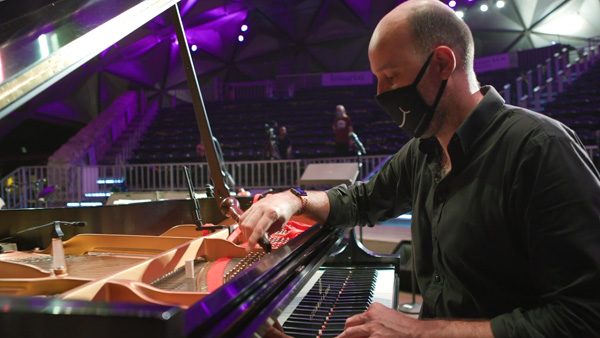 On the Network with NDI
NDI directly connects all of the cameras over the local IP network, and allows all types of other video inputs to be brought into the production. In this case, this included a computer he uses to create graphics and titling using NewBlue FX Titler 4 software.
"I started the series using a TriCaster Mini with HDMI inputs, which only gave me four hardwired SDI video connections supporting different combinations of standard format video. The four manned cameras are all SDI, but I needed more," David said. "So when I wanted to add some PTZ point-of-view cameras, they had to be incorporated into the TriCaster through NDI." The full TriCaster has 16 external inputs and incorporates other sources through recorded video servers, clip players, still buffers and two graphics channels.
Unexpected
According to the venue, the results Daniel has achieved have been impressive. Alana was surprised to see the concerts looking as polished as many concerts she had seen on television.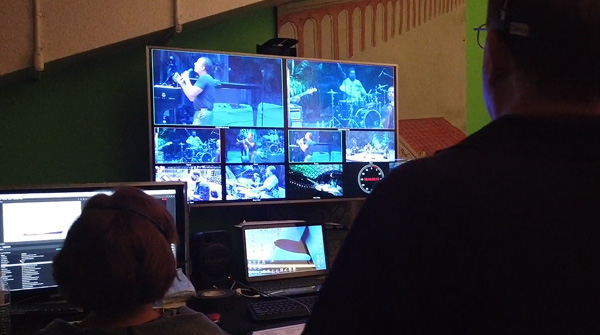 "We have a 500-seat theatre that we used to fill for every concert," Alana said. "Our base is very loyal but for me, the true test for the success of the livestream was the single tickets that have come in from around the world – more of them with every show. We have people looking in not only in California, New England and Canada, but also in Europe.
We've had viewers in Italy, Germany, England and Portugal. People are even watching us from Brazil. In other words it has been the Banyan Bowl's roll-out to the world. Having people beyond our next-door neighbours participating and knowing who we are is tremendously exciting." www.newtek.com