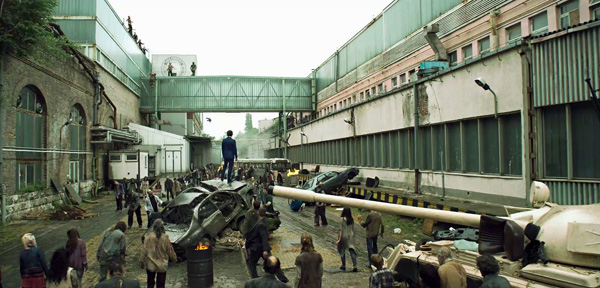 Nice Shoes, a creative studio recognised for its commercial finishing and post-production services, recently expanded into film and episodic VFX with the launch of Break+Enter, a new arm within the original company. Break+Enter uses Amazon Web Services (AWS) to host a scalable, cloud-based pipeline for its artists, who work remotely from locations around the world.
The launch has made the Nice Shoes one of the first organisations in the media industry to adopt cloud services as the basis of a major section of its studio operations. To monitor resource assignments and virtual connections the artists make, the company uses the Leostream connection broker, an interface that manages remote access to the physical and virtual machines and other assets that the artists use, hosted both on-premises and in cloud environments.
The decision to completely virtualise Break+Enter's production facilities on AWS paid off in terms of collaboration and productivity during the 2020 pandemic. Artists can be on-boarded quickly and receive access to high-performance workstations from any location with Internet access.
Building a Virtual Environment
To design a system that would best support the studio's workflows in a secure virtual environment, Break+Enter hired Cloud Architect Luiz Garrido and a new VFX Creative Director, Dave Zeevalk. This team uses the Leostream interface to track users' connections to workstations and integrates it with the display protocols that launch the artist's content creation applications.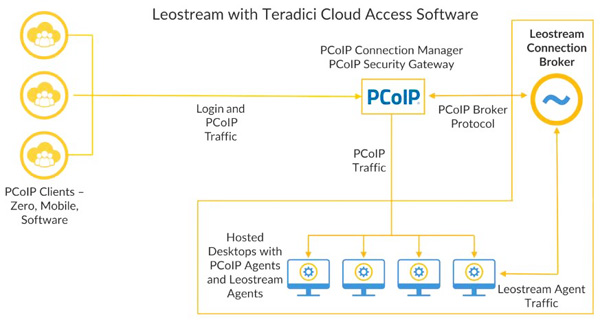 Leostream and Teradici PCoIP
As well as AWS, Leostream has native support for Azure, Google Cloud and OpenStack Cloud, plus support for any cloud platform using Leostream Agent, which gives the connection broker insight into the connection status of remote users. The Leostream Gateway gives remote access to users outside of the corporate network. For environments hosted on a public cloud or OpenStack cloud, the Gateway allows desktops to be isolated from the public internet.
By the time they were preparing to launch Break+Enter as a virtualised facility in June 2020, Nice Shoes had already been handling remote DI services and hiring artists working from external locations, and wanted Break+Enter to be cloud based from the start. Luiz and Dave launched the environment at speed in less than 8 weeks.
Project-Centric Connections
The company had been attracted to this new way of working mainly for the options it gave them to add freelance staff whenever they were needed, and to make a wider selection of services available on demand. But beyond that, Leostream also allows them to make artists' connectivity dynamic and user- and project-centric, not machine- or resource-centric.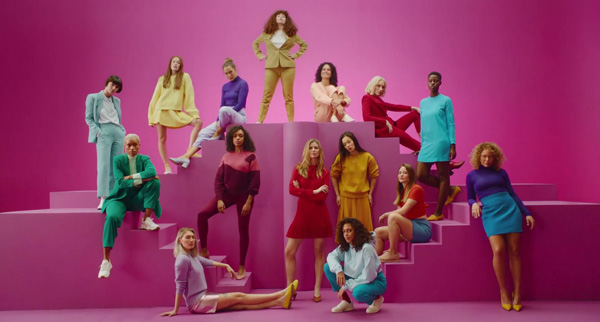 Luiz and Dave are using Leostream to automate the connection process for users so that they can connect to resources themselves, without relying on an intermediate engineer. From wherever they are, users launch their own virtual machine, using a web app as a portal. The portal is tailored per user type – administrator, developer, artist and so on – which makes the system simpler for individuals and serves as a security measure.
As users are not tied to one machine type, they can choose the machine that best suits the project they are working on, each time they connect to the system. They can launch servers and access the render farm. In other words, Break+Enter is not limited by the people and machines in a physical office. The render farm, in particular, is highly automated so that submissions from different software follow a specific processing profile. Jobs are processed efficiently with fewer mistakes.
Keeping Data Secure
Content security is one of the top priorities for external IT systems connected to motion picture and television businesses. All pre-release content must be locked down to avoid leaked data. "Security is more important than anything that we do," said Dave. "Every decision we make and everything we do as we move forward and expand this infrastructure involves keeping content and data secure."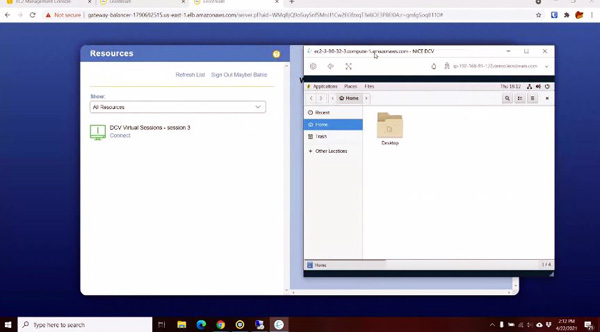 Access management for multi-user Linux servers with Leostream and NICE DCV
A critical function of Leostream at Break+Enter has been tracking and auditing user connections to virtual machines. Dave and Luiz go to great lengths to track their IT environment and oversee who has access to what and when. "We can monitor who is logging in, and for how long, and if a machine has been left sitting idle," said Luiz. "These insights are very helpful."
Given the nature of the studio's clientele, which includes major OTT producers and distributors such as Amazon and Netflix, security audits occur regularly. Being able to supply logs and usage reports from Leostream helps to move through the audit process. "We open everything up to clients and can show at a very granular level what's being worked on relating to their project," Dave said.
Graphics Intensive Display Protocols
Break+Enter handles visual effects from cleanup shots to building complex 3D CG environments, and from the concept stage through to detailed, photoreal sequences. Any remote access environment running the software that the VFX artists use, also requires a high performance display protocol. Therefore, Break+Enter currently employs Teradici PcoIP, which is built to run graphics intensive applications remotely.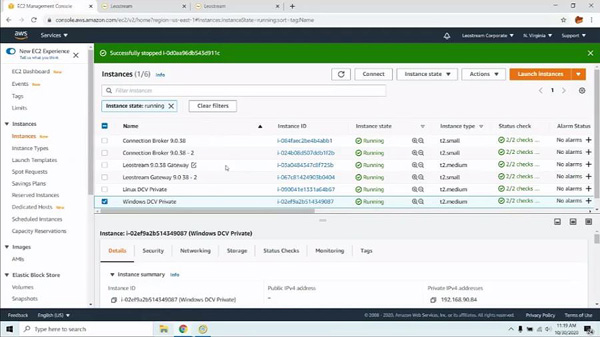 Leostream and NICE DCV on AWS
Leostream integrates directly with Teradici but is also flexible regarding protocols for this type of graphics-intense visualisation work. It supports HP RGS and Mechdyne TGX, for example, and recently added support for NICE DCV, an AWS high-performance remote display protocol. Luiz said, "NICE DCV is another option for Break+Enter to stay within the AWS environment. We're downloading the latest version of Leostream so that we can start testing it now."
By moving the studio to a remote pipeline, the company has been able to quickly expand during peak production times and scale down once the project deadline has been met. Dave said, "Because the work we do is project-based, having this elasticity makes a huge difference.
"By working remotely and using a cloud environment and services we can secure talent at any location called for. It has made us location-agnostic and means we can scale our operation on-demand to support artists and their storage and rendering requirements in the cloud. Adding the Leostream layer introduces the security we need to assure clients, as well as visibility and control, at the same time." www.leostream.com