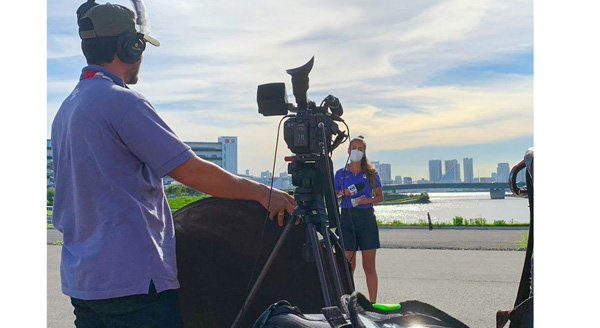 IP video distribution, aggregated data connections and the public internet were key factors in delivering the Tokyo Summer Games to audiences, competing with traditional satellite and fibre and keeping on-site staff to a minimum while maintaining video quality and reliable broadcasts.
LiveU, live video streaming and remote production specialists, delivered live video and results daily from Tokyo to viewers around the world, and recorded a 400% increase in LiveU deployment compared to Rio 2016. Their devices were in use for main event coverage as well as interviews and behind-the-scenes content.
Over 1,300 units were used throughout Tokyo by news and sports broadcasters, delivering 19,000 live sessions from sporting events to 50 countries worldwide and 50,000 hours of continuous live broadcasts. LiveU's LU800 native 5G production-grade system, using NTT DOCOMO's 5G connectivity, with multi-camera capabilities supplying dynamic coverage from multiple angles, was in use for the first time at a major international sporting event.
The LiveU Matrix IP cloud video management platform was adopted for distribution of live feeds to stations back to a home base over the public internet. LiveU ran more than 30 channels of distribution to almost 100 stations across the world in the Matrix platform that were all dedicated to the Games.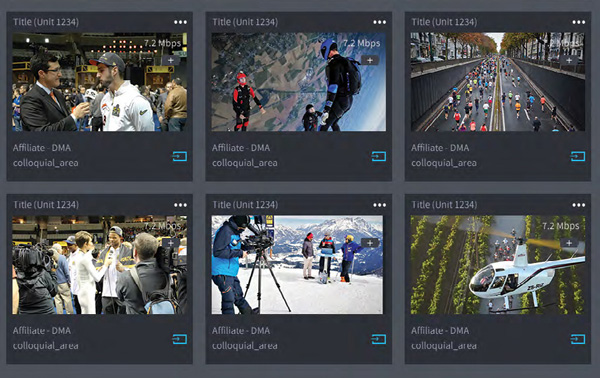 LiveU's Matrix IP cloud video management
Ronen Artman, VP Marketing, LiveU said, "Without live audiences, it was even more important than usual for broadcasters to capture the achievements of the athletes and atmosphere around the Games. Camera crews got closer to the action than before with LiveU units used at every venue – inside the stadiums, outside on the tracks and on water. From the start, covering the Opening Ceremony to the events themselves, award ceremonies at the podiums and interviews with the athletes and coaches, LiveU was there at every point."
LiveU's customer projects team was on-site throughout the Games, supplying dedicated 24/7 service and support to the broadcasting teams. LiveU's Network Operations Center continuously monitored the live performance of the live feeds.
Brazil's Globo Deploys TVU One Transmitters
Brazilian media broadcaster Globo used 16 TVU One transmitters equipped with 5G to broadcast live on-location at the Tokyo Olympics. The mobile transmitters were spread throughout the event sites, supporting coverage of the 33 sports represented at the Games and helping the limited Globo staff in Tokyo to supply live, broadcast-quality video from all locations.
As the major media channel in Brazil and Latin America, the broadcast of Olympic events was important to Globo and its Latin American audience. The network dedicated 1,040 hours to live Summer Games transmission, with on-site reporters at Tokyo event locations as well as coverage of Brazilian athletes.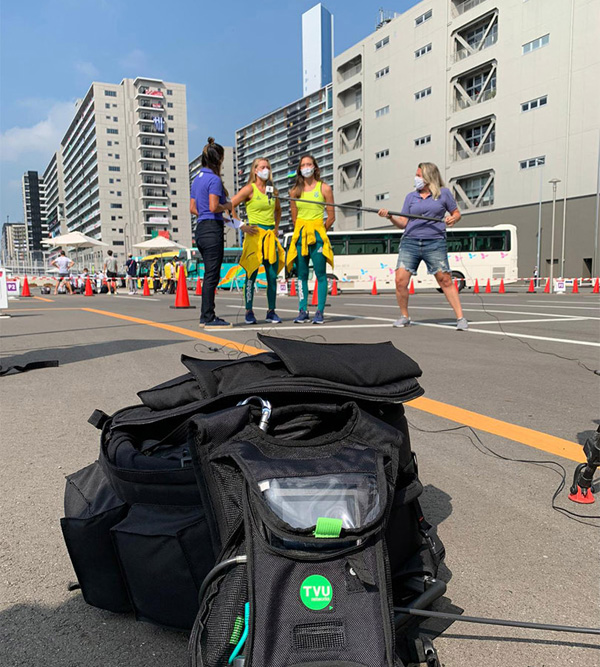 "Because of safety standards imposed by COVID-19, Globo sent only part of its staff to Japan," said Paul Shen, CEO, TVU Networks. "Nevertheless, they were able to produce dynamic footage from all locations in a safe, reliable way using TVU One 5G with Inverse StatMux. Producing content from the Games hasn't been straightforward, but customers like Globo have risen to challenge by employing new ways to maximize viewer engagement. Their coverage excited fans all over Brazil."
TVU One aggregates all available data connections – including cellular, 5G, WiFi, Ethernet and satellite – with sub-second latency to transmit broadcast-quality video from almost any location. It features HEVC video compression and TVU's Inverse StatMux Plus (IS+) transmission algorithm to deliver reliable video.
TVU Networks On-site Support
TVU Networks supplied wide on-site support at the Summer Games, including rights-cleared access to live external video feeds of locations across Tokyo and 24/7 technical support throughout the Games. Broadcasters could access the TVU Anywhere app free of charge, which allowed full HD live transmission of video from iOS or Android smartphones for mobile journalism, including athlete interviews and special interest stories. TVU also had studio space in downtown Tokyo available for rent, which media companies used with TVU Partyline, a cloud-based live collaboration platform, to carry out remote production and remote journalism in the challenging environment.
TVU Networks was on-site before the start of the Games, supporting more than 100 broadcasters, including including beIN Sports, Seoul Broadcasting System SBS, Shanghai Media Group SMG, Joongang Tongyang Broadcasting Company JTBC in South Korea, China Global Television Networks CGTN and 7NEWS Australia.