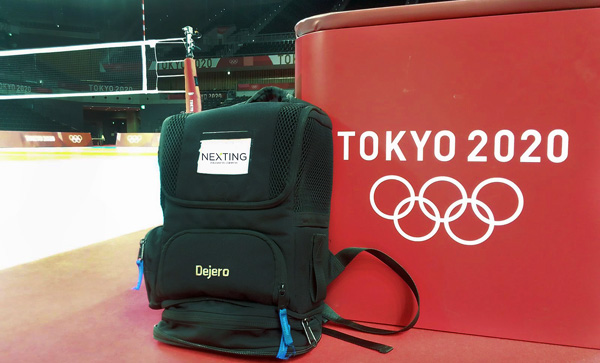 Broadcast specialist Nexting in Italy supplied live coverage, edited highlight packages and interviews from the Summer Games in Tokyo to a number of Italian broadcasters. Their workflow required robust connectivity, supporting broadcast-quality live video, at remote venues including the Tokyo Aquatics Centre, Ariake Arena and Saitama Super Arena.
Since movement of all kinds, including of equipment, was restricted around the Games due to the pandemic, Nexting chose to use mobile transmitters that aggregate network sources in order establish a reliable enough connection to deliver daily live coverage to Mediaset, Sky Sports Italia and Italia Team TV, the Italian team's own OTT platform. Working with Dejero EnGo 260 transmitters, their five production crews were able to send video to clients with latency as low as 0.8 seconds.
31 Hours a Day
Given the seven-hour time difference between Italy and Japan, the crews were effectively operating for 31 hours continuously in a rolling pattern. By inserting region-specific SIM cards into the EnGo transmitters, crew members set up cellular connectivity from the local carriers in Japan for optimal performance while roaming around the different venues.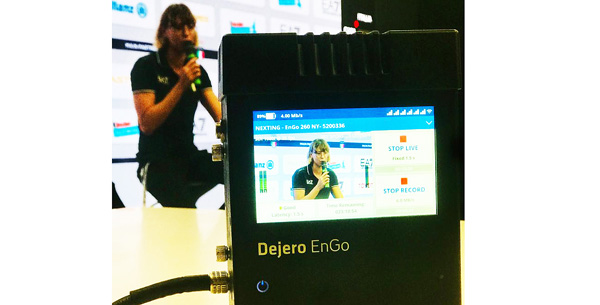 The transmitters' ability to maintain reliable cellular reception in challenging network environments made a difference to the Nexting operatives. The EnGo transmitters are ruggedized and withstood the abruptly changing, extreme weather conditions in Japan that ranged from severe heat and 84% humidity – making it the hottest Summer Games on record – to wet and windy conditions caused by tropical storm Napartak.
CEO of Nexting Antonio Palmieri said, "We could feel relatively safe using the EnGo devices. When we had a problem, the Dejero team was immediately available to help us solve it, giving us a sense of security in a time-critical environment."

Nexting supplied live coverage and edited packages throughout the afternoon and evening into Italy's news and sports news programmes from Casa Italia. That was the Italian team's name for their home base located in the Kihinkan–Takanawa Manor House, and served as their Network Operations Centre.
Immediate Post-Event Interviews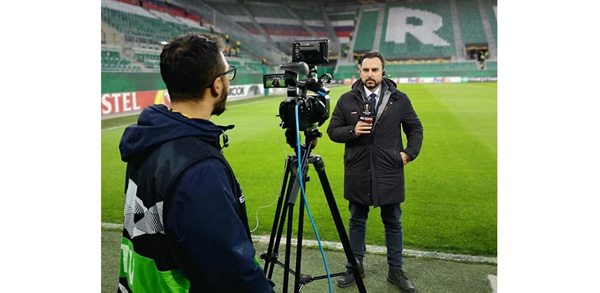 In the mornings, crews captured interviews from the Mixed Zone for interaction with athletes. Using five EnGo transmitters, they were able to carry out immediate post-event interviews despite the network congestion caused by the huge number of broadcasters transmitting in the area.

The EnGo uses Dejero's proprietary Smart Blending Technology, which simultaneously aggregates cellular connections from multiple providers to form a virtual network of networks delivered as a single reliable service, expanding coverage areas and delivering greater bandwidth. The system successfully handled the production and transmission of live and edited footage from any of the sites in all local weather conditions.

Dejero has also recently deployed its connectivity services for the European football and US Open Golf championships, bringing flexibility and reliability to major sports broadcasters and live event production companies. www.dejero.com