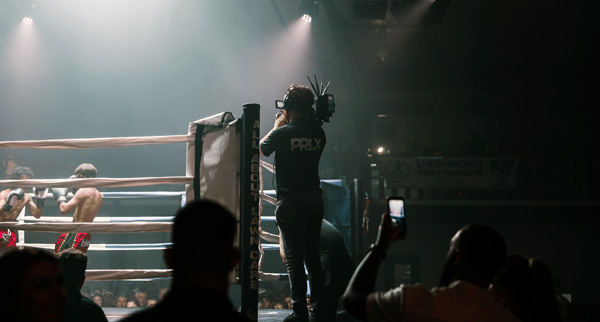 As the quality of video-on-demand content has continued to rise across the various streaming platforms, audiences have come to expect the same visual quality in live streams. Their expectations create new challenges for live event and streaming production companies like PRLX Creative Production in Darwin, who need to meet client quality standards without breaking their budgets. Director Ashley Blenkinsop and his team have established a workflow that supports smooth, high-quality live video delivery for clients in live events, sports and business located across Darwin and Melbourne, Australia.
Simultaneously with the sudden increase in hybrid events in the last year, PRLX has continued to evolve the workflow, adjusting techniques and adding tools like AJA's HELO H.264 encoding, streaming and recording device, and the AJA KUMO 1616-12G router.
More Hybrid Events
More of its client-base has increased the frequency and quality of live video streams, and meanwhile, PRLX has seen audience numbers trend upward. "The move toward more hybrid events with a live stream component throughout the pandemic has helped to broaden many of our clients' audiences, attracting attendees from around the world who otherwise wouldn't have attended. It's been incredible to watch and support them in these endeavors," Ashley said.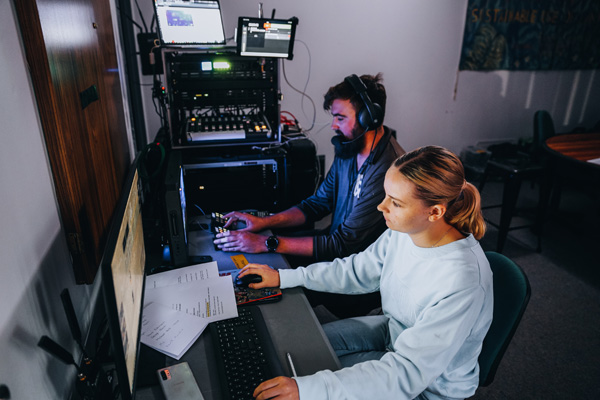 One such client is live dirt motorsports venue Northline Speedway, which Ashley worked with as a freelancer before PRLX was formed. He also helped produce the Virtual iRacing Competition iCOT, a live stream motorsports series that followed remote drivers across Australia and the US during the 2020 lockdown. It drew in 47,000 viewers across five nights on Facebook and Vimeo.
"Pulling off live streams like these requires reliable gear that we know will deliver a quality stream," Ashley remarked. "We need to be confident that our equipment won't suddenly fail or that the audience feed doesn't buffer, and both HELO and KUMO have proven to be rock solid."
Flypack
To every event the crew travels with a 14RU fly pack that includes a range of cameras, a switcher, an AJA HELO, and an AJA KUMO 1616-12G. AJA KUMO 1616-12G forms the routing backbone for all of their productions. On-site, camera signals are first sent via patch bays, which group multiple network ports in one place before moving through the network and PRLX's switcher.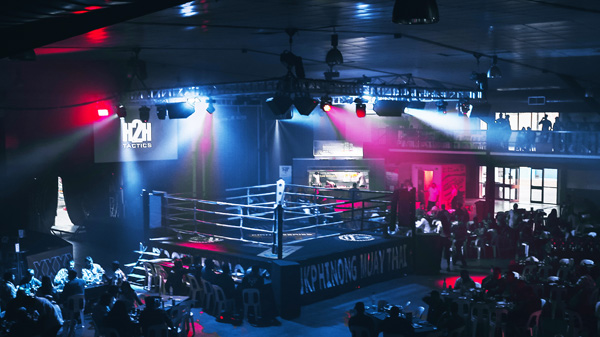 The switched output is then sent back through KUMO to feed on-site control room multi-viewers and split-off multi-viewers for on-site event commentators. Using HELO's signal-splitting loop out function, the PRLX team hard patches the main switcher output to HELO and into Vimeo, where it is split off to Facebook Live, YouTube or the final delivery platform. Content is also recorded in AJA HELO for archiving. HELO can be used to stream video signals to CDNs while simultaneously encoding and recording H.264 files to SD cards, USB storage or network storage.
The KUMO 1616-12G has helped PRLX simplify the setup for productions like these, with a straightforward web interface for quick, simple adjustments whether working on-site or remotely. "Setting up with the KUMO router is pretty easy, and it allows me to focus more on making the production more engaging and look professional," Ashley said. "If I'm not on-site, I can also set up remote access and adjust parameters, or I can set up a list of router command events that can be triggered and automated simultaneously, with one button. For example, we can route several video sources, such as cameras, to multiple destinations like multiviewers and delivery platforms. With KUMO's 12G-SDI connectivity, we're also 4K-ready."
Long-Term Investment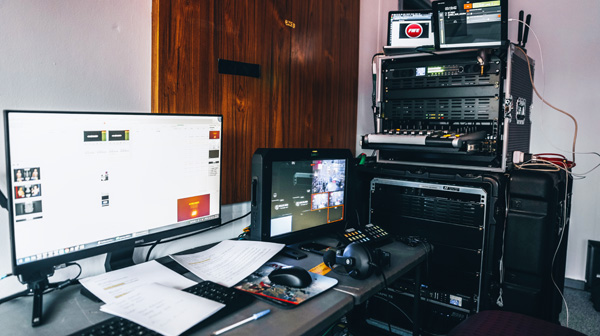 "When it comes to making equipment decisions, gear is a long-term investment for PRLX, and so we take it seriously. AJA gear is almost always at the top of our list because it's affordable and simple to use, delivers high-quality video, and continuously proves a steady workhorse in the field."
Ashley's vision for the company moving forward includes expanding its client base, for which he believes remote production tools like AJA BRIDGE LIVE could prove invaluable. Darwin, where the company is located, is one of the most remote cities in the world.
He said, "I'm closely following remote production developments and IP systems that support SMPTE 2110 and NDI, including BRIDGE LIVE. It could make our work more straightforward and make it easier to service more clients outside the region remotely from our office, which would transform our company." BRIDGE LIVE supports multi-channel video contribution and remote collaboration, as well as several transport protocols and codecs. www.aja.com