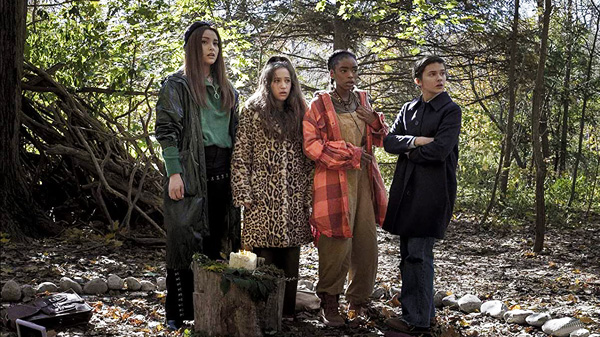 Ashley Shields-Muir and her producer partner and friend Connor Jessup founded Big & Quiet Pictures, their independent film production company, in 2014 in Toronto from a desire to make personal, director-driven films with people they liked. As well as her work at Big & Quiet, Ashley also works as a production manager and line producer in Toronto and around Canada, most recently on projects for Searchlight Pictures, Blumhouse and NETFLIX.
Ashley took the role of Production Manager on the feature film 'The Craft: Legacy'. The production had actually filmed the majority of the project in 2019, before the pandemic had started. "But in the summer of 2020, we were called on for a pretty substantial re-shoot," Ashley said. "By that time, I was in Winnipeg shooting another feature film."
Scattered
"Due to travel restrictions, quarantining and our own schedule on set in Winnipeg, we couldn't relocate for the re-shoot. Furthermore, we couldn't bring the writer-director, Zoe Lister-Jones, in from Los Angeles, although for the producers at Blumhouse it was critical that Zoe direct this re-shoot because it involved major changes to the ending of the film.
"Fortunately, just by chance, the actress needed for the re-shoot was also in the Winnipeg area, at the same time. But the crew were literally scattered across North America. The Producer and Director were in Los Angeles, the Main Unit DP was in NYC. The original Dept Heads on the Main Unit had returned to Toronto, and the Line Producer and I were in Winnipeg. Somehow we had to figure out how best to get everyone collaborating as though they were all on set, without everyone physically being in one place."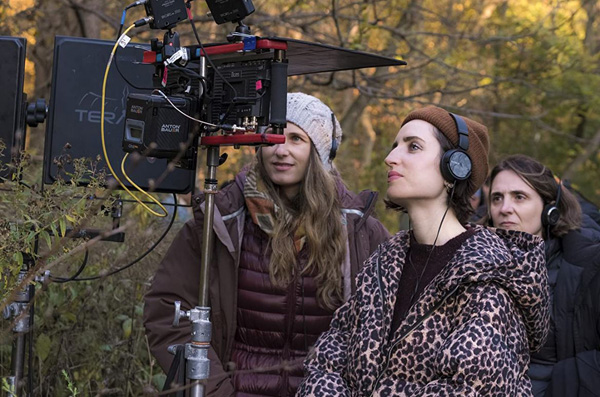 Director Zoe Lister-Jones and crew on the original main unit fiilm set.
Looking for alternatives, they decided to work with First Mile Technologies, a specialist in connectivity services for film and media production, to support this project. First Mile's CEO Brandon Cooper suggested using their Web RTC remote viewing software, called Frame, with Dejero EnGo mobile transmitters to set up a collaborative, remote way of working.
Connectivity
After finding that building a remote workflow was possible, the next concern was connectivity. "We had already experienced internet issues while we were filming our main production in Winnipeg. Internet dropout can be a real issue in the province, but Brandon was confident that the connection between First Mile and Dejero's mobile transmitters would be reliable," said Ashley.
First Mile set up a remote workflow for them of a type they had never tried before. On the set with a local film crew, EnGo supplied Wi-Fi connectivity and transmitted video from the camera. First Mile then used another Dejero device, the Waypoint Receiver, hosted in the First Mile Cloud, to receive and insert the video into Frame. The director Zoe Lister-Jones and her team could view this stream within a browser and meanwhile comment, live and in real time, via Zoom while working at home.
Ashley feels certain that without the First Mile-Dejero set-up, the entire process, from shooting and directing to editing and reviewing, would have taken much longer and may not have even been possible. "The system maintained ultra-low latency. We used iPads and Zoom to connect Zoe, the director, so that she could not only give direction to the actors, but also work with the local production crew advising them on setting lights, the dolly, flags, checking costumes and so on," she said.

Responsive Real-time Performance
Dejero has developed and integrated into its transmitters a proprietary connectivity method called Smart Blending that intelligently combines multiple network connections – cellular, satellite, Internet and others – in real-time in order to expand coverage and bandwidth capacity. Purpose-built for sending live video from remote locations, EnGo's performance is therefore not fixed but adapts in real time.
Its hybrid hardware/software encoding also dynamically adapts to real-time feedback about the complexity of the content being encoded, such as the amount of motion, and also responds to real-time feedback from the Smart Blending system about the connection's throughput capacity and latency.
The First Mile Frame gave Zoe and the rest of her production team a window into exactly what was being shot with high video quality and reliability, which gave them a genuine sense of collaboration despite the need to work remotely.
Anamorphic on the Alexa Mini
Ashley said, "The crew were recording on the ARRI Alexa Mini camera and shooting anamorphic on Panavision lenses. The DP Hillary Fyfe Spera wanted to shoot a mix of older and newer glass. Panavision sent a camera body, and several of the same replica lenses that we had used on Main Unit in Toronto, out to us at Winnipeg. Our camera team there spent a prep-day working with the camera package and the First Mile / Dejero system to make sure that it was integrated into the workflow."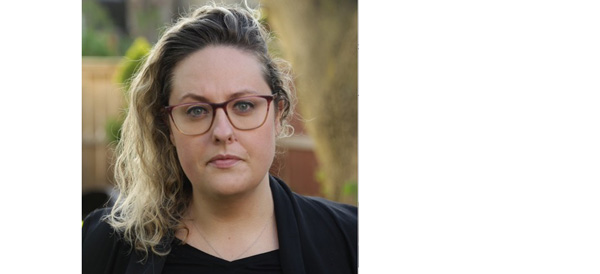 First Mile also supplied technical support on the prep day to ensure that any possible bugs were worked out immediately. On shoot day, Ashley's DIT on the Winnipeg shoot took pointers on using the equipment on the ground.
Potential
"From a production manager's or producer's point of view, I very quickly recognised the potential of this system, not only in a pandemic when we couldn't travel for work but also when I considered how we'll be working in two or three years' time. We felt as though we were doing the movie and the creative team justice," Ashley remarked
"The equipment brought the team as close to the ground as they could possibly be in the circumstances, but it also has endless possibilities in the future. For example, it doesn't always make organisational, or financial sense for three producers to travel to the set or for second unit directors from all over the country to travel to one location. With this system and workflow in place, the main unit director could essentially reshoot from wherever they happened to be.
"If the need to reduce the carbon footprint of shooting a film is also considered, this way of working can also benefit the environment. Furthermore, as someone who also works in the Indie community, I appreciate that smaller independent producers can use it as easily as a production company with a big budget." www.dejero.com