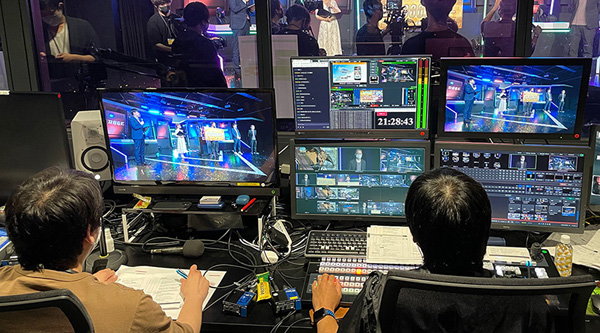 As multi-platform streaming has become common for live entertainment, live production companies are using simulcast workflows to deliver content to fragmented audiences. Although important for improving audience reach, successfully implementing simulcast workflows can prove challenging, given that teams must manage the various video format and quality requirements of each delivery platform.
To reduce these complexities and adapt to shifting client demands, live production systems provider Nouvelle Vague Inc in Tokyo has refined its simulcast workflow in the last year, while focussing on emerging methods and standards. The company introduced two AJA BRIDGE LIVE devices into its pipeline earlier this year, which support multi-channel live video contribution, backhauling, live streaming and video delivery, to respond to client demand for Secure Reliable Transport (SRT) transmission. Remote production has also increased.
BRIDGE LIVE is built for specialised streaming and contribution applications with high performance 12G-SDI video encoding/decoding and stream-based transcoding. Within a 1RU form factor, it handles 12G-SDI I/O and includes metadata and closed caption support. Familiar with AJA gear after integrating two HELO streaming and recording devices into their workflows in 2020, Nouvelle Vague chose AJA BRIDGE LIVE to extend its workflow to support SRT and RTMP transmission in separate pipelines.
"SRT has gained popularity among clients, especially those looking for a further layer of security for their intellectual property," said Masayoshi Ikeda, VP and Representative Director, Nouvelle Vague. "At the same time, our customers also need their content to be delivered with stability on multiple platforms at high quality. AJA BRIDGE LIVE allows us to achieve this in a straightforward way."

Most Nouvelle Vague e-sports projects, which include on-the-ground support, require streams that feature complicated screen configurations with more then 60 layers. One of the production company's most ambitious undertakings this year was for the RAGE esports competition, the largest in Japan. BRIDGE LIVE was critical to this project for simulcasting tournament coverage to YouTube, OPENREC.tv and Twitter.
On-site, four camera feeds and PlayStation 4 game sources were fed into AJA KUMO 3232 12G-SDI routers, which simplified cabling, then into NewTek TriCaster video production systems. The Nouvelle Vague team distributed the output to two HD production switchers and into the BRIDGE LIVE devices for RTMP encoding, and the reception and decoding of SRT feeds. The stream was then sent to Japanese video streaming site ABEMA in 59.94i format, as well as the other platforms in progressive format.



To enable recording to NAS and MP4 ingest on upcoming projects, Nouvelle Vague also recently added an AJA Ki Pro GO to its equipment. Adding a multi-channel H.264 recorder like the Ki Pro to their portable fly pack allows the team to support clients on site from ingest to editing, distribution and recording. Nouvelle recently supported the FUJI ROCK FESTIVAL '21 using the workflow, and plans to use the same set-up to support a range of remote livestreaming projects from their studio in Shibuya when it opens. www.aja.com