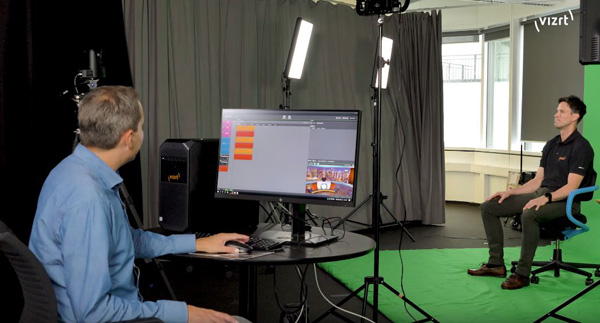 Vizrt has developed XR Set Express as a virtual studio-in-a-box, focussed on a simple approach with pre-configured and pre-calibrated equipment. Intended to ease the operational complexity of a virtual studio, it comprises a Viz Arc control surface and a Panasonic PTZ camera with a pre-calibrated lens and other simplified lens settings.
It includes a customisable, functional sample scene, ready to produce and based on Fusion Render. It features three main areas and pre-built AR graphics to help make setting up a Virtual Studio feel simpler and more straightforward for users.
XR Set Express uses Vizrt's Virtual Studio capabilities – which include 3D virtual sets and custom templates, tracking data protocols and graphics control – with the NDI IP-video standard, to form connected workflows. NDI is used natively for accurate synchronization and fine control of the tracked PTZ cameras, delivering video, tracking data and camera control through a single cable connection.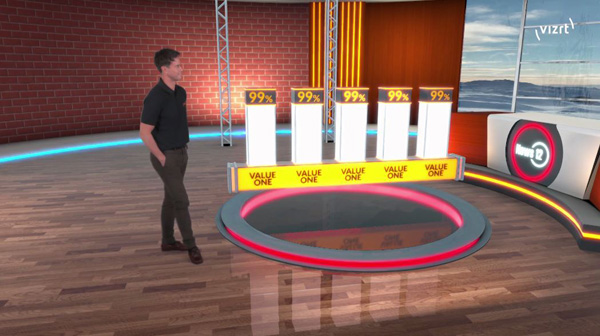 Users can drive their AR graphics and virtual sets from the Viz Arc augmented reality control system, a single interface that controls the project's Viz Engines. It maps AR graphics to floor plans and gives direct access to Viz Artist and Unreal Engine 4 templates.
Viz Arc includes control of the Fusion Keyer functionality integrated with Viz Engine 4, giving a clean, natural-looking key and realistic results when compositing presenters and real elements into a virtual environment, with features including light-wrapping, a denoiser and various mattes. Viz Arc's control of the Fusion Keyer includes a Colour Picker to select a sample from the set or location and fine-tuning adjustment tools, aiming for an invisible blend between AR and Virtual Set backgrounds.
XR Set Express includes a level of automation so that positioning of graphics, studio customisation, keyer settings and presetting desired camera positions can be accomplished within a few clicks. XR Set Express is part of the Extended Reality Suite, and is available via Flexible Access subscription. www.vizrt.com