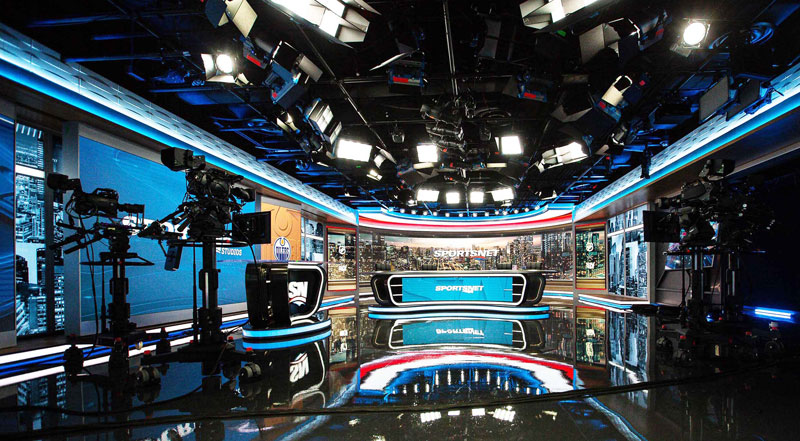 Sportsnet sports media brand now operates from Sportsnet Studios, a new immersive facility in Toronto, part of Rogers Sports and Media (RSM), announced in October 2021. Housed within two distinct areas, Sportsnet Studios is comprised of two separate spaces – Studio 31 and Studio 32 – which are SDI-based internally, with conversion to IP at the edge.
They are equipped and used to create an enhanced sports experience for fans with digital VR sets, augmented reality elements, 22 set monitors, a 50ft curved LED wall, 13 cameras, two IP-based production control rooms and associated support gear.
All of the workflows in such a studio need a wide margin of flexibility. For audio, Calrec systems form an integral part of the set-up, allowing Sportsnet the flexibility needed for its current workflows, and to facilitate expansion in the future.
Calrec consoles are being used for all of the NHL broadcasts on Sportsnet, for example, including Hockey Central pre-game shows, plus other live Sportsnet programming. Jim Morrison, P.Eng, Strategic Advisor, Media/Snr. Media Architect for RSM and technical lead on the project said, "We are familiar with Calrec from our first Calrec console installed at Rogers Sports and Media some years ago.
Media-over-IP Strategy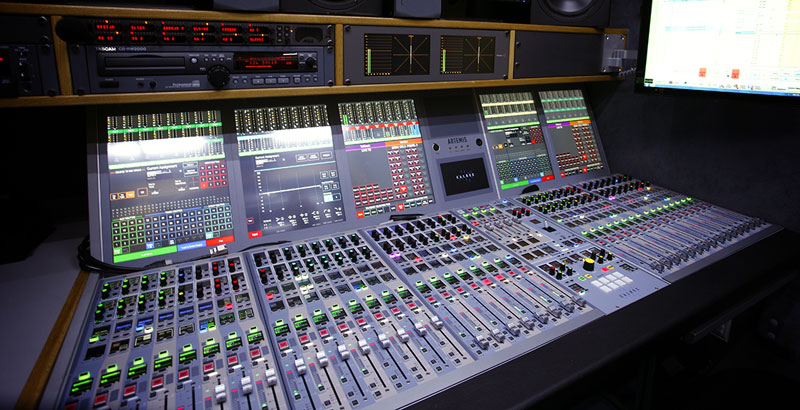 Artemic control surface
"We started down the SMPTE 2210 IP path in 2017, and these innovative new sports studios were the logical next step. From a technical standpoint, Calrec supports AoIP very well, which fits within our media-over-IP strategy. Using Calrec stage boxes give us a lot of flexibility when working in non-IP environments as well." The stage box interface devices connect microphones, instruments and speakers to cabling that allows the sound desk to be set well apart from the stage, and simplifies setup.
To support Sportsnet Studios, two Calrec Artemis consoles and ImPulse cores are extended across three separate buildings and over multiple floors. Artemis control surfaces incorporate colour, touch and tactile controls, which the operators can reconfigure using soft panels to reflect different operating setups, thereby always having a familiar surface to work on. The use of colour across TFTs and colour-changing rotaries gives constant feedback and precise control of each function.
The ImPulse audio processing and routing engines support NMOS discovery and connection management, with AES67 and SMPTE 2110 connectivity. They are compatible with existing Artemis control surfaces, working as an upgrade path for existing Calrec installations that are transferring to IP infrastructures.
Flexible Networking
There are two audio control rooms and several of the Calrec stage boxes deployed between the two studios. Each audio room has its own signal breakout from AES, DANTE (used for intercom) and analogue signals. Each room is also integrated with the existing Calrec console and studio boxes, used elsewhere in the facility via a Calrec H2-IP Gateway.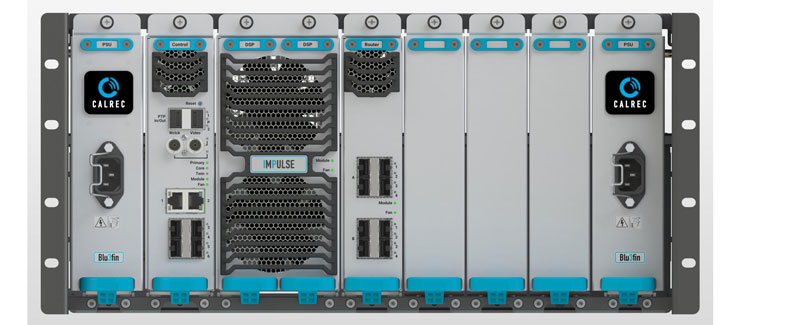 Calrec Impulse
This gateway makes it possible to locate Calrec equipment on an IP network, a proprietary network built on Calrec's Hydra2 networking, or a combination of both. By creating an interface between the Hydra2 network and an AoIP network, audio labels can be passed in both directions between the two, along with control data. In short, users of both networks can gain control of each other's mic inputs. The H2-IP Gateway is also SMPTE 2110/AES67-compatible and has built-in support for NMOS discovery and connection management.
The need for considerable processing power and a distributed SMPTE-2110 I/O network, as well as its scale and physical layout, made the installation and commissioning of this system challenging for Calrec's Canadian distributor partner SC Media, who played a large role in the project. Nevertheless, for Sportsnet, the advantage and attraction of IP is flexibility.
"IP allows all facilities to have a common core and common distribution mechanism for essence streams, with all deployed based on industry best practices and standards," Jim Morrison said. "We know the systems we have implemented have more capacity than we have yet taken advantage of." calrec.com