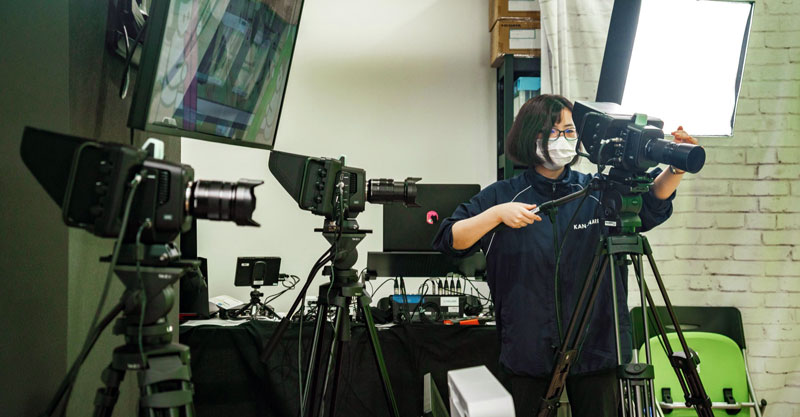 KAN-NARI Corporation in Japan began life in the construction industry as a disaster prevention business, and now also builds out electrical and communication facilities and AV services. In 2019, the company launched an Audio Visual and Communication (AVC) division that includes streaming and video production services for seminars, events, eSports, live music concerts and other live productions. Combining their electrical skills with AV services, KAN-NARI is unusual for its ability to handle both streaming itself, as well as the construction of network and power source infrastructures supporting it.
Located in Toyama, the company has built their own local streaming studio, which has been used by various events sponsored by Toyama prefecture. Among their largest, most high-profile events was the streaming of Japanese pop singer-songwriter Komi Hirose's live concert to 70,000 people.
Long Blackmagic History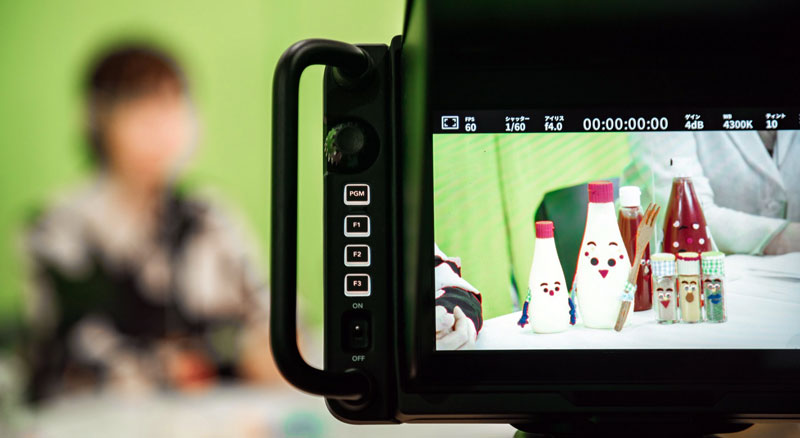 KAN-NARI has been using a complete Blackmagic Design workflow since launching the AVC division and has continued to add new equipment, including the new Studio Camera 4K Pro and Studio Camera 4K Plus. The company's Blackmagic Design inventory also includes several different ATEM switchers and the ATEM 1 M/E Advanced Panel, Web Presenter 4K streaming system, the Video Assist 7in 12G HDR monitor/recorder, HyperDeck Studio HD Plus broadcast deck and various converters.
The General Manager of the division, Yuto Izumi, who is in charge of selecting equipment, has been using Blackmagic Design gear for a long time user. "I used ATEM switchers in my high school broadcasting club, so I have a long history with Blackmagic products," he said. "We have several ATEM switchers that we choose depending on the job. One of the most popular ones is the ATEM Constellation 8K because it has more inputs, and for its SuperSource functionality."
SuperSource displays several separate sources within a single output, allowing a complex live video montage composed on the screen. Examples might be multiple live locations, simultaneous camera angles or, for sports applications, a series of players plus the live match output. The ATEM has two separate SuperSources, each with up to four windows.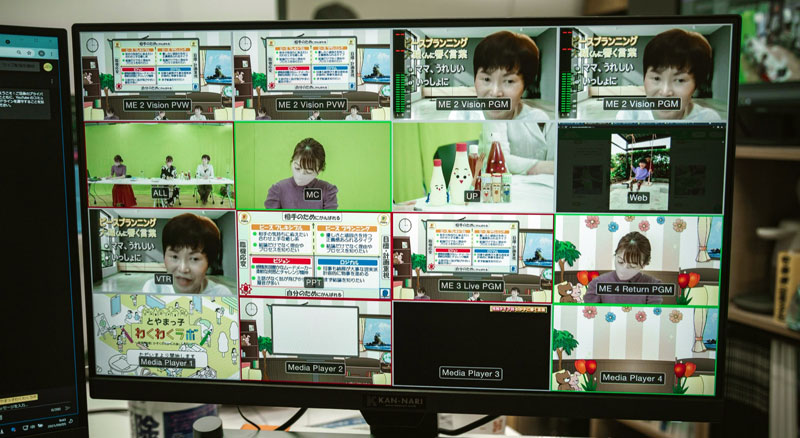 The cameras stand out for their combination of features and compact design. They have a digital film camera's dynamic range and colour science, with an ISO up to 25,600 for shooting in low-light conditions. On the broadcast side, features include talkback, tally, camera control options and Blackmagic RAW recording to USB.
Online Streaming Workflow
One of KAN-NARI's first uses of the new Blackmagic Studio Camera 4K Pro, Studio Camera 4K Plus and HyperDeck Studio HD Plus was for an online streaming event for children, organised by Toyama Prefecture.
"We used two Studio Camera 4K Pluses and one Studio Camera 4K Pro. I used ATEM Constellation 8K for this job as well, and applied chromakey to the feed from the cameras to replace the background with graphics. Because the two camera models have no functional difference except for the availability of more connections, you can mix and match their output without extra work. They gave a nice bokeh, and the chroma keyed image looked really good. The LCD screen is smaller than the previous Studio Camera model, but I prefer to work with a smaller screen, and its physical controls on both sides are easy to access," said Izumi.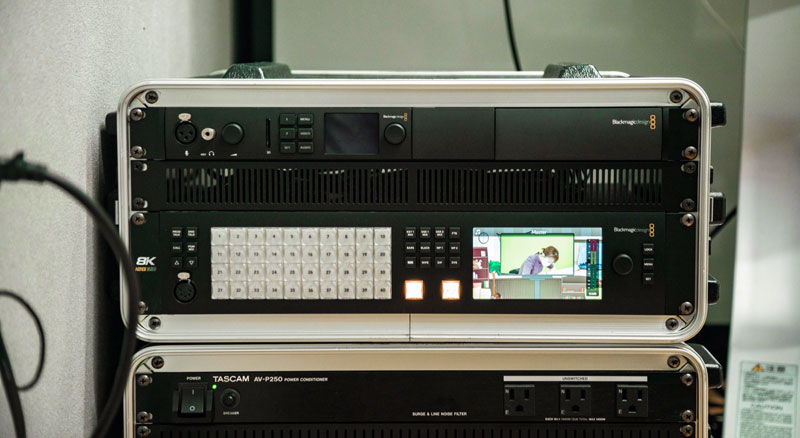 Two HyperDeck Studio HD Plus units were used, one for recording and the other for inserting video. An extra Video Assist 7in 12G HDR was also used for recording. Izumi said, "The HyperDeck can record in highly compressed MP4, so now we use it if clients want to take video files away with them immediately, and we use the Video Assist for higher quality images for editing.
Being able to put workflows like these together has made the operation of steaming events quite straightforward for KAN-NARI's team. He said, "We can use ATEM Software Control to adjust the focus via the switcher, and also for fixed cameras that are not staffed, which is especially valuable when distributing to a small number of people. Also, the GUIs for Blackmagic's control software are easy to understand, and even new staff can learn quickly how to use and master the equipment." www.blackmagicdesign.com