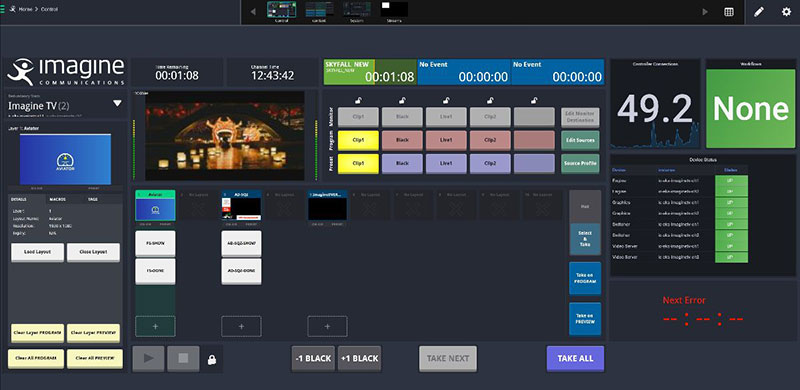 In response to the fluid state of media consumption and delivery today, Imagine Communications is making its expertise and software accessible to users through a cloud-native platform called Aviator. Aviator monetises content as far as possible across broadcast channels and OTT services, and can be adapted to change in the future.
Imagine's cloud-native Aviator is made for broadcasters, MVPDs and digital-first providers to plan, make and monetise linear and OTT content from a single, unified platform. It emphasises the monetisation side of the workflow with tools designed for organisations that want to extract the maximum revenue potential from their assets.
Enhancing Monetisation
For example, media companies can use Aviator to optimise ad delivery, and improve the revenue of otherwise under-monetised OTT content, thereby generating greater profit from assets. Built for dynamic environments, Aviator makes subscription and SaaS purchase options available that suit new business models. Its agile, cloud-based design also allows users to continue to deliver and monetise content regardless of how consumer viewing habits change.
Aviator combines the basic capabilities of scheduling, rights management, channel origination, live events, VOD, ad sales, ad placement, ad serving, campaign management and other functionality into a single cloud platform. It creates a converged OTT/broadcast system that delivers linear programming and video-on-demand content with ads and triggers for local and dynamic ad insertion with options for broadcast, OTT, FAST, pop-up and VOD models.
By automating the operation of thematic channels, the new platform can also assure high audio and video quality on all of these various types of outlets and support the demands of premium services as well.
Convergence in the Public Cloud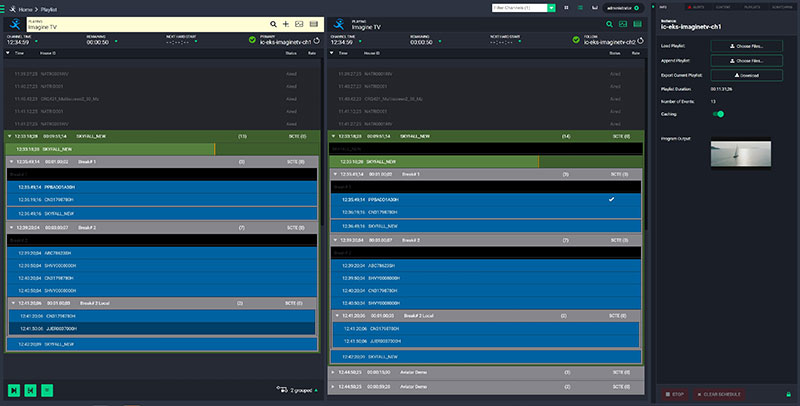 Running in the public cloud, Aviator requires a web browser and internet connection to securely access and operate all aspects of the platform, so that an operator can take control of the tools from wherever they are based ― from an office, home or a remote location. It can run either in a media company's own cloud account, or in Imagine's SaaS environment. This means that the platform is monitored, managed and maintained by Imagine, while the operator controls all creative aspects of their content.
At launch, Aviator will include capabilities needed to deliver linear channels, at the required quality, with unified origination -- that is, originating broadcast and OTT linear streams from a single playlist supporting ad insertion. Its ability to integrate content acquired from live streams, file sources such as video clips, audio and captions as well makes Aviator especially useful for delivering live sports, news and scheduled and unscheduled live events workflows.
Advertising Inventory
"We will continue to add functionality on a rapid schedule," said Rob Malcolm, chief product officer at Imagine Communications. "Later this year, we will expand the Aviator platform's monetisation capabilities so that media companies can sell their own advertising inventory [ad space] rather than limiting them to plugging in a demand-side platform to fill available inventory. This is expected to give an organisation a better chance of maximising their yield, which in turn allows them to afford more premium content rights."
Aviator uses Imagine's audience-first style ad placement engine, designed for selling inventory by audience, by context or by spot ― regardless of the platform or the way it is delivered. New functionality will include accurately targeting commercials to audiences, generating cost-per-impression (or per thousand impressions) metrics across all platforms including broadcast, and monetising scenarios that are difficult to plan for such as extra time in sporting events and breaking news programming.
Rob said, "As consumers find more ways to watch, the efficiencies of cloud gain importance, making it easier for media companies to address opportunities to broaden advertising and create impactful, dynamic channels with genuine appeal to viewers. Some aspects of the TV landscape remain uncertain, but making content available on all screens in a way that allows operators to achieve their full revenue potential requires convergence of content planning, origination and monetisation, which Aviator makes possible."
Imagine will debut Aviator at the 2022 NAB Show, 24–27 April, Las Vegas. www.imaginecommunications.com