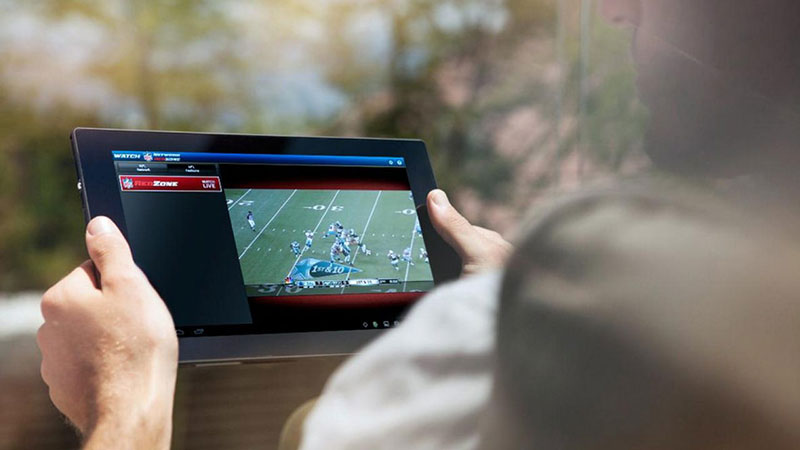 Broadpeak's new Virtual Channel-as-a-Service application is now released on the company's broadpeak.io SaaS. Virtual Channel is a fully managed, API-based platform that cable operators, OTT service providers, content providers and broadcasters can use to launch virtual channels including pop-up channels and free ad-supported streaming television (FAST) services to personalise viewer experience and develop new revenue sources.
"This new application for our broadpeak.io SaaS intends to close the user experience gap between social networks and traditional streaming platforms," said Mathias Guille, vice president, Cloud Platform at Broadpeak. "Virtual channels are an affordable way for video service providers to add personalisation and value to their video streaming services. With our Virtual Channel as a Service, video service providers can help viewers find the content they are passionate about, enhancing their engagement and satisfaction."
Virtual Channel Lifecycle
The broadpeak.io Virtual Channel-as-a-Service speeds up the creation of linear pop-up channels for live events, targeted audiences and other use cases. With the application, video service providers can incorporate a mix of live, VOD, slate, trailer and event content into their virtual channels. The complete lifecycle of virtual channels is addressed in an automated way through APIs, allowing operators to launch services rapidly without human intervention. broadpeak.io also supports delayed live events and 'overtime' situations, which is critical for streaming live sports content.
With the broadpeak.io Virtual Channel as a Service, users can create a global schedule for each virtual channel, audience and viewer to simplify streaming of regional and theme-based content. By global scheduling, for each scheduling step, certain tasks can be prioritised or ordered in a certain way, and then a global search strategy will be applied to select a suitable processor to execute each task, which reduces the schedule length.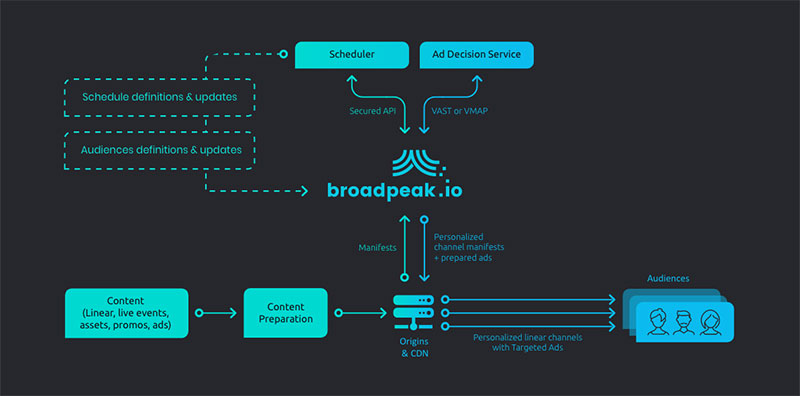 The app uses the cloud as well as Broadpeak's advanced manifest manipulator, which is designed to scale on large platforms. When a stream is requested, video segments are delivered with a manifest file to serve as a playlist and determines the playback order. Being able to change or customize the manifest dynamically, at a per user level, makes it possible to tailor the viewing experience. In live situations, a new manifest can be delivered with each requested segment of video, allowing dynamic adjustment as viewing conditions change.
Functions at the Edge
By performing these functions at the edge, providers have the chance to simplify processes early in content preparation and dynamically cater for an individual viewer just prior to delivery. Enabling video service providers to create highly targeted pop-up channels, broadpeak.io can maximise engagement and ultimately increase CPM (cost per thousand impressions) value and ROI.
As well as allowing you to use any kind, or any mixture, of sources to build channels, this application makes it unnecessary to re-create an entire chain of encoding and packaging to launch a new channel. The system pulls manifest files or pre-packaged/pre-encrypted content and orchestrates them in time to create your schedule.
Using Broadpeak's API, you can create channels as required based on single audiences existing on your platform, or create individual channels based on tastes, moods and recommendations originating from a curation engine. Analytics and a customisable dashboard give detailed insight on what content has been popular and how an audience has engaged with it.
Lowering the Carbon Footprint
In the future, Broadpeak plans to preintegrate the Virtual Channel as a Service with content recommendation engines to simplify the creation of reels for video service providers. Using manifest manipulation, channels can be created on the fly without a full playout system – omitting the need to upload or ingest content, or to decode and re-encode media. Broadpeak says that this process results in a lower carbon footprint, faster deployment and savings.
broadpeak.io Virtual Channel as a Service is complemented by Broadpeak's Content Replacement application. The Content Replacement app was initially introduced as a Blackout API but has since evolved. Operators are using it to address various use cases, such as the Emergency Alert System, simultaneous substitution (simsub), watershed, regionalisation and pay-per-view. broadpeak.tv