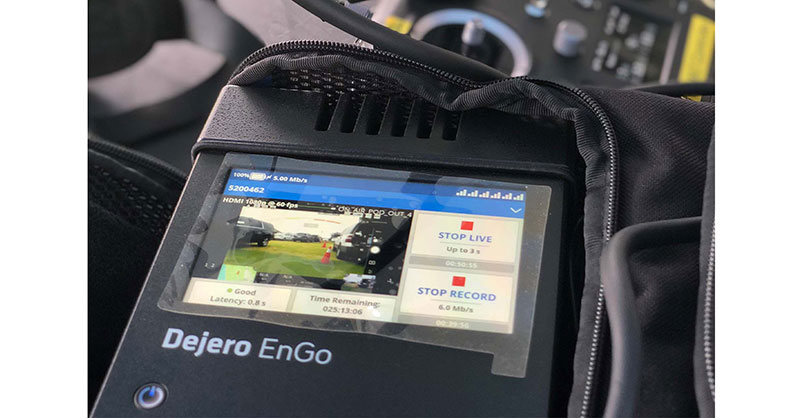 Dejero's new EnGo 3 and EnGo 3x mobile transmitters combine 5G performance with high video quality for broadcast and media producers and teams. Both have integrated internet gateway functionality, and the EnGo 3x supports 4K UHD transmission and multi-camera production. The new WayPoint 3 receiver reconstructs video transported over multiple IP connections from Dejero transmitters, decodes HEVC or AVC and outputs resolutions up to 4K UHD. Dejero will introduce these new devices at IBC 2022.
The EnGo 3 and EnGo 3x transmitters are designed with new RF and 4x4 MIMO antenna architecture to take better advantage of 5G connections and optimise the antenna isolation.
"This next generation of EnGo has four times the number of antennas per modem, achieving wider support of cellular bands to increase performance and reliability," said Francois Vailant, senior product manager, Dejero. "5G mobile transmitters that use 4G antenna design principles can experience interference by antennas that are placed too close together. This design negatively impacts reliability, especially in areas where cellular signals may be weak, or where many cellular devices are competing for network bandwidth."
To enhance 5G performance of their new devices, Dejero chose modems that support additional bands used by carriers in the US, Canada, Australia, China, Korea and Latin America. It means that field crews can transmit broadcast-quality video, quickly transfer large files and set up high-bandwidth access points for multiple devices instantly. In newsgathering and remote production scenarios, a GateWay mode can be used for file transfer, connect to newsrooms and MAM systems, publish content on social media and access cloud or private datacentre resources.
The EnGo transmitters also improve communication and workflow between the field and station, an advantage for mobile news teams that work to tight deadlines. Instead of spending time searching for an internet hotspot, or depending on mobile hotspot devices with just a single connection, they can access a faster multi-network connection of up to 500 Mbps.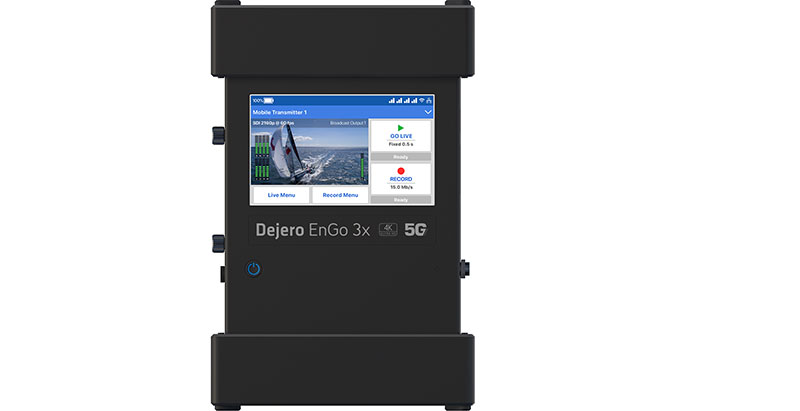 For film, television and commercial production companies, EnGo users can use this more reliable, stronger connectivity to set up real-time collaboration with dispersed teams, for example, as well as accelerate delivery of content from the remote location directly to a post-production team, regardless of their relative locations. In the end, the number of people required on set can be reduced.
EnGo 3x has multi-camera support for up to four frame-synced HD feeds. The extra camera inputs can be licensed when needed, for cost control and flexibility. The transmitter's ability to transmit a 4K UHD feed with eight audio channels delivers video quality at extremely low latencies, and is especially useful for sports and live event productions. For film, TV and commercial productions, 4K UHD live feeds can make it easier for distributed teams away from the set to monitor and detect lighting and colour balance issues in real-time. The 4K UHD feature does not require a separate licence.
EnGo 3 is designed for newsgathering in locations where 5G networks have been widely deployed, with latency as low as half a second over bonded cellular connections. It also improves security with AES 256 encryption, a security-hardened Linux OS and a cryptoprocessor to authenticate the hardware.
The 5G networks bonded by EnGo 3 and EnGo 3x transmitters can be combined with other wireless networks including Wi-Fi and GEO/MEO/LEO satellite, and fixed line (cable/DSL/fibre) wired networks due to Dejero's Smart Blending Technology. This system intelligently manages the fluctuating bandwidth, packet loss and latency differences of the individual connections in real-time, improving reliability, coverage and bandwidth.
The new EnGo mobile transmitters include a built-in Hybrid Encoding system with the new-generation Intel processors and customised firmware. The units can adapt to real-time feedback based on the complexity of the content being encoded, such as the level of motion. To maintain video quality, EnGo 3 and EnGo 3x work in tandem with Smart Blending Technology to analyse the throughput capacity and latency of all the connections in real time.

The new WayPoint 3 can receive video in resolutions up to 4K UHD. The device reconstructs HEVC or AVC video, transported over multiple IP connections from Dejero transmitter from v 1.3 onwards. This feature handles reconstruction, decoding and playout in the highest definition that SDI, or MPEG-T workflows can support, depending on conditions.
Saving rack space in the server room, WayPoint 3 can simultaneously output up to four feeds from the same receiver – two 4K UHD feeds and two HD or lower resolution, one 4K UHD feed and three HD or lower resolution, or four HD feeds or lower resolution. Dejero's use of 1 TB hard drives with RAID protection for both power and storage gives the receiver built-in redundancy. www.dejero.com