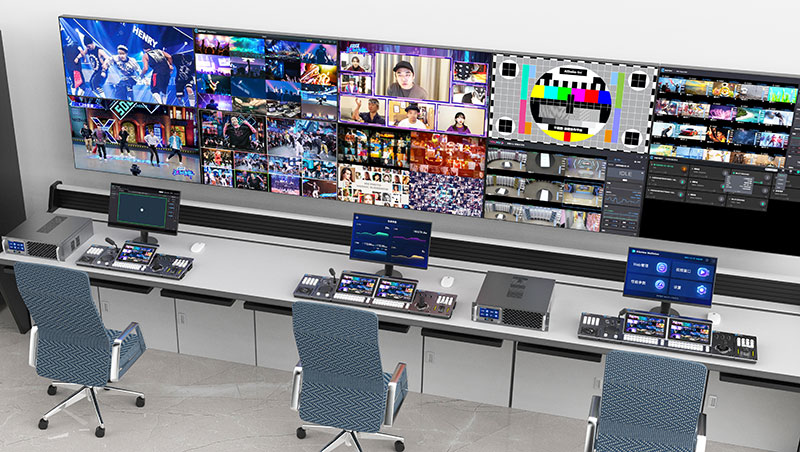 Control
KILOVIEW is attending IBC2022 with several new IP-based video transmission devices. The first is the N50, the most recently released model in KILOVIEW's line of low latency NDI converters, a 12G-SDI bi-directional converter for SDI to NDI, and NDI to SDI. The N50 supports the direct transmission of USB to NDI signals by integrating both NDI and NDI|HX, including NDI|HX3, into one converter. The result is quick, straightforward processing that suits professional IP transmission applications in broadcast, news gathering, sports and live events, as well as facilitating the transition from SDI environments to IP-based systems.

N50

Following the release of the NDI CORE and NDI Recorder software, KILOVIEW has developed hardware versions of both applications. NDI CORE was originally designed to route, produce, construct and deliver any type of NDI signal to chosen destinations, placing no limit on the number of signals in or out – the NDI signal processing capability is related mainly to the performance of the user's hardware server.
CUBE X1 is an embedded device focussing on NDI multiplexed distribution. The device is the lightweight version of the NDI CORE MAX, equipped with dual 10GbE NICs [network interface controllers] and an I/O or crosspoint control panel. It can reach 16 channels of 1080p60 NDI source inputs, and 32 channels of 1080p60 resolution NDI source outputs simultaneously. A built-in LCD screen with multiview and playlist functionality also displays the real-time network, storage space and CPU status of the device at any time. CUBE X1 includes direct NDI switching, without lag, and role and permission management.

CUBE X1

CUBE R1
A new hardware version of the NDI Recorder software, CUBE R1 supports up to 4Kp60 preview and recording, up to nine channels of video preview and recording in synchronised status, and 1, 4 or 9 stream multiviewing; NTP server support for video sources for time synchronization; Realtime display status of storage, CPU, RAM, temperature and bitrate and so on.

The KILOVIEW LinkDeck Series is a central console that manages the remote control of all KILOVIEW products, including the NDI Multiview Player, NDI CORE, Intercom System and other software systems. The user defines which devices to control. With functions available for streaming, recording, overlay, switching, PTZ control and so on, plus PoE support, it can be used to run diverse workflows. These range from multiscreen monitoring, live video production, control and camera switching to NDI terminal remote control.

LinkDeck Series

The D350 4K H.265 Video Decoder is a multiple-stream decoding device that supports resolutions up to 4Kp30 and can decode up to 9 channels of 1080p60 video streams simultaneously with full support for NDI HX and NDI High Bandwidth. Equipped with a 0.9-inch LCD screen, the D350 can display the network rate and bandwidth occupation of the device in real time.

Regarding the company's presence at IBC, KILOVIEW's Vice General Manager Judy Zuo said, "Since the show was last held the progress made in the transition to IP production and workflows throughout the industry has been immense. We are proud to be playing a role in that movement with new products that enable the swift and secure establishment of IP ecosystems at all levels of the media and entertainment industry." www.kiloview.com