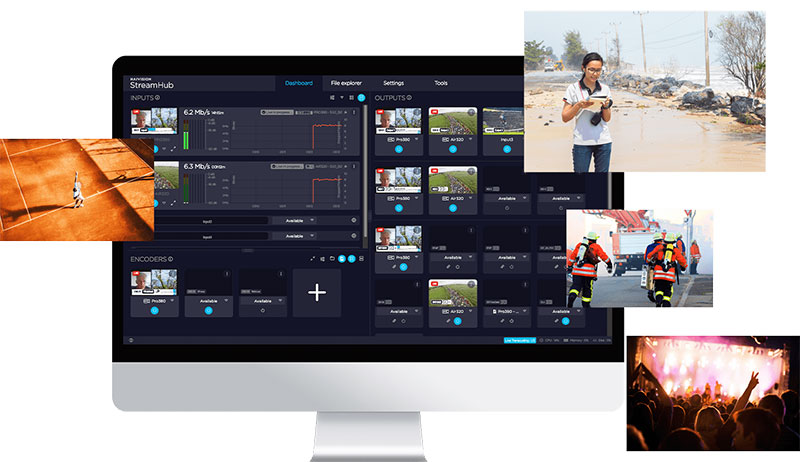 Haivision collaborated with Nokia and German service provider Media Broadcast to demonstrate a system for mobile video delivery over 5G networks at SportsInnovation 2022, held at the Merkur Spiel-Arena in Düsseldorf in May 2022.
From a professional Sony camcorder, a Haivision Pro460 video transmitter sent footage at ultra-low latency over a Nokia 5G campus private wireless network to the official broadcasters' two OB vans for editing and mixing.
Private Wireless Network
Nokia's 5G private wireless network serves as a robust, local network dedicated to specific geographical areas covering anywhere from a few hundred square meters indoors to a few square kilometers outdoors. Private wireless networks are composed of a radio network or RAN, a core network, a backhaul network and access to licensed, shared or unlicensed radio spectrum. A private organisation owns, operates or has priority access to the network's infrastructure or spectrum.
"Its use is restricted to people or devices affiliated within that area, which adds security and control, and can be constrained further through the Nokia network," said Ronald Warnken, Channel Sales Leader Central Europe at Nokia.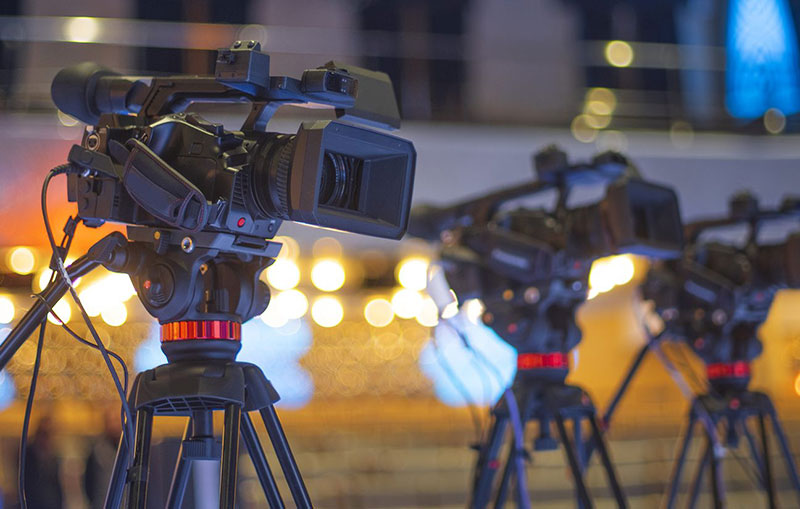 Like a Wi-Fi network, radio access points allow coverage of outdoor and indoor spaces, but relatively few points are needed compared to Wi-Fi. The core network is essential for mobility, ensuring security and maintaining quality-of-service parameters. The core handles connectivity and mobility management, authentication and authorization, subscriber data management and policy management, among other functions – all software-based and designed as cloud-native. The backhaul network connects the access network points to the core network, and back again.
Independent, Fast and Secure
This demonstration was based on Media Broadcast's 5G Blue Box, which contains all the physical equipment needed to set up a private 5G network, including 5G new radio transmitters and Nokia 5G core systems. Housed in the Blue Box, a Haivision StreamHub 1U rack server handled the reception, decoding and distribution of all video feeds for the demonstration.
For live sports venues, private 5G networks can be used to replace physical wiring between video cameras and OB vans. Although RF radio transmitters and Wi-Fi can also be used, private 5G networks have certain advantages in terms of transmission speeds, latency, bandwidth and reliability.
End-to-end latency as low as 200ms was achieved between the Haivision bonded cellular transmitter and the broadcaster's control room, making the teams' mobile video delivery system a welcome tool for delivering a professional live production. Once the signal was received in the OB van, it was distributed to the arena production centre for editing, closed captioning, and mixing via a fibre connection.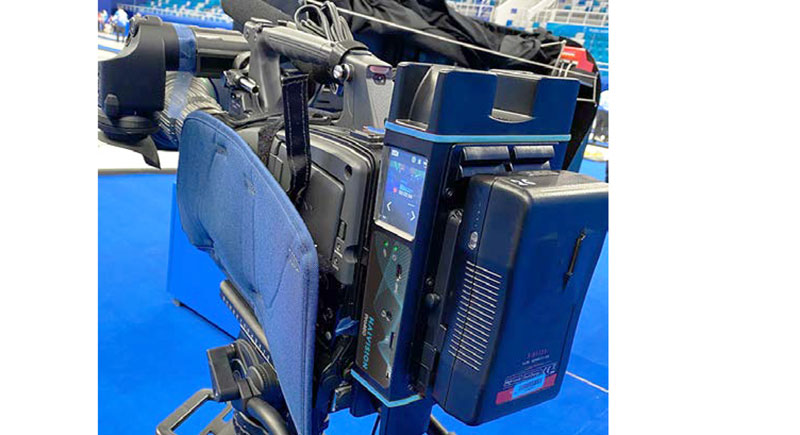 Broadcast Grade Live Video
For SportsInnovation 2022, Media Broadcast received approval from the German Federal Network Agency (BNetzA) to deploy a 5G network with a dedicated bandwidth of 100MHz (3.7GHz – 3.8GHz) at the Merkur Spiel-Arena. German regulations require approval from property owners, in this case the stadium, prior to installing a private 5G network. For coverage at the arena, two 5G antennas were deployed – one in the hospitality zone in the business area and a 5W outdoor antenna for the field and fan galleries to reach the OB van.
At the event, the Haivision Pro460 enabled on-site crews to encode and transmit one 4K/UHD video feed — or four simultaneous HD streams — over the network, while ensuring the reliable delivery of ultra-low-latency, broadcast-grade live video. Featuring six embedded 5G modems and using the Safe Stream Transport (SST) protocol, the Pro460 can simultaneously aggregate multiple 5G/4G/3G network connections to achieve the maximum bandwidth for a high-quality stream.
Ronan Poullaouec, VP of Engineering, Remote and Wireless Systems, at Haivision commented, "5G private wireless technology enables network slicing with the ability to dedicate individual slices to different services such as video transmission or radio communication. At SportsInnovation, that 5G power – combined with the efficiency and flexibility of the Haivision Pro460 — enabled both broadcasters to securely transmit at 1Gbit per second, without having to worry about public network congestion."

Slicing the Core
Although in this case network slicing was not used, it could be done by slicing the core of a 5G private network to create options for both broadcasters and the general public, without impacting the reliability of the broadcast contribution slice. Mobile service providers can also make network slices available, dedicated for broadcast contribution from live events, which would work in a similar way as a private network.
Haivision Pro transmitters and Haivision StreamHub receivers can be used in all three cases – dedicated private 5G networks, sliced private 5G networks or sliced public 5G networks, for streaming live video at low latency.
"The demonstration at SportsInnovation 2022 serves as a blueprint for future TV productions," said Daniel Wolbers, Project Manager, 5G Campus Networks, at Media Broadcast. "Whether used to complement a wired camera system, or as a completely wireless production, a 5G campus private wireless network — combined with a Haivision bonded cellular system — has set new standards in terms of performance, security, flexibility, mobility, and connectivity." www.haivision.com