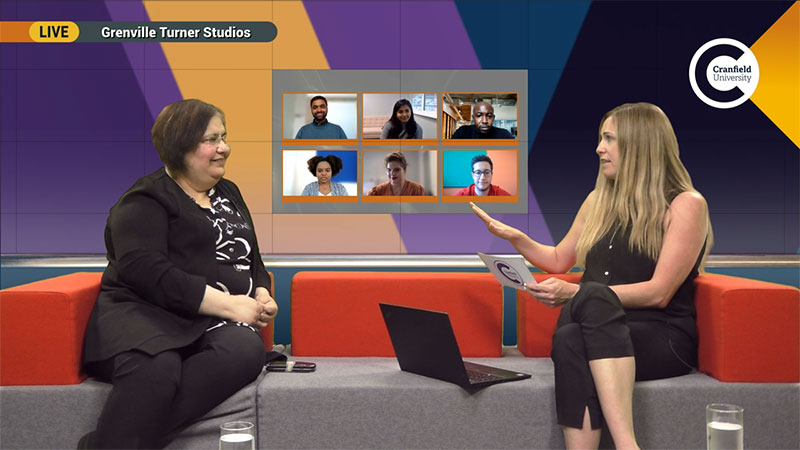 Cranfield University is a post-graduate university specialising in technology, engineering and management, located 80km north of London. Until recently, Cranfield delivered online lectures and tutorials through standard live video streaming products and laptop cameras but, due to poor video quality, began researching new methods to update its live streaming infrastructure and capabilities.
Cranfield University academics now work with the NewTek TriCaster video production system and NDI streaming protocol to produce and distribute more professional-looking live video to students online. NDI was developed as an audio/video standard to support real time, ultra-low latency video on existing IP video networks. It creates a single, interconnected production environment to connect devices across the Cranfield campus to transmit live video over IP networks.
Distributed Workflows
"When scoping the studio build, our vision was to live-stream from the whole campus. We looked around for gear that would enable this," said Dr Toby Thompson, Studio Director of Cranfield University Broadcast and Record. "NDI was the strongest contender due to its cost-effectiveness when distributing from multiple campus locations, and to its ease of use."
Cranfield started out with a TriCaster Mini and used it with NewTek TalkShow VS 4000, which is a multi-channel video calling system designed to simultaneously connect up to four remote guests in real time. Due to increased demand and success of the production studio, the University team has now opted to upgrade to NewTek's TriCaster 2 Elite, which has more functionality and capabilities.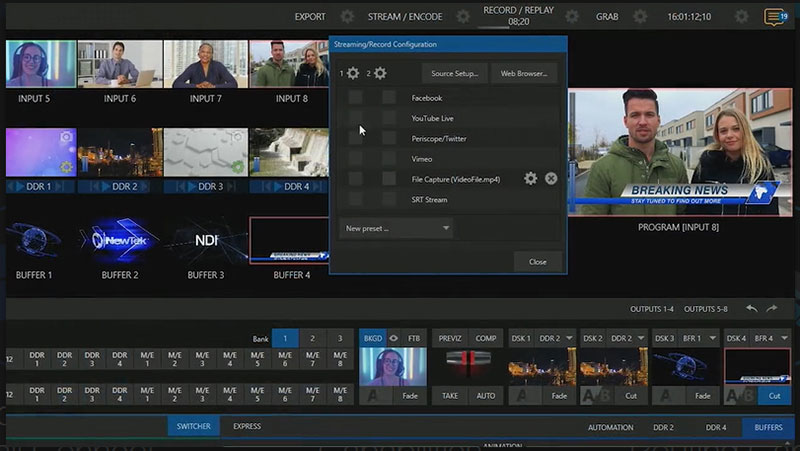 For instance, TriCaster 2 Elite supports encoding three channels, in formats from HD to UHD simultaneously, adding flexibility. Users can match outpus to a common sync pulse to tell it exactly when to send a video frame. It's possible to customise user interfaces to make distributed workflows simpler and more cohesive. Operators can also nest macros to ease complexity in productions.
Practical Apps
Various NewTek apps are integrated into the system. Live Call Connect, used to install and host conferencing applications like Zoom, Skype, Teams and so on to bring multiple remote callers into a production, now supports FaceBook Messenger, WhatsApp and FaceTime as inputs. Also, selectable audio and video return allows operators to view audio return in the same way as other outputs.
Users can download and use the Tricaser Camera App for Android, free of charge, and with Live Link for TriCaster, users can render Cranfield's web pages directly into the system and pull elements into a production without 3rd party tools.
Useful for remote workflows, operators can send alpha channel through one of the MIX outputs. In effect, this brings post closer to live by using TriCaster's keying to feed in graphics or real time 3D application content. Using AI, the live production systems can cancel or reduce background noise and detect voices, maintaining quality automatically.
"Just switching your camera 'on' is no longer sufficient. Content must look professional if students are to take your online efforts seriously," Dr Thompson said. "By using the NDI and TriCaster approach we have built the foundation of a new revenue stream for live online education at Cranfield."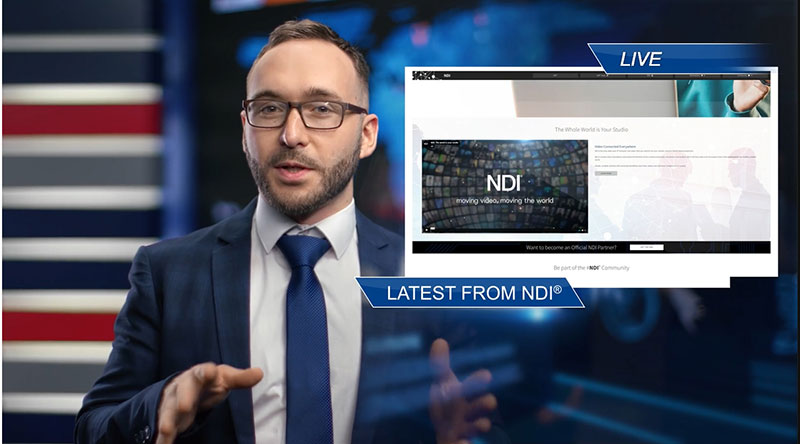 Automation and Hybrid Learning
Because many students now prefer online learning, many institutions want to take the opportunity to modernise their approaches to creating and delivering classes in a hybrid manner. Other NewTek developments that support educational institutions include CaptureCast, an NDI native, automated lecture capture solution.
CaptureCast simultaneously records and streams multiple sources in a room -- cameras, smart phones, screens or documents – from different perspectives, moving between different set-ups for each session. Students can interact with content as if they were in the room – live or on-demand.
Emphasising automation, users can record a single session or set CaptureCast to a semester-long timetable. Each recording is enriched with metadata so students can access content and search using keywords – jumping directly to content, when required. Through NDI, it wirelessly connects with smart phones and tablets, turning them into camera systems along with PTZ cameras and other capture devices or media sources. www.newtek.com