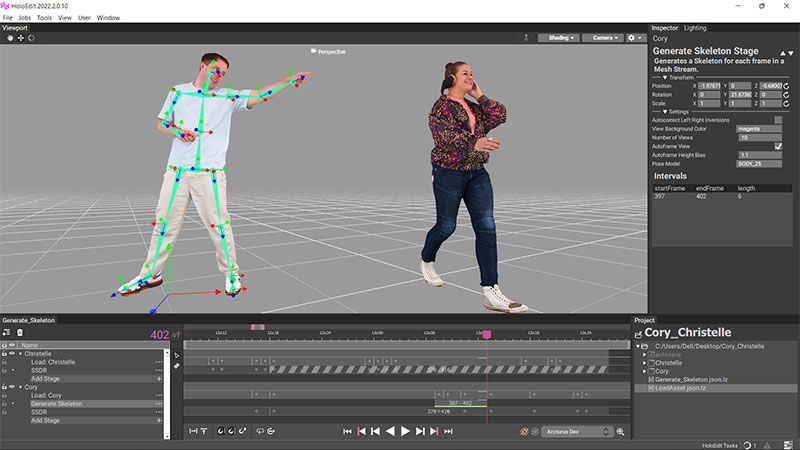 A skeletonization stage has been applied to the character on the left, creating 18 bones across the capture allowing it to be retargeted or rigged.
Arcturus, a developer of tools and techniques in volumetric video editing and streaming, has completed a $11 million round of Series A funding (from external investore) led by Cloudtree Ventures, including investments from Autodesk and Epic Games. The funding is understood as a sign of confidence in the potential of the volumetric video market, where demand and development is expected to continue growing through to the end of the decade.
"We see the translation of true human performance as a fundamental building block of spatial experiences, including XR and the metaverse. Our goal is to give everyone from multinational brands to independent creators the tools they need to create authentic digital human representations in the metaverse of their choice," said Kamal Mistry, CEO of Arcturus.
In 2022, the company experienced a major increase in the adoption of HoloSuite, its primary software platform, used to edit live-action 3D performances, and stream the files to any screen – including mobile devices and XR platforms. Arcturus will also expand research into new AI tools to help improve the capture of 3D data with fewer cameras, and introduce new dynamic lighting and surfacing options intending to improve the quality of volumetric video. Current applications for their tools include enhancing live streaming concerts on digital platforms, and the ability to watch sports from any angle.
Populating Virtual Environments
Beyond planned enhancements to HoloSuite, Arcturus will continue to develop new tools and techniques to use with the 3D content creation tools employed around the world. When paired with Arcturus' real-time 3D codec and editing tools, volumetric video can be used to place humans into virtual worlds within the Unreal Engine, Autodesk and Unity systems.
This Unreal Engine 5 scene is populated with characters that are also shown in the inset from a second camera angle. Since these elements are generated from volumetric video, the camera can be moved to anywhere in the scene, or continuously rove around.
This creates a potential to populate virtual and augmented environments with live-action performances for architects working on new designs, for instance, game developers building new worlds, virtual production teams filming against LED walls and VFX teams creating digital doubles.
"Volumetric video tools such as Arcturus' HoloSuite give artists a quick way to create photorealistic 3D content for countless industries," said Diana Colella, SVP, Autodesk Media & Entertainment. "We are pleased to help Arcturus expand the potential of its existing tools. By accelerating innovation we can help users make the most of using animated 3D video in their work, and deliver the compelling content that the media and entertainment industry demands."
In this case, the new funding will expand existing support, and lead to deeper interoperability between HoloSuite and Autodesk tools. Artists who are used to spending time and resources on the creation of digital humans will have a faster way to populate a scene with live-action performances.
Compress, Edit and Stream
Arcturus also plans to further expand the accessibility and capabilities of volumetric video within Unreal Engine. With Arcturus' tools for Unreal Engine, creators can populate virtual production scenes with live-action talent – captured in 3D and in full movement – to create digital humans for VFX, characters for games and other applications. Since Unreal Engine 5 was released, other tools have also been in development, including a custom volumetric video player released earlier this year.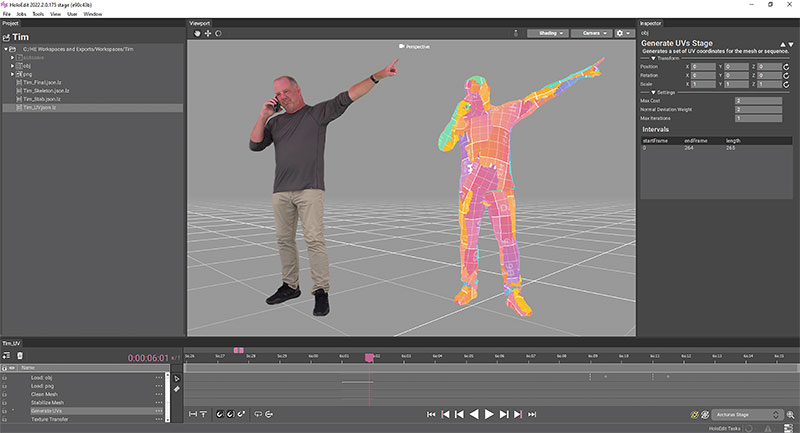 A volumetric character stands beside its UV map.
"Arcturus' tools make it easier for creators to compress, edit and stream volumetric video," said Alasdair Coull, CTO of special projects for Epic Games. "We've seen how Arcturus' tools are opening the door to broader use of volumetric video and look forward to partnering with Arcturus to accelerate the evolution of the technology."
Inspired by the demand for AR, 360-degree live broadcasts and a perceived need for metaverse content – including personal avatars, Arcturus was founded in 2016 by a team of video experts from companies like Pixar, Netflix, Google, Dreamworks, Uber ATG and others, who anticipated this trend in video. The Series A funding will help Arcturus grow its infrastructure, beginning with staffing increases in R&D, engineering and sales.
Along with Cloudtree, Epic Games and Autodesk, the recent series A funding includes investments from Susquehanna Private Equity Investments, LLLP and QBN Capital. It follows an initial $5 million seeding round led by BITKRAFT Ventures in 2021. BITKRAFT has announced a second, separate investment in Arcturus, along with NaHCoH3, Craig Kallman and HBSE Ventures. arcturus.studio